Behavioral Changes in Patients with Alzheimer's Disease and the Psychological Effects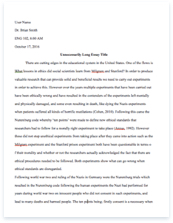 The whole doc is available only for registered users
A limited time offer! Get a custom sample essay written according to your requirements urgent 3h delivery guaranteed
Order Now
There are a variety of health disorders affecting the population in todays society. One of the leading causes is Alzheimer's disease, a severe irreversible neurodegenerative disease that progressively becomes worse over time. Alzheimer's disease affects the brain tissue and experiences an ongoing memory and developmental change which makes it challenging to diagnose. Alzheimer's was an unacquainted disease before the nineteen-sixties, but todays generation it menaces to entirely disrupt the health system in America. The origin of Alzheimer's disease is inadequately understood, and there are no treatments to reverse its development, except for temporarily improved symptoms. In todays generation we are living in the age of technology so one of the best most resourceful way to find out information about a disease is through websites.
The first website I reviewed is a government agency called the National Institutes of Health. This article was published on August 17,2016 and was called Alzheimer's disease Fact Sheet. This website was very easy to navigate and had multiple articles in correlation to the disease I am doing research on. It was very easy to comprehend and gave an outline and everything the article was discussing which was very helpful and informative. Aside from Alzheimer's this website has information on various diseases and issues that could be resourceful for people wanting to learn about medical related issues. The only downfall I have to the website is various articles are not up to date, so you would have to search for the most up to date records. It very much provided background information, videos, and picture comparisons to show how Alzheimer's really affects the human brain and body. Aside from this I found the website to be very helpful and my favorite one.
A medical organization website I have chosen is the Alzheimer's Association. I believe this website is a great source and support center for people who have loved ones with the disease. This website explains the disease while offering support groups and ways to get involved with the disease within a community. I believe this an important aspect of this website, individuals struggling with loved ones with the disease can hear real life stories from other individuals that have been affected by this disease. "The Alzheimer's Association is the leading voluntary health organization in Alzheimer's care, support and research. Our mission is to eliminate Alzheimer's disease through the advancement of research; to provide and enhance care and support for all affected; and to reduce the risk of dementia through the promotion of brain health" (Alzheimer's Association). This website has various benefits for people who want to learn about the disease the only con I have to this website is the way it is set up. I found it challenging to look up certain information. Everything is categorized but to get to the section I was looking for it was difficult to find and was not straightforward. Once what I found what I was looking for I realized the website was very informative and I appreciated how it has multiple opportunities to help out and support Alzheimer. It is a very welcoming website that wants to help people going through a difficult time.
The third critique I have is a website called Quartz which had an article called Why the pharmaceutical industry is giving up the search for an Alzheimer's cure. This is news website and was launched in 2012. The article on this website caught my attention since it clearly explained why the pharmaceutical industry is having a difficult time developing a drug to help hinder the process of Alzheimer's and reverse the symptoms. This article is very interesting and offers liable information of trust worthy websites such as NIH. "The NIH more than doubled research funding set aside strictly for Alzheimer's disease recently, from, $631 million in 2015to $1.4 billion in 2017. This year, Alzheimer's research and funding was raised even further, to an estimated, $1.9 billion" (Foley, 2018). This was the most up to date website with the article being published May 20, 2018. The downfall to this website is there were several ads that were unrelated to the topic that kept showing up. Due the the ads it caused the website to be slower and made me loose my place in the reading several times. The website also had a tremendous amount of information I do not think was necessary for the article, it felt like the author wanted to make her article longer by adding information not necessary.
Alzheimer's disease is one of the most somber impediments that affect the brain and the entire body in the process. It is accountable for countless deaths worldwide and has continued to be a main concern in society. This damage of memory interferes with day to day life as the disorder perseveres in a given individual. This disease has increased tremendously within the past century with more individuals developing this deteriorating disease. Due to this people are going to have to learn how to accept and deal with the consequences of the disease. I believe the best thing to do while dealing with this is to get an experts opinion and by doing research. I believe these websites are a great resource to help provide information desired. There are several websites on this disease and to help people cope and understand what is affecting our society.
Related Topics