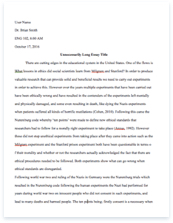 The whole doc is available only for registered users
A limited time offer! Get a custom sample essay written according to your requirements urgent 3h delivery guaranteed
Order Now
There are three major issues that Bill Kozy, president of Becton Dickinson faces as he modifies the company to perform under transnational norms. The structure of the Worldwide Blood Collection business and the allocation of its resources and assets was mainly the first issue for Bill Kozy. This issue dealt with complex discussions among top managers of BD to decide where R&D resources and capabilities should be developed. Because BD's founding was in the US, it had problems in letting the research and development move to other countries. The second issue that Bill Kozy faced was "the need to align Human Resources with the new worldwide strategies, the changing structures such as the Worldwide Blood Collection Teams, and the evolving process for key decision such as development of worldwide products."
Bill Kozy at one time had a number of managers who all wanted to take matters into their hands making it hard to reach consensus in important tasks to accomplish. The third issue that Bill Kozy faced was identifying "whether the WBCT (Worldwide Blood Collection Teams) was the right mechanism for managing BDVS's (Becton Dickinson VACUTAINER Systems) worldwide business in accordance with transnational concepts."
The company's situation in 1993 is that of constant change and growth. It has achieved significant benefits by reaching agreements between U.S. and Non U.S. managers. They have accomplished advanced synergism in communications between Becton Dickinson (BD) global teams which have provided successful outcomes. The launching of their two products: "Hemogard," proposed by European managers and "Plus tube" proposed by Japanese managers were difficult tasks that brought them benefits of knowledge and experience in global commerce. These developments also provided BD with more efficient products for their global industry. "Hemogard" was a safety cap that prevented blood from spilling. European concern of transmitted diseases was big so this product was supposed to be a hit in the Europe market.
On the other hand, Plus tube was a plastic tube for blood collection, it was asked to be developed by the Japanese because of cultural reasons, to prevent loss in blood samples (due to breakability in glass tubes) and because recollection was a problem in Japan they needed 'Plus Tube." Both projects were of big interest for Becton Dickinson although both were hard to tackle at the same time. BD was able to make them both successful because BD's headquarter managers became aware of the need of these products and make them become a reality. Although, this awareness arrived when they found out that their market share was diminishing and it was all due to the lack of support and cooperation from US managers to develop more specific products for other markets.
My recommendation to Bill Kozy is to focus his attention in achieving global leadership by attaining to the organizational characteristics of transnational organizations. Regarding the structure of the company, transnational organizations reach superior efficiency by "building up the capability, credibility, and influence of the less powerful management groups while protecting the morale and capabilities of the dominant group." In this case we see that the Europeans and the Japanese were finding it hard to get its word out to the US headquarters and R&D. As a result it brought delays in the launching of the new products that the global market needed. For example: If the Europeans and Japanese managers at that time, were able to take the decision of going on forward with their specific project, while having US manager's backup, their entrance into these markets would have been faster and more efficient.
The synergy that transnational management produces among the different subsidiaries in their operations of research and development would have produced better and also less expensive results that would have generated higher margins thus at the end creating more profit. Another characteristic of the transnational organization is that the processes that are centralized or decentralized should be flexible. All coordination needs to be able to change over time because in the long run markets will require for new projects and new developments. In my opinion the Worldwide Blood Collection teams are efficient although they need more maturing in the sense that it must be more diversified so it can better assess and predict any problems or projects that BD may have or confront.
Related Topics