Authoritarian vs. Authoritative Parenting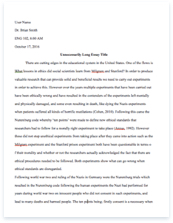 The whole doc is available only for registered users
Pages: 4
Word count: 907
Category: Parent
A limited time offer! Get a custom sample essay written according to your requirements urgent 3h delivery guaranteed
Order Now
Children do not come with guidelines or instructions. What they do come with is a crucial set of physical and emotional needs that need to be met. To raise children properly, parents duties are not limited to just food, shelter and protection. Parents are largely responsible for their children's success in life. Parents are required to teach and educate children. They have to shape knowledge and character into their children to prepare them to face the real world. To be successful with this, parents must provide self esteem needs, teach moral and values and provide discipline that is both effective and appropriate. As the generations have changed, many parenting styles have evolved, as well. While growing up my mother was always more of an authoritarian parent. As I have grown up and have children on my own, I choose not to parent with the same parenting methods that she had used. I am more of an authoritative parent. There are great differences in both my mother's and my parenting styles, such as parental responsiveness and parental demandingness; however the largest disparity is the end result: the children.
"Because I said so," this was a common phrase that was often heard in my house while growing up. My mother, a single mother, working to raise and support five children on her own was more prone to the authoritarian parenting style. Authoritarian parents are characterized by their high demands for conformity and obedience, with little tolerance for discussion of rules. Growing up in an authoritarian household is hard for children. It has been proven by psychologists that these children will grow up and use different approaches to raising their own children. I am an authoritative parent. An authoritative parent is responsive to their children and is willing to listen to questions. When children fail to meet their expectations, these parents are more nurturing and forgiving rather than punishing. My mother made all the rules in our home when I was growing up. She was very demanding and unresponsive to her children's emotional needs. I prefer to reinforce confidence and compassion into raising my sons.
To do this, I have to show unconditional love and at the same time setting undefined boundaries. My mother left little to no room for mistakes to be made. She was a firm believer in pushing for excellence. I do not agree with that, I allow my children to make mistakes and I am there to encourage and support them. My mother was never a warm and nurturing parent. In fact, she has often been regarded as cold and rejecting. I choose to be that warm and nurturing parent. Communication is a primary factor in the well being of a parent-child relationship. When dialogue is developed between parent and child, options are explored and the child can learn valuable decision making skills. Communication is important in discipline. Authoritarian parents tend to place an excess worth on the aspects of disciplining a child. Reasons or explanations of the rules for the punishment were never given with my mother. Being an authoritative parent, I lean towards allowing my children to know why the rules are such and what to expect when the rules are broken.
A lot of authoritarian power base is achieved through parental intimidation of the child. The authoritative parent is less likely to respond my anger to a rebellion against their rules. When my mother gave punishments they were neither effective nor appropriate. However, by learning through experience I parent with firm but appropriate punishments. Even though my mother and I do not share the same parenting styles, we both are devoted and loving mothers to our children. The differences between and authoritarian and authoritative parents is overwhelming. Every parent has their own parenting style. My mother and I do not share the same parenting styles, but what we do share is a love and devotion for our children and family. My mother may not be the best mother but she did love us and devote her time into us being a family. She has taught me that no matter how hard times are family is always there. I have taught my children the same. My mother has taught us all responsibility. Children need responsibility to be able to survive in the world.
My children have learned from a young age that they have to be responsible. Sometimes you have to be the bad guy when parenting to keep children from hurting themselves. A parent must stay true to their beliefs and straight forward with their children, what make children happy today may not make them happy in the future. Although my mother and I have different approaches to parenting, such as our parental responsiveness and parental demandingness, we each set off on this journey of parenthood with the same hopes and dreams. We each want nothing but the best for our children. A parent has to guide and steer children into the right direction, without direction children will get lost in an unforgiving world that they are not prepared to handle. There are many approaches to parenting. My mother has hers and I have mine but overall the goal is the same; for our children to grow up to be happy, confident and successful adults. Parents are the building blocks in their children's lives. With the proper love, limits, and understanding parents are able to raise psychologically happy children.
Related Topics