Attack on America at the World Trade Center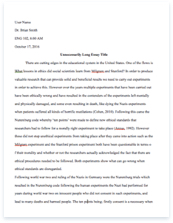 The whole doc is available only for registered users
A limited time offer! Get a custom sample essay written according to your requirements urgent 3h delivery guaranteed
Order Now
My fellow Americans this is a very, very solemn occasion. Today, America came under attack. First at the World Trade Center, then the Pentagon, and then in Pennsylvania. A day that will forever be remembered. We as Americans need to pull together as one united country. We need to be stronger and determined more than ever to face this hardship. This massive attack was intended to break our spirit. It has not done that, it will make us stronger, much stronger, the strongest ever and even more determined, America is great!
It's with great great sorrow, to share with a nation, our brothers, sisters, mothers, fathers, businessmen, friends were brutally murdered today, by savages. Those victims are our true heroes. The day begin as no other, parents were dropping off their children at school, the airports were bustling with travelers, and offices filled with workers, never never to think the unthinkable. No matter how hard we try, words simply cannot express the horror, the shock we all feel over what took place in this nation this morning. September 11 will go down in our history as a day to remember
We know these heroic men and women phoned home, placed final calls to family to let them know they loved them. These heroic crewmembers and passengers fought to the very end, to end of the wicked terrific horrible evil plan.
As I stand here, I want you all to remember we are a powerful nation, the most powerful, the greatest. I promise you that our military will be destroying our enemies, killers, savages, horrible horrible enemies, as we've never seen before. I want to make American feel safe again after these evil men have launched attacks against our country. This act of terror today was on attack our freedom. There's no excuse for mass murdering. Our belief in religious freedom, political freedom, economic freedom, is what makes us America.
I have never seen anything like this, thousands and thousands of lives lost, I have never seen anything like this, terrible terrible for New York, the world and terrible thing for Americans. Bodies are all over, it's a depressing situation with bodies all over, buildings are in rubble, Americans can't give up hope, we can't give up hope. The skyline is so different without the world trade center, we need to rebuild and rebuild better and bigger. I will tell you the firefighters and construction workers are amazing. The innocent men, women, and children whose lives were taken so needlessly taken is unacceptable, thus, I have instituted the highest search to immediately be underway to find those savages that are behind these evil acts. I pledge to bring everyone involved to justice. America's future is not written by these salvages, its written by our American heroes.
On this September morning, let's remember each of those brave Americans who were as hero's protecting us and our country. We mourn them, we honor them, and we pledge to never, never forget them. As President, I pledge to do whatever to keep America safe, and be great again. Let's all stand as heroic patriots and fight back, no power will ever defeat us, as Americans, lets make America great again.
My first priority is to care for the injured, prevent further terroristic evil from occurring on our homeland. Our Government and financial institutes are solid, our economy remains strong, stronger than ever before.
Secondly, I want World to hold accountable any country that supports terrorism. As President, I ask that we cut terrorists off from their money and any funding. I hope the World the United Nations realizes this was the deadliest attack, more people killed in this terrorist, we MUST stand up to terror.
In closing, I ask Americans around the country to honor the victims and demonstrate their patriotism. Fly the American flag from your porches, participated in moments of silence and turn to your faith to help make sense of the attacks.
Thank you. May God bless you. May God forever bless the great United States of America, God bless the families, our values and our people will flourish, our nation will become stronger the strongest greatest nation ever than before, and the memory of our loved ones will
Related Topics