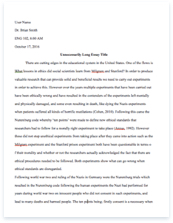 The whole doc is available only for registered users
A limited time offer! Get a custom sample essay written according to your requirements urgent 3h delivery guaranteed
Order Now
This paper will uncover a community health problem in Calhoun, GA. It will discuss the details of the problem and the impact that it has on and with the community and its' reactions. It will describe the community first. Then it will discuss data gathered about the community by using "census reports, vital statistic reports, city records, and other agency sources" (Sprenger, 2014). It will then describe what a community health problem will be for this specific area. The windshield survey from earlier in the course will provide a summary that can be linked to the problem. It will identify a problem that is priority in this community. It will then describe a rationale for the problem and compare it to the national website "Healthy People 2020." The paper will then "address the historical significance of the problem" (Sprenger, 2014). This paper will summarize the "risk of the problem and the major direct or indirect factors that contribute to the problem" (Sprenger, 2014). Community Data
The community in which I reside consists primarily of either farm land or subdivisions. The median household income is around $26, 723 compared to the state of Georgia median household income of $46,007. The "estimated median house or condo value is $136, 816 compared to the Georgia "median house or condo value of $147, 100" (Calhoun, 2014). The unemployment rate is 10.6% compared to the Georgia unemployment rate of 9.1%. Our jobs mainly consists of manufacturing (30%), construction (16%), or retail trade (11%). For males, the most common job is production occupations or supervisors. For females, the most common job is either production occupations, supervisors, or sales/driver workers.
Calhoun and Gordon County is home to Gordon Hospital. The community also has multiple doctors' offices, dentist offices, chiropractors, massage therapists, multiple gyms, and a site for Harbin Healthcare. There are several Urgent cares, drug stores, and a health department. Calhoun and Gordon County has several churches, 6 elementary schools, 3 middle schools and 3 high schools. It is home to the Calhoun/Gordon county campus for Georgia Northwestern Technical College. Demographic Data
The Calhoun (Gordon County) area consists of 15,812 people. It is 99% urban and 1% rural. The community has increased by 48.2% since the year 2000. Males are 49% of the population counting for 7,744. The females account for 51% which is 8,068 of the population. The races in Calhoun, GA account for the following: whites are 62.5% (9,593), Hispanics are 26.7% (4,091), and blacks are 7.4% (1,142). This community has mostly families with two incomes that live paycheck to paycheck. This community has 28 full service restaurants, 34 convenience stores, and 10 grocery stores. The people are very hard working, very busy, and family oriented. Most families are always either working, going to church, or socializing with friends and family members. This community seems to be under a lot of time constraints. There is constantly some sort of function going on that requires food. People of this community love to eat. They either eat out or have a get together that requires everyone to bring food. Epidemiological Data
The adult diabetes rate is 8.5% compared to the Georgia adult diabetes rate of 10.4%. The adult obesity rate for Gordon County is 27.5% compared to the states rate of 27.8%. The low-income preschool obesity rate for this county is 14.5% compared to Georgia's of 14.6%. Even though the people of this community are conscious of health related problems, they seem to overlook obesity and all the health problems it can cause like diabetes for example. The school system is reporting increasing numbers of children of all ages that have type 2 diabetes. Windshield Survey
Calhoun and Gordon County is an ever growing community. It is home to an ever changing diverse population. It ranges from casual to fine dining. It is home to the Southern and Cherokee Indian history. It has a rich Southern Heritage. Calhoun and Gordon County takes pride in their socialization. The people of the community values their health. The people aren't hesitate to seek medical help when needed. The parents in the community are very cautious with their children's health. Problem
The problem for Calhoun and Gordon County that takes priority over all other health related issues is diabetes. Some of the modifiable risk factors for type 2 diabetes include obesity and lack of physical activity. Lifestyle changes for both prevention and management of type 2 diabetes are recommended. "The rate of diabetes (DM) continues to increase both in the United States and throughout the world. Due to the steady rise in the number of persons with DM, and possibly earlier onset of type 2 DM, there is growing concern about" (Sumamo, 2013). "To increase prevention behaviors in persons at high risk for diabetes with prediabetes: increase the proportion of persons at high risk for diabetes with prediabetes who report increasing their level of physical activity, increase the proportion of persons at high risk for diabetes with prediabetes who report trying to lose weight, and increase the proportion of persons at high risk for diabetes with prediabetes who report reducing the amount of fat or calories in their diet" (Diabetes, 2013). Historical Significance
Type 2 diabetes represents a major health problem because worldwide prevalence has more than doubled in the past 3 decades. "Diabetes was the seventh-leading cause of death in clinically oriented outcomes across a spectrum of metabolic risk factors and abnormal glucose" (Sumamo, 2013). Compelling evidence shows that diabetes can be prevented with lifestyle changes. "Intensive lifestyle modification promoting weight loss through energy-restricted diets together with increased physical activity can decrease incident diabetes to as low as 50%" (Salas-Salvado, 2014). Summary
The Calhoun and Gordon County community is a fast growing and time consumed area. The people of the community love to get together, eat, and enjoy the company of their family and friends. They are aware of the simple common colds and flus that are passed around but tend to overlook the overall picture of the obesity and diabetic problem that is increasing at a quick rate. Type 2 diabetes is showing up more and more with the school age children. Some of the preventative issues that are contributing to this problem are diet and lack of exercise.
References
Salas-Salvadó, J., Bulló, M., Estruch, R., Ros, E., Covas, M., Ibarrolo-Jurado, N., & … Martínez-Gonzáz, M. A. (2014). Prevention of Diabetes with Mediterranean Diets. Annals of Internal Medicine, 160(1), 1-10. Sprenger, L. (2014). DocSharing. Retrieved January 31, 2014 from Chamberlain College of Nursing, RN Community Health Nursing Web site; http://nursingonline.chamberlain.edu/re/DotNextLaunch.asp?courseid=9170170&userid=20615106 Sumamo Schellenberg, E., Dryden, D. M., Vandermeer, B., Ha, C., & Korownyk, C. (2013). Lifestyle Interventions for Patients with and at Risk for Type 2 Diabetes. Annals of Internal Medicine, 159(8), 543-551. (2014). Calhoun, Georgia. Retrieved January 31, 2014, City from City-Data.com Web site: http://www.city-data.com/city/Calhoun-Georgia.html
(2013, November). Diabetes. Retrieved January 31, 2014 from HealthyPeople.gov Web site: http://www.healthypeople.gov/2020/topicsobjectives2020/overview.aspx?topicid=8
Related Topics