Answers to Review Questions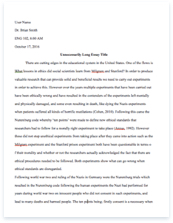 The whole doc is available only for registered users
A limited time offer! Get a custom sample essay written according to your requirements urgent 3h delivery guaranteed
Order Now
1.How does job evaluation translate internal alignment policies (loosely coupled versus tight fitting) into practice? What does (a) organization strategy and objectives, (b) flow of work, (c) fairness, and (d) motivating people's behaviors toward organization objectives have to do with job evaluation?
Organization strategy and objectives – Job evaluation aligns with the organization's strategy by including what it is about work that adds value and contributes to pursuing the organization's strategy and achieving its objectives.
Flow of work – Job evaluation supports work flow in two ways: (1) by integrating each job's pay with its relative contributions to the organization and (2) by setting pay for new, unique, or changing jobs.
Fairness – Job evaluation can reduce disputes and grievances over pay differences among jobs by establishing a workable, agreed-upon structure that reduces the role of chance, favoritism, and bias in setting pay.
Motivate people's behaviors toward organization objectives – Job evaluation calls out to employees what it is about their work that the organization values, what supports the organization's strategy and its success. It can also help employees adapt to organization changes by improving their understanding of what is valued and why that value may have changed.
2.Why are there different approaches to job evaluation? Think of several employers in your area (the college, hospital, retailer 7-Eleven, etc.). What approach would you expect them to use? Why?
Different employers wish to emphasize different aspects of work; the different approaches should support the organization's strategy. Consequently, a wide variety of job evaluation approaches exist. Some organizations desire to be more formalistic, legalistic, and thus use very detailed plans. For example, many nurses are unionized and also face constant review from patients and their lawyers. For both of these reasons, hospitals tend to spell out quite specifically who is responsible for what.
In the current economy, retailers like 7-Eleven, have high turnover because they employ relatively unskilled labor and pay low wages. It most likely is the first job for employees. While job duties need to be spelled out, there are typically fewer types of jobs in a retail environment. Thus, job evaluation plans are less likely to be highly formalized. Due to the different groups a college employs – administrators, administrative support staff, and professional staff (faculty) – a college would likely have multiple plans for each of these employee groups.
3.What are the advantages and disadvantages of using more than one job evaluation plan in any single organization?
The advantage of using multiple plans is it provides a higher likelihood of covering all significant aspects of work content (due to the wide diversity of work among various job families). For example, production jobs may vary in terms of manipulative skills, knowledge of statistical quality control, and working conditions. But these tasks and skills may not be relevant to other job families, i.e. technical and finance jobs. Multiple plans allow an organization to capture the differences in the work content of several job families.
The disadvantages of multiple plans include: the need to identify appropriate factors for each job family, the potential difficulty of meshing the results of separate plans together, and the risk of undervaluing/overvaluing some job families in comparison to others. In addition, some employees in one plan may wish to compare their jobs with jobs in another structure; this involves comparing apples and oranges. Employers must place a priority on communicating the reasons for different job evaluation plans.
4.Why bother with job evaluation? Why not simply market-price? How can job evaluation link internal alignment and external market pressures?
With job evaluation, the systematic evaluation of jobs reflects the internal job structure within a single organization. This structure and the underlying relationships among jobs are the basis of internal alignment. As a process, job evaluation can help gain employee acceptance of pay differences among jobs. The usefulness of job evaluation is that it provides a framework for an exchange of views – open discussion and communication. Internal alignment may suffer with market-pricing because the intrinsic value of the work to the organization is essentially ignored – the focus is on external competitiveness issues.
Job evaluation is viewed by some as a process for linking internal value with external market rates. Aspects of job content take on value based on their relationship to market wages. For example, if willingness to work closely with customers commands higher wages in the labor market, then the nature of customer contacts becomes a useful criterion for establishing differences among jobs. If some aspect of job content, such as stressful working conditions, is not related to wages paid in the external labor market, then that aspect may be excluded in job evaluation. Based on this perspective, the value of job content is based on what it can command in the external market; it has no intrinsic value.
5.Consider your college or school. What are the compensable factors required for your college to evaluate jobs? How would you go about identifying these factors? Should the school's educational mission be reflected in your factors? Or are the more generic factors used in the Hay plan okay? Discuss.
Colleges need high-quality professors who can "package" the material based on the type of students (admissions standards vary widely so the skill level of students will also differ). Thus, faculty need technical competence—knowledge/skills—in their chosen fields, plus the ability to interact constructively with students. Since knowledge is so important, it will probably overrule any other compensation factors in determining pay for faculty. Some faculty may want a job evaluation plan that can accommodate a wide variety of types of knowledge as well as levels of knowledge. Teaching effectiveness has become a more widely discussed issue. Thus, at most schools, knowledge would not be the only compensable factor. However, it is doubtful whether any schools actually base pay on teaching effectiveness. Other compensable factors may include ability to conduct quality research (according to pre-determined criteria) and service involvement (school, community, and professional).
The faculty is a key group of employees in the college environment. They need adequate support from the administrative staff and strong leadership to set direction for the school to ensure its financial viability. Thus, the teaching faculty (and perhaps the research faculty, depending on the school) will play a key role in determining if the school's education mission is achieved.
Generic factors, such as the ones in the Hay Plan (know-how, problem solving, and accountability), would not be applicable as such when evaluating faculty jobs. Of these generic factors, know-how is the only applicable factor. The other factors would have to be modified to apply to faculty positions.
6.You are the manager of 10 people in a large organization. All of them become very suspicious and upset when they receive a memo from the HR department saying their jobs are going to be evaluated. How do you try to reassure them?
First, find out from the HR department what forums are available for employee participation and the anticipated uses of the job evaluation information. Ideally, one or more employees should be provided an opportunity to be involved in the job analysis phase of the process. This may mean they could complete a questionnaire for their respective job(s). Second, get a commitment that an employee's pay will not be reduced nor will any jobs be eliminated as a result of the evaluation. While changes in jobs may be suggested based on the results of the evaluation, the procedures for making these changes must be clearly specified and communicated to employees. Employees should be provided with this information, as well as general information as to what exactly job evaluation is as well as its usefulness.
Your Turn: Job Evaluation at Whole Foods
Summary of Case
Students are expected to design a job structure using information available through job analysis and 10 job descriptions that have been completed already.
Learning Objective
Understand the importance of working productively within a team, analyze the processes involved with coming to a decision about the required job structure, and evaluate job descriptions.
Discussion of Case Questions
1. Divide into teams of four to six each. Each team should evaluate the jobs and prepare a job structure based on its evaluation. Assign titles to each job, and show your structure by title and job letter. A broad hint: Recall from our discussion of Whole Foods' business and pay strategy that teams play an important role.
2. Your team should describe the process it went through to arrive at that job structure. The job evaluation techniques and compensable factors used should be described, and the reasons for selecting them should be stated.
This exercise is directed to improve any ambiguity in understanding the concept of job structures and to encourage class discussions. Each team may put forth their analysis of the process of having arrived at the particular job structure and explain the job evaluation techniques and compensable factors used, and the reasons behind doing so. The compensable factors that students choose should be based on the strategy and values of the organization, and on the work performed. It should be acceptable to the stakeholders affected by the resulting pay structure.
Students might choose some of the following compensation factors: skills (analytical, communication, interpersonal);
responsibilities of the work;
effort required (physical and mental);
customer service relationships;
decision-making efforts;
knowledge level required (on finance, store operations, production and preparation, marketing and merchandising, HR activities);
Working conditions, etc.
3.Each team should give each job a title and put its job structure on the board. Comparisons can then be made among job structures of the various teams. Does the job evaluation method used appear to affect the results? Do the compensable factors chosen affect the results? Does the process affect the results?
This exercise will encourage class discussions and student answers will vary. Students should be able to analyze the descriptions and provide a suitable job title (similar titles to what is provided in companies).
Students would find Exhibit 5.17 useful to create the job structure.
Students should be able to identify keywords provided in the case to identify at what level of the hierarchy the job would be. Encourage students to identify some job titles provided in the case itself and identify which job description fits this title best. For example, JOB C states that it reports to store team leaders and associate store team leaders. Ask them to identify which description suits the title of Store Team Leader.
Job Number
Job Title
Keywords to identify the job title
JOB A
Prepared Foods Team Member
Prepares food items
Follow through on supervisor requests
Enjoys mentoring people
Comply with safety procedures
JOB B
Customer Service Cashier
Assist and focus on customers
Perform cash register operations
Pass entry-level PLU code test
JOB C
Department Team Leader
Two years relevant experience as a team leader
Responsible for team member hiring, development, and terminations. Involved in financial management, team member development, regulatory compliance, merchandising / marketing management
JOB D
Specialty Associate Team Leader
Assist team leader or associate team leader
Mentor team members
Knowledge on operations of the store
Demonstrated decision-making ability, and leadership skills
JOB E
Dishwasher
Performs all duties related to dishwashing
Prep work and maintaining food quality and sanitation in kitchen Entry-Level Position
JOB F
Grocery Supervisor
Breaking down deliveries
Training entry-level grocery clerks
Performs all duties and responsibilities of grocery team member. Able to direct team members
One-year experience
JOB G
Prepared Foods Associate Team Leader
Reports directly to Prepared Foods Team
Leader.
Can be responsible for team member hiring, development, and terminations One to two years of department experience
JOB H
Associate Store Team Leader
Assist and support the store team leader
Operate the store
Understand store financials and labor budgets
Review department schedules and research productivity improvements. Communicate company goals and information
JOB I
Grocery Team Member
Breaking down deliveries
Retail grocery or natural foods experience a plus
Note the similarity in description between JOB A and JOB G, JOB F and JOB I. They should be able to analyze the differences and similarities between job descriptions for jobs in the same department and similar classes.
Once students have listed their titles you could show them the careers paths available at Whole Foods to help them understand the job structure and hierarchy currently in place.
Students' version of a job structure would be based as follows: team members under operational group, associate and department team leaders under professional or administrative group; associate store team leaders and store team leaders under managerial group.
4.Evaluate the job descriptions. What parts of them were most useful? How could they be improved?
It is 'the kind of work' that can provide a clear picture of what activities are performed by jobholder. You may also find information relating to relationships: reports to, assists, supervises, mentors very useful. This would help in identifying the position in the hierarchy. Please come up with various ideas on improvements possible in the job descriptions.
Related Topics