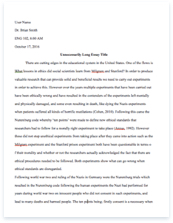 The whole doc is available only for registered users
A limited time offer! Get a custom sample essay written according to your requirements urgent 3h delivery guaranteed
Order Now
Richard Loving, a white construction worker, and Mildred Jeter, an African, native American woman had fallen in love. The couples simply wanted to celebrate their love by getting married. According to the Virginia state law, interracial marriage was illegal. The law that states people of different races cannot marry reveal the underlying dominant belief that it is wrong to be with someone of a different race.
They believed this would taint the purity of their "whiteness", dating back to the times of slavery where they viewed Africans Americans as an inferior race, preserving their own status as the superior nationality. So, in June, 1958, the Lovings decided to go to Washington, where interracial marriage was legalized, to exchange vows. They returned to Virginia, and just five weeks after happily being married the Loving's were disrupted at 2:00 am in their own bed, and arrested on July 11, 1958. Considered as felons, by simply loving one another, the couple pleaded guilty. Judge Leon M. Bazile sentenced them to one year in prison, however instead forced them to leave Virginia on the condition that they would not return together for 25 years.
The Lovings raised three children isolated from their hometown, yearning to return. In 1963, Mildred decided it was time to stand up for themselves, and wrote a letter to U.S. Attorney General Robert F. Kennedy asking for assistance who then accepted to take her case. After 4 years of the Loving's persistent efforts, The Supreme Court announced its ruling in Loving v. Virginia on June 12, 1967. In a unanimous decision, the justices found that Virginia's interracial marriage law violated the 14th Amendment to the Constitution. Not only did Virginia marriage laws change, but they struck down laws against interracial marriage in 15 other U.S. states. Following their triumphant win, the Lovings returned to Virginia to raise their three children. The Lovings remained married until 1975 when Richard was tragically killed when a drunk driver slammed into his car. Mildred never remarried and died in 2008 at the age of 69.
The legacy of the Lovings still continues today. We owe it to the determined couple who stood up for what they thought was right, giving us our rightful freedom to marry whoever we want! Love is love, there should be no label or law that compromises our happiness. Did this historical event influence public attitudes and opinions about marriage, race, and the law? Without a doubt. Nowadays, society has broaden their perspectives from previous myopic views that believed it was reasonable to ban interracial marriage. Not only did the Lovings lift the law, but fundamentally jump start this whole new era of accepting all forms of equality, such as same sex marriage. There is living proof all around us with people of mixed races. By a humble couple who challenged the laws, lead to one of the most significant events of the civil rights era, defining their color blind love. 
Related Topics