Analysis of Michael E. Porter's Threat of Entry Force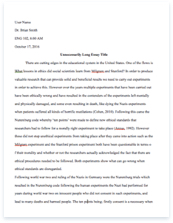 The whole doc is available only for registered users
A limited time offer! Get a custom sample essay written according to your requirements urgent 3h delivery guaranteed
Order Now
As one of the world's largest, most respected and diverse manufacturers of health care products I would assert that the "Threat of Entry" force as defined in Michael E. Porter's Five Competitive Forces that Shape Strategy is "weak" or low as it pertains to entirety of Johnson & Johnson's Consumer Segment. Johnson & Johnson has over 250 subsidiaries, with strong brand recognition across their products, a vast worldwide distribution network, large financial resources as well as the economies of scale. That being said Johnson & Johnson does face some threat of competition from new entrants. The greatest value that this company has is its brand recognition defined by the personal relationship and trust that the consumer has in the Johnson & Johnson name. With brand equity at the core there are several strategies I will explore that will lower the "Threat of Entrants" and capitalize on Johnson & Johnson's strengths. With Johnson & Johnson's extensive manufacturing capabilities and the ability to produce each unit at a low cost the economy of scale is strong.
For new entrants to compete with this scale of mass global production it would require a very high capital investment which is a deterrent. In order to maintain this advantage Johnson & Johnson must continually fund the investment in manufacturing technology to produce each unit at the most cost efficient level. As such a large company with a diverse product line it is the benefit of scale for the Johnson & Johnson brand itself that also garners additional advantages in both media advertising and consumer recognition. Everyone is familiar with Johnson & Johnson's well-known products. Over a 125 years of marketing has fostered the consumer's trust and personal relationship with the brand. For example, as new mother's discover Johnson & Johnson's "natural" baby products there is a built in core trust earned from generations of mothers trusting Johnson & Johnson products for their babies. This can be seen as the "network effect" as sited in Porters 5 Forces (p.4).
You can also see here how Johnson & Johnson have embraced new market trends by developing the "natural" line that will allow them to compete with smaller, niche brands such as Burt's Bees for baby care. However, I see little marketing strategy directed towards the sophisticated, eco-minded 25-45 year old consumer without children. Here is an opportunity to expand into "Green" or "Holistic" products and take advantage of current trends. Elevated or elite product lines could be developed with more of a hand-crafted artisanal brand sensibility in order to lower the threat of new entrants capturing market share in the Consumer Segment. There is potential here to expand the profit pool for the industry. Johnson & Johnson would be required to invest a considerable amount in advertising.
The result of educating the consumer on these types of products would expand the industry, increasing the pie as a whole. When it comes to the barrier of customer switching costs Johnson & Johnson is potentially vulnerable. Given the price of products in the Consumer Segment is relatively low, correspondingly the cost-switching barrier is also low. While the customer tends to buy what they are familiar with there are some groups that want to explore and try new products and others that purchase primarily on price. Again, I think marketing and product diversification is the key to maintaining the strength of Johnson & Johnson's position and growth. It is crucial to stay relevant to existing customers through marketing, brand exposure as well as price monitoring. The core strategy for growth lies with new customers either through expanding markets or diversifying the product line. The immense capital required for building factories and product development limits the pool of potential new entrants.
In order to truly complete with a brand such as Johnson & Johnson the advertising expenditures would also be a deterrent. However, there is room for new entrants to start small and take market share on the high-end specialty products for the sophisticated buyer. There is also some threat from mass-produced low-end private label products to price compete, but with the overall required high capital investment and low margins this force is weak. It is imperative to innovate, keep costs in line and increase products for a growing number of customer types. Johnson & Johnson has advantages that are independent of its size. These advantages include patents, trademarks, established brand identity as well as producing the top product or products in each category. Consider that "Band-Aid" is a brand name and yet it is the common term for adhesive bandage.
This is an advantage that new entrants will not have, as it is dependent upon consumer exposure over a long period of time. An essential component for successful sales of consumer products is access to distribution and consumers. Johnson & Johnson has an established, intricate distribution network with prime product placement that has been positioned over many years within the retail environment. There is tremendous value in prime shelf placement at the retail level that is an additional barrier for new entrants, who would not have the established relationships with major chains. They are again at a disadvantage because developing a broad distribution network takes both massive capital and time to successfully establish. It would be a good strategy for Johnson & Johnson to continue to exploit their strengths and expand their products to capture as much of that prime shelf space as they can in order to capitalize on the consumer demand for the brand.
The government strict regulations for health products are generally favorable to incumbents such as Johnson & Johnson, which keeps the threat of new entrants weak. The U.S. Food and Drug Administration enforce the laws enacted by congress to assure the safety, effectiveness and quality of health products amongst it other responsibilities. New products must be approved and meet specific standards. This process can act as another barrier. Through the years Johnson & Johnson has had issues arise with the FDA. The 17 or more recalls since 2009, particularly the McNeil consumer healthcare case, have impacted the Johnson & Johnson reputation. However, we can see the recovery noted in Johnson & Johnson 10K- 2013 "Strong U.S. sales growth of 19.7% was driven by analgesics and upper respiratory products, primarily due to continued progress in returning a reliable supply of products to the marketplace." This strong growth is due to the return of the products as well as the trust of the consumer in Johnson & Johnson.
The ability to recover from recalls would be an immense challenge for a new entrant. In conclusion, there must be an ongoing focus to keep the barriers high for new entrants into the Consumer Segment. Johnson & Johnson should continue to see growth in the Consumer Segment if there is ongoing progress in Research and Development as well as acquisitions that embrace the Johnson & Johnson brand name. All efforts must be made to maintain the quality associated with the brand in order capitalize on the equity that has been built since 1886. There is always some threat from well-funded new entrants who are able to use pricing, as their primary form of competition but the quality and reputation of Johnson & Johnson is their greatest asset. Overall, from the perspective of Porters Threat of Entry the force is weak for Johnson & Johnson's Consumer Segment.
REFERENCES
Porter, Michael E. (2008) The Five Competitive Forces That Shape Strategy
Harvard Business Review, January 2008
Johnson & Johnson. April 18, 2014
http://www.jnj.com/home.htm
Wikinvest. April 18, 2014
http://www.wikinvest.com/stock/JOHNSON_%26_JOHNSON_%28JNJ%29#Consumer_Health_Care:_24.25_of_FY_2010_Revenue
Yahoo Finance. April 18, 2014
http://finance.yahoo.com/q?s=JNJ
Christy Van Esley. November 23, 2013. Transcript of Johnson & Johnson Company Analysis http://prezi.com/uc_wgvz281fr/johnson-and-johnson-company-analysis/
Related Topics