An Overview of the New Testaments Books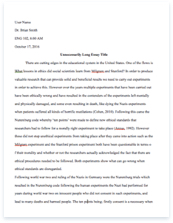 The whole doc is available only for registered users
A limited time offer! Get a custom sample essay written according to your requirements urgent 3h delivery guaranteed
Order Now
If only we had more time to cover all the books in the New Testament! I have said forever that the New Testament class needs to be broken into two semesters; after all, that is the basis for our faith as Christians! Alas, with the number of classes required of an undergrad this is not possible. Nor can it be expected of a Bible teacher to cover all the books of the New Testament. It does seem fair, then, that the extra credit assignment would be to expand on some of the books we did not cover…
Corinthians
For a faith completely devoted to loving one another, it is incredible that Christians just cannot get along! The letter 1 Corinthians reveals this conflict in the church is nothing new. Taken as a whole, the book can be taken as Paul's letter to the church with problems and how to deal with them.
One of my favorite versus is Paul explaining that these churches are spiritual babies and Paul can only give them milk because they are not ready for solid food. (3:1-2). Yet this does not mean Paul is easy on these Christians. For one, these babies are "sanctified in Christ, called to be saints" (1:2). They have tremendous potential and therefore Paul has high expectations.
I like the themes that Paul included in his writings here. Ideas about Christian freedom which does not mean Christians have a license to do as they please or the importance of death losing its
because of Jesus are huge to the Corinthians then and us now to understanding what it truly means to be a Christian. This is one of my favorite books of the Bible.
Thessalonians
Thessalonians is another good book that almost functions as a biography of Paul. I feel throughout this book we are taken through many of Paul's thoughts of what it meant to be a Christian, how he practiced ministry, and how he conquered the task of spreading the Gospel of God. I love reading this because it is amazing to see how humble Paul is. I would love to know what he is thinking about his words being read as scripture.
One of the things I find interesting goes back to Jesus returning to Earth. The man who wrote this book expected Jesus Christ to return soon, and he would be alive to see it happen (4:17). He mentions over and over again in his letter that Jesus is, in fact, coming to rescue people from God's wrath (1:10, 2:19, 3:13, 5:2). This seems to be of special interest to the Thessalonians. I'm curious to how this played out in their faith. Paul's theme of Faith, Hope, and Love is also very encouraging to Christians in general. He says in Chapter 1, "We give thanks…constantly remembering… your worth of faith and labor of love and steadfastness of hope in our Lord Jesus Christ" (1:3). What a good message for all of us.
Jude
The short book of Jude serves as a fantastic warning to the people of the church of those who are dangerous intruders – those who appear to be Christians but are not. It is interesting the letter really does not go into specifics about what these false Christians thought or believed. Instead, the book of Jude focuses more on how they lived. It is this that gave them away. The fate for these false believers has been decided. They are designated for condemnation and the judgement of God is inevitable (verse 4-15). The book reminds me of an angry girlfriend. It is written in a harsh tone and laden with threats and insults. This is an unpleasant topic which does warrant some of the unpleasant tone. He writes because of the necessity to address this topic (verse 3) and does seem to truly believe that the believers are in danger.
There are so many fascinating stories, thoughts, and ideas hidden within the Bible. Each book itself can be a topic for a class. I am glad I have opportunity to dive deeper into the pages of this wonderful book and encourage others to develop a deeper under ok and encourage others to develop a deeper understanding of scripture.
Related Topics