"All About Eve" by Joseph Mankiewicz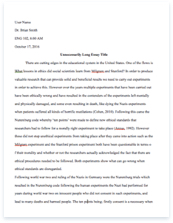 The whole doc is available only for registered users
OPEN DOC
Pages: 5
Word count: 1119
Category: Women
A limited time offer! Get a custom sample essay written according to your requirements urgent 3h delivery guaranteed
Order Now
'It is Eve's ruthless pursuit of ambition that leads us to dislike her. Do you agree?' In the film, 'All About Eve', Joseph Mankiewicz presents a world of contradictory standards between the forces of a man and a woman that transcends back in 1950s, where women, such as Eve Harrington, are conceive as cold-blooded and merciless as they pursue differently from the society's expectations, by the means of chasing their ruthless ambition. To an extent, Eve's immoral actions is what may have influenced us, audience, to dislike Eve. However, Eve reconstructed her own identity with the heavy pressures coming from the society, Eve only wanted to find that sense of belonging and to be adored by everyone, and she find that the 'theatre' is a place that she can call hers. Furthermore, the conservative attitude of society on gender roles during the 1950s may also have an effect on the audience's hatred on Eve. This film highlights the inequitable roles of being a woman and how men are treated differently by the society.
The actions of Eve can be considered as 'inhumane' and barbarous to easily 'manipulate' people, such as Margo and Karen, like tools to help her step up the ladder, Eve has no morals nor personal values which is why she had no guilt nor responsibility of her actions; her actions were not justified in the film which could the audience to disapprove of her character. Fuelled by her own desire for a 'the end of an old road. The beginning of a new one', she begins studying Margo 'like a set of blueprints'. Once Eve have invaded their group and finally become an insider, she was able to break the loyalties and trusts the group had once together, making use of each and one of them to her advantage. Eve cruelly threatens Karen, who helped and introduced her to the world of theatre, for the role of 'Cora', as it was Eve's ambition to win the most prestigious award, the 'Sarah Siddons' award. Mankiewicz demonstrates Eve's journey towards her goal through the use of Eve's talent for acting.
Eve firstly appears to be a down-trodden naïve girl, and as she tells her sob story, people believed her and take pity on her, giving her opportunities to show how impressive she is. Eve is a cunning and 'very clever girl' which is how she was able to threaten Karen. During the ladies' room scene, through the use of mise-en-scene, the audience are able to see Eve gripping onto Karen's hand, leaving the audience in no doubt that Eve will not release Karen until she got what she wants, as the audience see the sinister side of hers. This serves to highlight that due to Eve's immoral behaviours, the audience were easily able to disapprove of her character. However, Eve's desire is to be noticed and loved by everyone; Eve, as only by herself, is a nobody according to the society, being herself was not good enough and Eve wanted to feel that sense of belonging where she is wanted and adored, the theatre gave her exactly what she wanted. The society drove her to change, the recreation of her new identity is not made by her, but is in fact made by the society.
Eve is never contented with her success and constantly feel she hasn't 'created the image' she wanted. Eve needs to 'be somebody' in order for people to 'like' her, through copying Margo, Eve realises that she, too, can be a star that is desired by everyone. At one point of the film, Eve quoted "If nothing else, there's applause… like waves of love pouring over the footlights'. Through the use of an close-up shot, the audience are able to see Eve shedding tears after Margo's performance, following by an eye level shot, the audience are able to see Eve gripping onto the curtains, leaving the audience an impression that the applause and the attention was what she was crying for, and not due to the fact that Margo made a great performance. Eve gives an insight of her background to show how she didn't have that sense of belonging, like what Margo, Bill and Lloyd have in theatre, "When you're a secretary in a brewery, it's pretty hard to make-believe you're anything else. Everything is beer."
This confirms that Eve only wanted to be loved, but the society forced her to change her whole identity and therefore we, the audience, are matter in fact scorning at the work of the society. Furthermore, the double standard of the society on gender roles during the 1950s may have an effect to the reason why Eve recreated her own identity. In the 1950s, women pressured to resume 'traditional' female roles, and that is to become a 'happy little housewife' such as Karen, which is why Margo states a woman's career is a 'funny business'. Clearly, this suggest to the audience that all females must give up and sacrifice things that a woman values in life in order to make their way up and reach their goal, and in Eve's case, it was her own humanity that she chose to sacrifice. Eve is portrayed as the true villain and antagonist in this film as she have the ambition to rise to the top with a corruptive force that enables her to do immoral actions. Through being cruel and 'manipulative', Eve was able to control almost every characters in the film in the palm of her hands.
However, compared to men with ambitions such as Bill, Lloyd and particularly Addison, they are barely conceive as villains. Addison is very similar to Eve, they are both 'improbable' people where they prefer to rely on themselves, and they both have the 'inability' to love, and possess great talents and malicious ambitions. Despite the fact that Addison also manipulates people, just like Eve, the society don't see him as evil as much as compared to Eve. Mankiewicz is giving us a message that women with ambitions are often looked down upon as for having a dream that goes against with their 'traditional' female roles. Through the use of static shot, Addison speaks to Eve at her hotel room and quote "and you realise and you agree how completely you belong to me?" Addison is declaring that Eve is his own property and something that he can use to his advantage, the way he looks down at Eve, who is lying down on the bed sobbing, shows men is more dominant than woman, thus leaving women to be vulnerable and easily expose to the criticism of the society due to the nature of the 1950s era.
Related Topics