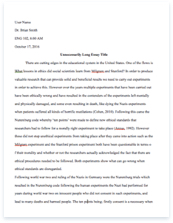 The whole doc is available only for registered users
Pages: 6
Word count: 1463
Category: Adoption
A limited time offer! Get a custom sample essay written according to your requirements urgent 3h delivery guaranteed
Order Now
I. INTRODUCTION
A. (attention grabber): According to www.adoptionfacts.org, Approximately 140,000 children are adopted by American families each year.
B. (thematic statement): Today we are going to inform you about adoption in the United States.
C. (establish significance/credibility): According to www.childrensrights.org , The majority (42 percent) of children currently in foster care waiting to be adopted were removed from their parents or caretakers before two years old. Research shows children who enter foster care at a young age remain in the system longer.
D. (preview of main points): Our four main points will be laws and regulations, different types of adoption, effects on biological parents and benefits and drawbacks.
[transition]: So first let's take a look at the laws and regulations for adoption.
II. BODY
A. (main point #1): Laws and regulations
a. Safe Haven- Newborns less than 28 days can be left at a hospital with a health-care provider. The hospital will perform a medical evaluation. The parents of newborn can give a medical history to the health-care provider. Hospital has to contact local police department to make a statement. There will be no criminal liable to parents of newborn but they have to give newborn to a health-care provider and expresses, the intent the hospital accept the newborn and the newborn is not a victim of child abuse or criminal conduct.
b. Native American Child Adoption- the Native American Indian Nations and Tribes, they will have the right to find placement in foster care and adoption of a child. Tribes can intercede in court cases regarding adoption. Tribes can place a Native American child with a tribal members or members of other tribes. If a newborn child has Native American heritage, they must contact the appropriate tribe to determine if the child qualifies for tribal membership.
c. Pennsylvania Laws: The birth mother has 72 hours after birth and birthfather has any time can consent to adoption. The birthparents have 30 days after birth or 30 days after signing whichever comes later. The return of the newborn is not automatic. The birth mother medical, legal, and counseling expenses have to be paid. The adopters of the baby can advertise for the birthparents. Out of state residents can finalize an adoption. The birth father does not have to putative registry.
d. Federal Laws: Adoption agencies receiving federal funds cannot delay an adoptive placement based solely on race, color, or national origin. They also cannot delay an applicant for adoption or fostering based on race, color, or national origin. The federal law allows for adoption of infants outside of their originating state boundaries.
[transition/with signposting]: Now that you know about the laws and regulations, let's talk about the different types of adoption.
B. (main point #2): Different types of adoption open/closed
1. There's two main types of adoption, closed and open adoption. The difference between the two closed adoption the adoptive family and birth mother remain confidential, with no contact prior to or after the placement of the child. The adoptive family will, however, receive non-identifying health and other background information about the child and the birth family before the placement takes place. The birth parents may also receive non-identifying information about the adoptive parents. The adoption files will be sealed after the adoption, and typically are never made available to the adopted child. There are advantages and disadvantages to closed adoption. Some birth parents feel that it offers closure, allowing them to move on after the birth . Adoptive families commonly fear that the birthmother will change her mind and want the baby back. Fear commonly increases for adoptive families without the communication with the birth families and knowledge of their true intentions
2. Open adoption Increasingly common nowadays is the "open" adoption process, in which the adoptive parents actually meet and usually stay in touch with the birthparents. Most adoption agencies now encourage some degree of openness. As a general matter, these days the birthparents have a voice in choosing their child's adoptive parents. Commonly, the agency gives the birthparents biographies of prospective adoptive parents, and the birthparents pick the family they are most comfortable with. The birthparents and adoptive parents meet, and might be in touch frequently during the pregnancy. Many times the adoptive parents are able to witness their child's birth. Some families stay in touch through their adoption agency, especially on birthdays and holidays. Others become and remain friends. The open adoption process also allows adoptive parents to better answer their children's questions about who their birthparents were, and why they were adopted. Open adoptions can also help the child come to terms with being adopted, because the child's concerns can be addressed directly by everyone who was involved in the adoption process. There can be downsides to open adoption. Many adoptive parents find the degree of openness to be a threat, fearing that the birthparents will intrude upon their lives after the adoption is over, or even seek to have the child returned to them. Adoptive parent may worry that the child will be confused over who his or her "real" parents are.
3. Semi-open adoptions fall in between open and closed adoptions. The adoptive family and birth parents usually will know basic information about each other, such as their first names and state of residence. Complete contact information, such as phone numbers and addresses, are not shared. While adoptive families and birth parents may speak to one another prior to the birth of the child, some confidentiality is maintained. Once the child has been placed with the adoptive family, the birth parents may still stay in contact with the family via letters and pictures, however this correspondence is handled by a third party, such as the adoption agency. American Adoptions handles all correspondence between our birth parents and adoptive families in a semi-open adoption.
Our agency maintains the current contact information for each party – if the birth parents or adoptive family wishes to send a letter or pictures to the other party, they simply mail it to the agency. We then repackage the letter so there is no identifying information (such as mailing address) and forward it on to the recipient. A majority of the adoptions conducted through our agency are semi-open in nature. Closed adoptions are rare at American Adoptions. We ask that waiting families agree at a minimum to provide pictures and letters at periodic intervals to the birth parents, if it is requested by them. Our agency will be responsible for routing all correspondence to ensure confidentiality.
[transition /with signposting]: Now that we talked about the laws and regulations, let's discuss the effects adoption has on the biological parents.
C. (main point #3): Effects on biological parents
separation anxiety
4. guilt – feeling irresponsible
5. grieving
6. sadness
7. depression – may need professional help second thoughts
1. bonded with child during pregnancy
2. seeing child after birth and wanting to keep it
3. giving child to strangers
4. skeptical, unsure, questioning
5. not being to raise or develop relationship with child long term effects
1. hard time adjusting from loss
a. takes a long time to get over
b. subconsciously punishing yourself
2. thinking of child
c. birthdays, holidays, special occasions, etc
d. wondering about the well-being of the child
3. manifests in relationships with spouse or children
e. marriage issues
i. may end up marrying the wrong person
ii. still suffering depression from loss may cause divorce f. issues with parenting
iii. having trouble becoming close with children, being distant from love ones iv. being overprotective with children, afraid of losing them.
[transition /with signposting]: finally let's talk about the benefits and drawbacks of adoption.
D. (main point #4)
Benefits and drawbacks
8. Benefits : The child will be provided with stable two-parent households that have a stable income. The adoptive parents will also be emotionally and financially prepared for a child.
b. Drawbacks : Some downfalls of adoption can be traveling to another country to adopt, the background and family history of the child can be unknown and there is a lot of paperwork and expenses involved with adoption.
III. CONCLUSION
A. (review of main points): Adoption is a lot more complicated than most people realize. As you can see, there are many things to think about when considering adoption. You have to make sure you are aware of the laws and regulations, the different types, the effects on the biological parents and the benefits or drawbacks of adopting.
B. (reminder of significance): It is important to be informed on this topic because according to adoptpakids.org, there are approximately 15,000 children in foster care in Pa.
C. (dynamic closure): I hope we have informed you more on adoption.
Related Topics