A Report on the Food Choices of Kids in School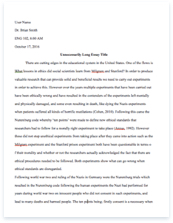 The whole doc is available only for registered users
Pages: 4
Word count: 933
Category: Kids
A limited time offer! Get a custom sample essay written according to your requirements urgent 3h delivery guaranteed
Order Now
When I was asking questions to the people in the hall to see if there was a viable market for our healthy option food truck, the responses I got varied. Most of the people said that they either brought their lunch or ate Chick-fil-a®. However, when asked more questions, it was great to hear what people actually had to say.
One of the most interesting responses I got was that she did not like the food options on West Campus (she's vegetarian) so much that she was late to class so she could go home and get some food that she actually enjoyed. There was another response that really got my attention; this young gentleman would walk all the to the rec center just to get a smoothie from Smoothie King®.
A great quote that has proved important in the customer reflections is from Bill Gates. It says, "Your most unhappy customers are your greatest source of learning." I altered this quote a little in my head for it to make more since considering we don't have customers. Inste interpreted the quote as, "The most unhappy students when it comes to food options, are your greatest source of learning." Although longer, it makes more sense when interacting with students. Some students did not have many opinions when it came to the food options on west campus simply because they are not at west campus enough to care about what is offered. Others would go home or off campus to eat, even if there was only 45-50 minutes before their next class. 30% of the people who would go home or off campus said they were late to their following class at least once because of going home to get or going to get food elsewhere. The students that are upset about the lack of food options, are our target market as they are the ones who would be looking for food.
If there was a healthier food option, students at Mays Business School would not feel the need to go off campus, go home, or bring their lunch. It is rather disappointing that a college so set on helping the student body does not seem to care as much about the healthy food options for the business students on West Campus. After working on this project, I have realized that there is a big need for a healthier option for food. The options provided, although good, are still inadequate when it comes to providing for the student body. It seems that since the business school is on West Campus, it gets left out of the updates on the university and construction possibilities.
I typically schedule my classes in order to avoid have multiple classes back to back so I can go back to my place to refresh, eat, and relax. This helps me focus more in class. However, due to scheduling complications, I have several classes in a row or with limited gaps Monday thru Thursday, so now I feel the need to eat on west campus. That's when I started to notice the lack of options available for the students that are on west campus for a large portion of time. After going through this class, I realized it was more of a problem than I realized. I wasn't the only person who couldn't find good food options that I could get in between my classes. Now that we know that there is a dire need for healthier food options on west campus, we can move forward in planning a way to meet those goals. As the technology and marketing chairman of Residence Hall Staff Council, I was invited to attend Chartwells upcoming
informational about their goals and their plans by 2022. Six years seems rather far away for there to be any improvements with the food options available on campus. This makes our plan even better if we can get it up and running in a reasonable time period. According to the University Dining Advisory Council (UDAC), they have a general timeline that is not yet set in stone. In 2018, they would like to build something similar to the Aggie Barn somewhere on south side, add a Noodle Warrior in the engineering 'neighborhood', and update the MSC Lower level to have a Dos Toros Tacqueria instead of a Chicken Grill. In 2019, they would update the MSC Upper level to include a Jason's Deli, Tuscan Pizza, Cava Mazze Grill, Layne's Chicken Fingers and replace Rev's with Chili's Too. Finally in 2020, they would work on west campus by trying to do a city scape type eateries. Basically, they would attach the food places to the buildings that are already existing. These restaurants would include Chick-fil-A, Houston St. Subs, and Noodles Company. They would also remove the AgCafe and put a Starbucks and Aggie Express there.
The biggest complaint from the student leaders present at the UDAC meeting was that west campus would not be worked on until 2020. We found that timeline ridiculously inaccurate of what actually needs to change. The engineering 'neighborhood' does need more food options closer by, especially since Pi-R closed. However, they are still close enough to Sbisa and the Underground that a large majority of the student leaders didn't feel that was the first need of student's on-campus. The first need, as voted on, was to satisfy the needs of west campus students by working on adding food trucks in the meantime or by working on it before the fix the 'engineering neighborhood'.
Related Topics