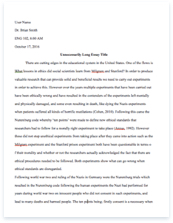 The whole doc is available only for registered users
Pages: 6
Word count: 1419
Category: Relations
A limited time offer! Get a custom sample essay written according to your requirements urgent 3h delivery guaranteed
Order Now
UNDERSTAND WORKING RELATIONSHIPS IN SOCIAL CARE SETTINGS PERFORMANCE CRITERIA (PC)
Explain how a working relationship is different from a personal relationship.
ANSWER
The basic difference between a working relationship and a personal relationship is the intimacy or the level of intimacy that people can show. If it's a personal relationship, people can be nice, sweet, rude or impolite, all depending on their moods at any given time. On the other hand, conversations and communication in working relationships are usually formal and polite.
Describe different working relationships in social care settings
ANSWER
Many different working relationships exist in social care settings. Few of them are given below:
i. Care/support worker and service users
ii. Manager and care/support workers
iii. Service users and social workers
iv. District nurse and care assistants
v. Doctors and service users
vi. Occupational therapists and service users
UNDERSTAND THE IMPORTANCE OF WORKING IN WAYS THAT ARE AGREED WITH THE EMPLOYER PERFORMANCE CRITERIA (PC)
Describe why it is important to adhere to the agreed scope of the job role
ANSWER
Agreed ways of working will provide the care giver with instructions and guidelines, as well as make him/her aware of roles and responsibilities within the service provision. It is important to be aware of roles and as they will have to work within the roles and limits.
Recognising roles and limits will enable the social worker to protect themselves and others from danger. They would also be empowered to learn their professional boundaries, which mean what they are either allowed to do or not to do.
Outline what is meant by agreed ways of working
ANSWER
Agreed ways of working refers to the staff following the policies and procedures, adhering to each individual's care plans accordingly, as well as any risk assessments in place as well as reading and following and codes of conduct.
Explain the importance of full and up-to-date details of agreed ways of working
ANSWER
It is very necessary to have the latest written copy of the agreed ways of working, as it changes from time to time, according to service user's choices and circumstances, CQC requirements, business insurance policies, health and safety regulations and national crisis. If a social worker does not become familiar with full and up-to-date copy of agreed ways of working, then he/she will remain unfamiliar to the recent changes. Unawareness of recent changes may cause danger or harm to the social worker, the individual being worked with or the environment.
UNDERSTAND THE IMPORTANCE OF WORKING IN PARTNERSHIP WITH OTHERS PERFORMANCE CRITERIA (PC)
Explain why it is important to work in partnership with others
ANSWER
They are very important partners in the overall health or social care provision to an individual. All working relationships should involve mutual respect and should value other people's skills and knowledge with a focus on working together in the best interests of the individual receiving care support.
Identify ways of working that can help improve partnership working
In order to improve partnership working, we all have to focus on the purpose of our job role which is to provide best care and support to improve individual's life, health wellbeing. Standard ways to maintain good partnership working are as follows:
i. Respecting individuals, promoting equal opportunities and respecting different cultures and values can help to improve partnership working.
ii. Sharing useful information and respecting the views of others in order to achieve positive outcome for individuals.
iii. Communicating in an appropriate, open, accurate and straight forward way.
iv. Mutual cooperation and equal loads of work among colleagues can help to improve partnership working as well.
Identify skills and approaches needed for resolving conflicts
ANSWER
Good attitude and good relationships: good attitude is very important for building a good relationship. And a good helps to resolve conflicts. I should treat others calmly and build mutual respect. We have to be courteous to one another and remain constructive even under pressure.
Be attentive to the fact: by listening carefully, I will be able understand other's view about the fact, and why the person is adopting his or her position.
Separate the issue from relationship: in any conflict, there is an issue involved. And if I can separate the issues from a conflict, then it can be debated without damaging working relationships.
Compromising Behaviour: Compromising behaviour helps to find a solution that will at least partially satisfy everyone.
Explain how and when to access support and advice about:
a. Partnership working: any time you have an issue with partnership working, they can be handled basically the same way as resolving conflicts.
b. Resolving conflicts: access support and advice if you feel that you are being reasonable, yet nothing is coming out of the efforts to resolve the conflict. In that case, speak to someone outside of the conflict, such as line managers, colleagues, supervisors, external agencies
UNDERSTAND THE IMPLICATIONS OF DUTY CARE PERFORMANCE CRITERIA (PC)
Define the term 'duty care'
ANSWER
A duty of care is a legal obligation imposed on a career who is the position to look after vulnerable individuals, to protect them from harm and support them to lead a fulfilled life.
Describe how the duty of care affects own work role: a person in a specific role has to ensure that others are taken care of, and not harmed during a particular task. This involves giving appropriate attention, watching out for potential hazards, preventing mistakes or accidents, and making wise choices about steps undertaken in a role.
UNDERSTAND SUPPORT AVAILABLE FOR ADDRESSING DILEMMA THAT MAY ARISE ABOUT A DUTY OF CARE PERFORMANCE CRITERIA (PC)
Describe dilemmas that may arise between the duty of care and an individual's rights
ANSWER
Dilemmas could be in the form of staff having a difference of opinion over an individual, for example, a staff member believing that they have seen signs of abuse, and another staff member thinking there are none. The care giver is expected to help the people they are caring for to maintain good personal hygiene, but sometimes a person will refuse to allow the care giver assist them, despite their manifest inability to help themselves. Dilemmas could also include knowing when to get further help and protection for the vulnerable, or knowing when to break confidentiality and share information.
Explain where to get additional support and advice about how to resolve such dilemmas
ANSWER
Talk to the person whose personal hygiene is in question, to try to find out what the problem may be, or look into their care plan to see their background as there could be something within their past that could help. Also, if there is a person in your care who is prone to an illness, report it immediately so that necessary testing can be done. Talk to team leaders or the person's family. In some cases, input from social workers may be required.
KNOW HOW TO RESPOND TO COMPLAINTS PERFORMANCE CRITERIA (PC)
Describe how to respond to complaints
ANSWER
First of all, listen to the complaints and assess the right action to take. It all depends on what level of seriousness the complaint is. Once you have established this, you should be able either deal with the complaint yourself or advise which course of action to take, as well as determine who next to take the complaint to, if you cannot handle it.
Identify the main points of agreed procedures of handling complaints
ANSWER
Complaints procedure has different methods depending on type of complaints and if it is a complaint that has not been dealt with previously with the desired results. Firstly, talk to the managers of the home. This may help to get the complaint dealt with right away. You may have to put it in writing if need be, in which case they will have to respond with an acknowledgement of receipt of your letter, detailing how they intend to deal with the complaint and how long it might take. If the complaint is of a very serious nature, you may have to involve the Care Quality Commission (CQC).
UNDERSTAND THE IMPORTANCE OF DIVERSITY, EQUALITY AND INCLUSION PERFORMANCE CRITERIA (PC)
Define what is meant by:
i. Diversity: Diversity means being varied. It pertains to the differences in culture, religion, disability, beliefs and attitudes of each individual in any group of people. All aspects of life respect differences and acceptance of human diversity.
ii. Equality: Equality means that all people have the same rights and status regardless of our colour, sex, orientation or race. It also means that we are all eligible equal opportunities in education and work places, whether male or female.
iii. Inclusion: Inclusion means considering everybody to participate in an activity or socialising without barriers. This would involve adapting places for people who have disabilities. Examples include buses, toilets, play areas and malls. It also means realising that we engage with people with difficulties with positivity to get them included in various activities.
Related Topics