A Personal Narrative in Greensboro Youth Council, a Community Service Project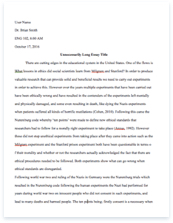 The whole doc is available only for registered users
A limited time offer! Get a custom sample essay written according to your requirements urgent 3h delivery guaranteed
Order Now
When thinking of the real meaning of community service, two very important terms come to mind: learning and giving. Community service is usually associated with t giving your time to assist someone else, whether they be in need or not, and learning from those experiences. Rarely is it seen as an opportunity to discover more about oneself. Throughout my high school career, I have participated in numerous community service projects and one particular project stands out. Greensboro Youth Council, a local organization run by high school students, puts on various events for the neighboring communities throughout the year that range from passing out Christmas toys to underprivileged children, annual Halloween party and the famous GYC Carnival that attracts people off all ages.
Along with these bigger projects, GYC holds smaller ones like the Back to School Explosion, which I was a staff member for. My role in the back to school explosion was to make sure that all the details were coming together as well as making sure everything stayed on schedule the night of. I felt really honored to serve my community through volunteering at this event as well as time spent outside getting everything together. This is an example of how community service is a form of giving. When planning this event, I not only gave my time but also my ideas as well. Community service will allow you grow and help you become a better person for people to encounter. Throughout the whole process, I was required to give a lot of time to ensure the event was a success and it just delighted me that I was giving my time to a worthy cause. The other major component of community service is learning.
Some of the valuable things that I have learned throughout the whole process are how to communicate effectively with people, working collaboratively, and learning how to speak up when necessary. Community service is a very important aspect in my life, that isn't taken lightly, and has allowed me to grow exponentially as a person. Community service is often viewed as an individual taking steps to improve the lives of others or to assist them with things that they are thought to be in need of. Rarely is community service viewed as as opportunity to learn anything valuable or to improve the quality of one's own life. I used to serve meals at a homeless hospitality house during the summer time. During each meal, I would go in, greet the faces that I had seen time and time again and work with a group of volunteers who came to do the same thing I was doing. I viewed this as an act of service to my community and was very proud of it.
It was not until a while after I had moved on from this and was doing other service-like activities did I realize the impact that the experience had on me. While I was there as a server of the food, I did not recognize how valuable the conversation I had, the friends I made, or the quality of the time I was spending there would be to me later on. I merely participated in the community service because I enjoyed doing it and felt like it was the right thing to do. I ended up learning a lot more than I was able to give. I became aware of the different situations that led individuals and families to homelessness. I also became more knowledgeable of the systemic issues such as poverty, low wages, and class differences that contribute to homelessness and its ability to continue to exist. This information was not presented to me in a book or some scholarly report. It was given to me in the form of relationships I built with the people involved in the hospitality house. These relationships continue to exist today and have proven invaluable to me as I have discovered more about myself. True community service offers these kinds of pivotal learning experiences that are so necessary for people to gain.
Related Topics