A Mind Threatening Illness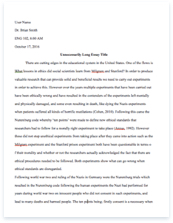 The whole doc is available only for registered users
Pages: 4
Word count: 892
Category: Death
A limited time offer! Get a custom sample essay written according to your requirements urgent 3h delivery guaranteed
Order Now
Igby Slocumb from Burr Steers' film Igby Goes Down and Holden Caulfield from J.D. Salinger's award winning novel The Catcher in the Rye are both troubled adolescences from events that occurred in their past. These two teens both have a case of Post-Traumatic Stress Disorder, but show much different symptoms, which are apparent to those around them. These symptoms are portrayed in different incidents throughout both the film and the novel, when Holden constantly remembers his brother, when Igby cannot handle his mother's death, and Igby's steady fear of becoming like his supposed-to-be father. Holden's main reason for having symptoms of PTSD is the tragic death of his younger brother Allie, who had died of Leukemia when he was eleven. One of Holden's obvious symptoms is his reoccurring memories of his deceased brother. When Stradlater requested that Holden write a composition for English class for him, he decided to write about his brother Allie's baseball glove. As he begins writing, it brings memories back to him. He says "He's dead now. He got Leukemia and died when we were up in Maine, on July 18th, 1946. You'd have liked him" (Salinger, Page 38).
This quotation indicates how Holden remembers his brother's death in detail, and it is proof that he has reoccurring memories of the traumatic event of Allie's death. Another symptom of PTSD that Holden shows is his rage fit shortly following his brother's death. "I slept in the garage the night he died, and I broke all the goddam windows with my fist, just for the hell of it. I even tried to break all the windows on the station wagon we had that summer, but my hand was already broken and everything by that time, and I couldn't do it" (Salinger, Page 39). This quote shows how enraged and disturbed Holden was that night by telling us how violently he reacted. Holden's case of PTSD apparent is most likely to be caused by Allie's death shown by these points. Igby Slocumb has a condition similar to that of Holden's, but Igby's is caused by his father's mental break down. Igby has a reoccurring memory of his father when he recites his words from the time that Jason was in the shower fully clothed and bleeding from breaking the glass.
"I feel a great pressure coming down on me. It's crushing me. It's just you and me, old man" are the words said by Jason that Igby repeated to himself. Igby's memory disturbed him in his young age at the time his father said it, and from that Igby grew a constant stress about possibly becoming what Jason was, and is a reason that Igby has a case of PTSD. Early on in the film, we discover that Igby turns to drugs to try to escape the reality he is living in. We see this when he is in the washroom of the hotel room and he's taking assorted pills as a means of getting high. At the same time he calls a sex line not for pleasure, but just looking for someone to talk to. Much like when Holden just wanted to talk to the prostitute he was with instead of doing anything sexual. To both characters, just talking provided much more relief than that of sexual thoughts or actions would have to either of them.
Igby's father's metal break down is one of the causes of the teen's PTSD case. Igby's mother's death was also one of the contributors Igby's Post-Traumatic Stress Disorder. Shortly after the Slocumb's mother becomes deceased, Igby realizes that she is actually gone. Igby does not believe she is actually dead so he jumps on here and attempts to beat the corpse so she will wake up from what he wants to believe is sleep. This indicates that Igby's mother dying was traumatic to Igby and caused him to lash out and cry whilst trying to revive his mother. After the event, Igby was irritable and seemed very nervous to Ollie and Sookie.
Just before Mimi died, she told Igby that DH was his real father. After Igby got over his mother's death, he was finally able to be relieved of his constant stress because he knew he could not inherit his Jason's mental condition, most likely schizophrenia. Mimi's death was traumatic for Igby, but afterwards it brought him a sense of security that he would not have to deal with developing the condition that Jason had. Overall, Igby and Holden are two teens that face the world with the mental illness PTSD, which makes both their lives more challenging. Death and abnormality of family members are the reasons the two boys are so dysfunctional in their lives. In the end will they both really be cured of their mental handicap, or are they bound to the same road for the rest of their lives?
Bibliography
Igby Goes down. Dir. Burr Steers. 2002. DVD.
Salinger, J. D. The Catcher in the Rye. Boston: Little, Brown, 1951. Print. "Igby Goes Down Script – Dialogue Transcript." Igby Goes Down Script. Web. 23 Mar. 2012. <http://www.script-o-rama.com/movie_scripts/i/igby-goes-down-script-transcript.html>. "Post-Traumatic Stress Disorder (PTSD)." NIMH · What Are the Symptoms of PTSD? Web. 22 Mar. 2012. <http://www.nimh.nih.gov/health/publications/post-traumatic-stress-disorder-ptsd/what-are-the-symptoms-of-ptsd.shtml>. "Post-traumatic Stress Disorder (PTSD)." Post-Traumatic Stress Disorder (PTSD): Symptoms, Treatment and Self-Help. Web. 22 Mar. 2012. <http://www.helpguide.org/mental/post_traumatic_stress_disorder_symptoms_treatment.htm>.
Related Topics