Why a Manager Should, or Should Not Be Considered a Stakholder?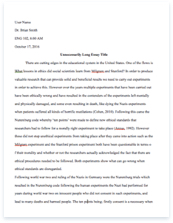 The whole doc is available only for registered users
Pages: 2
Word count: 368
Category: Manager
A limited time offer! Get a custom sample essay written according to your requirements urgent 3h delivery guaranteed
Order Now
Why a Manager Should, or Should not, be considered a Stakeholder Stakeholders are those groups from whom the organization has voluntarily accepted benefits, and to whom the organization has therefore incurred obligations of fairness. Typically, this includes groups such as financiers, employees, customers, suppliers and local communities. I believe that managers should not be considered stakeholders. Managers should acknowledge and actively monitor the concerns of all legitimate stakeholders, and should take their interests appropriately into account in decision-making and operations. Managers should listen to and openly communicate with stakeholders about their respective concerns and contributions, and about the risks that they assume because of their involvement with the corporation. "In sum, we argue that stakeholder theory must account for power and urgency as well as legitimacy, no matter how distasteful or unsettling the results.
Managers must know about entities in their environment that hold power and have the intent to impose their will upon the firm. Power and urgency must be attended to if managers are to serve the legal and moral interests of legitimate stakeholders, (Mitchell, Agle, & Wood, 1997, p. 882)." Managers should ethically work cooperatively with other entities; both public and private, to insure that there are no corporate activities risks. Managers have to acknowledge the potential conflicts between their own role as corporate stakeholders, and their legal and moral responsibilities for the interests of all stakeholders, and should address such conflicts through open communication and appropriate reporting. "Stakeholder theory maintains that normative or legitimate stakeholders are owed an obligation by the organization and its leaders. Running an organization does not license a manager to violate the norms and standards of society, but instead introduces a brand-new set of moral considerations based on stakeholder obligations. In respect of normatively legitimate stakeholders (e.g. financiers, employees, customers); the ethics of business implies more obligations rather than less, (Phillips, 2004, p. 5)."
References
Mitchell, R. K., Agle, B. R., & Wood, D. J. (1997). Toward a theory of
stakeholder identification and salience: Defining the principle of who and what really counts. The Academy of Management Review, 22(4), 853-886. Phillips, R. (2004). Some key questions about stakeholder theory. Ivey Business Journal, 1-5. Retrieved from http://www.iveybusinessjournal.com/view_article.asp?intArticle_ID=471
Related Topics