The Importance of Time Management Priorities, Being Organizing and Setting Goals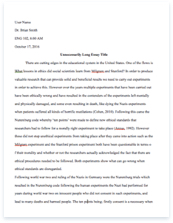 The whole doc is available only for registered users
A limited time offer! Get a custom sample essay written according to your requirements urgent 3h delivery guaranteed
Order Now
Time is as precious as gold but not all of us realize that. It is an absolute equal for everyone, yet time seems to work better for some people but not for others. Those with more time seem to learn how to manage accomplish more. Like the old saying that "Time is a priceless treasure!" We must appreciate every moment that we have and remember that time waits for no one. Lost time cannot be replaced; it can neither be bought nor saved. It can only be spent and then it is gone! There are a number of ways to cherish time better and wisely; such as determining the priorities, being organized and setting goals in life. First, time management is very important in any setting including careers, education or relationships. It is always important to manage time in order to accomplish goals. We have to prioritize, determine what's important to us, and schedule those activities first, then schedule other priorities according to our time schedule.
We should also avoid canceling those activities that we truly enjoy over necessary activities. This is crucial as most of us today do not know how to spend their time equally between entertainment and work. Second, some believe that life is brief and time is briefer. It makes sense to make the most of every instant and put it to work for us so that we can use our time astutely as well as successfully. It is important for us to get organized. Find a place for everything in the house and office, to avoid wasting time searching for through clutter, which causes extra stress. Studies show that people who are surrounded by clutter spend 1.5 hours per day searching for something or becoming distracted. Create a list of what to achieve each day and distinguish what is and is not attainable. Focus on a manageable amount of activities each day in order to accomplish them.
Lastly but not least, always set goals. While reading stories of winning people, it is important to realize that one thing that all of them seem to have managed well is their time. It is not without a reason that they all showed respect toward their time; it is because that one who does not know how to manage his or her time would never achieve entirely what he/she wants. Set targeted goals and focus to achieve them regularly. This also helps raise self-confidence and increases performance levels. Goals help maintain high motivation levels, and it is necessary to plan appropriate activities for attaining goals. To summarize, there are so many ways that we can help us to manage our time better. We should always follow these golden rules, like being determent of priority, being organized, set up goals in life to be achieved from, and finally be firm with ourselves when it comes to the time management. Otherwise we'll definitely regret that why we wasted our times when we have it. So let's not waste time and try to use and managed it wisely as much as we could.
Related Topics