The Importance of Time Management in Our Daily Life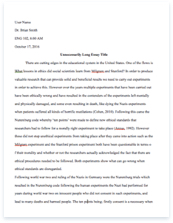 The whole doc is available only for registered users
A limited time offer! Get a custom sample essay written according to your requirements urgent 3h delivery guaranteed
Order Now
Time management is something everyone needs to learn, whether he/she is in college, high school, or starting a new family. The earlier people start managing their time, the better off they will be. When I did my tracking form, frankly, I was shocked at how poorly I used my time and how I could have used my time for more relevant matters. When I tracked my time, the category that I spent the most time doing was sleeping. I do not find that surprising because sleeping is a crucial part of our biological clock/schedule. We as humans spend the most of our time sleeping because that is what we do for most of the night. Scientifically, we cannot produce a whole lot of energy when we eat because our bodies are not that efficient, so even though we may pull all-nighters or work eighty hours a night, that energy lost can be compensated through sleep.
I also noticed that I spent a good portion of my time studying, but I was also distracted by friends while studying with them, taking breaks using the bathroom, and eating. I am slightly surprised by the fact that I do not spend a lot of time on social media, and that is something rare for people in my generation. To be honest, I do not use my phone very much (except to make calls and do minimal texting), and I only go on social media for an average of about eight to ten minutes a day. I wish I had used my time this week more efficiently getting work done and studying more without distractions. I did not study for two hours for each one hour in class, and that is something definitely I should get in the habit of doing. As of right now, my academic goals are to make sure I focus only on my academics with some leisure time. I want to make sure I study hard and do well on my exams (like everyone here), but still have time for things like sleeping, fun, going out, and a job. The one barrier that I need to overcome is being independent and managing my time in an efficient manner (not procrastinating). That is something I have been struggling for quite a while now.
My priorities are always in the reverse. I do the things that are due later rather than do the things that are more important. For example, I was doing this reflective statement on a night where I should be studying for my first chemistry exam. In college, there is not anyone to tell me to go to bed, make me dinner, or accommodate to my needs when I am busy; everything in college is on my own (getting meals, waking up, etc…). If there is one thing that I learned, it is that you should always start managing your time as early as possible, and being disciplined is always the first step.
Related Topics