The Importance of Studying, Social Network and Time Management Skill in College Life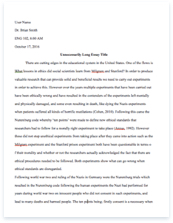 The whole doc is available only for registered users
A limited time offer! Get a custom sample essay written according to your requirements urgent 3h delivery guaranteed
Order Now
Life in college is stepping stone to success of a student. Most of the skills and knowledge needed to be a first-choice job applicant are provided or gained from college. Therefore, making best use of college life is no doubt a necessity for students, especially in aspects of studying, social network and time management skill. Many suggestions about how to study well in college are mentioned in hundreds of articles or research. One of the most popular points is attending class. This may sound ridiculous because college, needless to say, is where we pay fee to attend and study. However, the amount of students skipping class is huge and even shocking. If we are not present at class, how can we take notes and get the figures from lecturers? By attending class fully, we can avoid missing the important ideas given by the professor which are not printed in any books or captured by our classmates. Then, taking effective notes at lectures becomes a priority to the students.
The brain may not functional enough to record all the ideas and new information of the lecture so the jottings are responsible for the action. Moreover, the lecturers are supposed to give thought provoking assignment after each class which is related to the topic discussed. The advice is to start the process of completing the task right after the class time when the lesson is still fresh. This will result in higher-quality assignment as well as better and longer memory. Together with classes, college is about social life. It can't be denied that socializing is the key to gain reputation and achievement in life and career. For that reason, the first thing we should not forget is to be genuinely interested in good people around us. Dale Carnegie has mentioned in his best-seller this strategy "You can make more friends in two months by becoming interested in other people than you can in two years by trying to get other people interested in you". However, the key point lies in "genuinely", which means the interest in the ground of sincerity and full respect, not the exploitation. What is more, we have many occasions to participate in clubs both within and out of the university.
The activities in clubs are diverse from volunteering, sharing hobbies like dancing, painting to academic relating ones like foreign language speaking, etc. The more activities we share, the closer we get and longer connections we gain. Finally, since we have to take advantage from both class and social network, learning to balance the two aspects seems to be a mandatory task to succeed in college. It requires us to be a good time manager. We have to make sure that the amount of time spent on studying is sufficient so that we can complete the assignment on time and have time to self-study such as reading books, taking online or offline courses, etc. In addition, logical task arrangement is necessary to be able to attend clubs' activities. In order to do that, we have got to limit wasted time on useless things and have concentration for productivity. College success requires good performances of studying, active social life and effective time management skill. To acquire these factors is not an easy mission that can be done in a short period of time. Patience, commitment and the eagerness to change are what we have now to achieve later in life.
Related Topics