The chicano generation: testimonies of the movement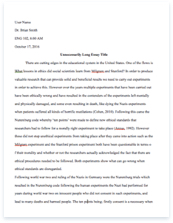 The whole doc is available only for registered users
A limited time offer! Get a custom sample essay written according to your requirements urgent 3h delivery guaranteed
Order Now
García is a professor at University of California, Santa Barbara and teaches Chicano Studies and History. He's knowledged in the field Chicano history, race, ethnicity, and religion. His research and activism is presented in published material that is available for those in academic settings who have interest in the Chicano Studies and history. García, known as a veteran of the civil rights movement shares in his book three lives in the activism and how they represent the struggle of the Chicano movement in Los Angeles during 1930s to 1960s period. Some special features in the book are images of actual footage during the Chicano movement. It is a biased resource because the author presents the activism and relation of how the author feels during the 1970s movement.
Garcia, M. (2016). Cesar Chavez and the United Farm Workers Movement. Retrieved from http://oxfordre.com/americanhistory/view/10.1093/acrefore/9780199329175.001.0001/acrefore-9780199329175-e-217
The author is a professor of Latin American, Latino, Caribbean Studies, and history. He is currently a professor at Dartmouth College, but has taught as well in other prestigious universities. He explains in his biography how he's passionate for knowing where food comes and the people who are involved in the process of production in California. His article in the encyclopedia provides information during the Cesar Chavez and Farm Workers Union boycotts across California. It shares insights on how meetings were held in order to organize farm workers and minorities to join and protest for justice across the state of California. This is one of the most historical moments during the 1970s and for farm workers wo continue fighting for justice and fair treatment to those who work in the agricultural fields. The article and following information of the movement is kept at the University of San Diego which is available for further knowledge to review and understand by students and faculty who study Chicano movement and Cesar Chavez Farm Worker movement. It contains special features of additional information on the historical background and impacted movement. It is a biased article in which supports the Chicano activism.
Haederle, M. (1997). Culture Clash: when two sisters tried to teach chicano history in a small New Mexico town, they sparked a debate on ethnic identity and caused a rift between faculty, students,and families. Retrieved from https://search.proquest.com/docview/421321147/fulltext/4865ABC692FB4850PQ/3?accountid=10364
Haederle is a writer, editor, and teacher in New Mexico. He has contributed with the most popular newspaper and magazine companies; to name a few: Discovery Channel Magazine, People, the Los Angeles Times, The New York Times, the Chicago Tribune, The Houston Post and many more. He focuses on writing about law, culture, science, medicine, religion, and is an active Buddhist monk. In one of Los Angeles Times, Haederle's article highlights a case in which two teachers are suing school officials after claiming that their civil rights were violated. On top of that these two teachers were terminated from their jobs without and provided benefits. The article is geared to general readers and does not require any particular knowledge. The article as well is informative and isn't biased. It lacks information based on districts decisions after losing the case.
Los Angeles Magazine (2017). The past is present. Retrieved from https://www.lamag.com/sponsored/the-past-is-present/
In 1961 Los Angeles Magazine was founded by Geoff Miller and its purpose is to cover information on people, trends, food, art, and news that defines Southern California. The editor-and-chief Matthew Segal has led the magazine to four National magazine awards and other numerous honors in the media. LA magazine is updated daily and is intended for an audience that has an interest in trends, lifestyles, and cronics that fuse in the marvellous city of Los Angeles. The magazine article states that the Chicano Civil Rights Movement walkout at East LA high school from 1968 photographed is a representation of the movement and how photographs taken during the movement and continue to be taken are form of activism and social justice. More than 200 photographs are in UCLA Chicano Studies Research Center archives that contain historical experiences that continue to accumulate because the past continues to be the present. The content doesn't contain any special features as it is an informal article. It is also an unbiased article because the author shares historical facts that are backed up by resources.
Murrieta, M. (1995). Culturadoor. http://www.culturadoor.com/?page_id=247
Murrieta is a professor of Spanish and Literature at California State University, Stanislaus. He is originally from Sonora, Mexico and came to Arizona with a scholarship to gain knowledge, but eventually decided to stay and continue building on his career. He has been awarded and recognized for the many books, poetry, cronics, papers, and lectures published. He is as well the founder and editor-and-chief for Editorial Orbis Press; where he has published many of his writings. Murrieta has achieved in being an active Chicano, not only through his writing, but with the updating use of technology; a website directed by him. The website is an open source intended for his students and former students who are active Chicanos. The website is designed to share news, cronics, student approved essays, and research papers. A special feature that the website provides is that you can publish any Chicano studies as long as it meets the criteria. The website is an open space for freedom of expression and creativity, while respecting personal and religious preferences. It does lack in having english information and insights.
Nittle, N. (2018) History of the chicano movement: education reform and farm workers' rights were among the goals. Retrieved from https://www.thoughtco.com/chicano-movement-brown-and-proud-2834583
Nittle has written publications on topics of race, education, and culture. She is experienced in journalism and has worked for magazines, newspaper, and digital media. Her writing publications have been used as advocacy organizations in schools and lesson plans. Her work focuses on creating on content for educational purposes within ThoughtCo.ThoughtCo is the top 20 largest publishing company that gives educational information and provides the best journalist, and writers across the state, like Nittle. ThoughtCo and Nittle inform us on the different issues during the Chicano movement. Some historical points when Chicano activism starts and how it relates toward farm workers boycotts led by Cesar Chavez. Another important context is the declaration of equal education opportunity in Los Angeles. In 1968 students fought for educational reforms and educational funds for Mexican American citizens. It's stated that educational, economic, and political independence is a road for triumph. The article is biased by supporting Chicano rights and stating that Hispanics have more power than they did in the 1960s. The resource website is intended for students that seek background information in the Chicano philosophy and historical movements. A special feature is that it's updated on a daily and there is always new information on same or similar topics.
Oropeza, L., Espinoza, D., Nichols, J. (2006) Land, race, and poverty. Enriqueta Vasquez and chicano movement: writings from el grito del norte. (3-11). Houston, Texas: Arte Público Press.
Enriqueta Vasquez and the Chicano movement : writings from El grito del norte
The author is one of the most is known to be one of the most courageous figures during the Chicano Movement. In her book she shares many aspects of poverty, sexism, and racism that existed during 1968-1972. It is present in her book that humor and anger are a platform to fight injustice and a wakeup call to take action. The book proves some of the struggles faced when jobs during that period kept women working day and night, and no overtime pay was given. She also contributes with the idea that the richer got rich just by owning land, and that those who struggle to work the lands receive an injustice treatment by the system. The book holds a biased side as it does share the struggles that a Chicana women had to face during the movement not only as a Mexican-American, but as a female. Some special features is that the book contains images of actual footage during the Chicano movement.
Rios, F. (2008) From Chicano/a to Xicana/o. Retrieved from https://files.eric.ed.gov/fulltext/EJ809068.pdf
The author is a professor in the Educational Studies of the College of Education at University of Wyoming. The purpose of his article was to distinguish between Chicano Movement, which began in the 1960s and 1970s and the 21st century. The purpose of his scholarly journal article is to understand and clarify the identity, ideology, and imagination in committing social justice. The article shares images and diagrams that differentiate Chicanismo and Xicanismo. This article is intended for academic students who need background knowledge in the subject. The article is unbiased because it shares many features with stated facts and backed up resources to the content.
Treviño, J. (2001). Yo soy chicano, Eyewitness: A filmmaker's Memoir of the Chicano Movement (225-233). Houston, Texas: Arte Público Press.
The author and eyewitness of the Chicano Movement is an award-winning filmmaker, after producing films of the Chicano experience. He's continues his activism by being an executive producer of PBS documentary series, and directing Hollywood television dramas. NYPD Blue, The Practice, Star Trek Voyager, and many others, adding on he has a collection of stories like The Fabulous Sinkhole. In his book he describes his participation and documentation during the Mexican American civil rights movement of the 1960s and 1970s. His documentations and activism share the farm workers' strikes, school walkouts, and captured the founding of La Raza Unida Party as well as other organizations. His book is a personal affirmation dedicated to educate and captivate readers who are interested in the Chicano Movement. It does show biased points as the author states points that he eyewitnessed in person during the 1970s movement.
Zonkel, P. (n.d) Righting a wrong Mendez v. Westminster brought an end to segregation in O.C. schools – and ultimately throughout the state and nation. Retrieved from http://sylviamendezinthemendezvswestminster.com/aboutus.html
Zonkel is the co-founder of Q Voice News; an online news magazine platform that covers LGBTQ community in Long Beach and Los Angeles. He's an award-winning and has been nominated for his reports on daily news, arts, culture, politics, history and many other subjects. Zonkel presents us with some history not well recognized or covered in an education setting in which discusses the matters of fighting for justice and citizenship rights. In 1945, Marcus, a civil rights attorney in Los Angeles filed a case against Westminster and three other Orange county school districts. The case was known as Mendez v. Westminster, Mendez a far worker in California had tried to register his children at the local school, but had been denied the education due to being half-Mexican. He decided to file the case and later won after Judge McCormick had favored in Mendez and ruled that equal protection had been violated. The documentary is intended to raise awareness to the people and to schools who have not yet acknowledged the case. The documentary is unbiased as it presents an informative case of actual footage of what occurred during Chicano activism.  
Related Topics