The Ability to Empower Others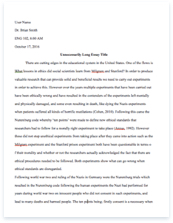 The whole doc is available only for registered users
A limited time offer! Get a custom sample essay written according to your requirements urgent 3h delivery guaranteed
Order Now
Many different researches have been done, many books have been written, and many lectures have been given on different styles of leadership. A combination of passion, consistency, confidence, hope, and compassion, along with other important qualities are essential for a person in order to become a good leader. It is important to mention, that with some of these qualities a person is born, other can be taught throughout life. As a formative phase of a development, the leader of any kind must live by example. Nowadays, more than ever, real leadership is very important in all aspects of life. In the following project I will discuss what exactly is authentic leadership and what does it mean to be an authentic leader.
Leadership is necessary in every household, every neighborhood, every community, state, and country. In many occasions we can see lack of good leadership, or on the contrary a great examples of exceptional leadership. It is important to say that not everybody is born a leader or can be made into a leader – not everybody can lead. To be a leader requires honesty, integrity, and charisma. According to Northouse, "Leadership" (page 255), the definition of authentic leadership is: "A leader is a person that exhibits genuine leadership, lead from conviction and is original and not a copy." Three different viewpoints have been developed on the authentic leadership – intrapersonal perspective, interpersonal process, and developmental perspective.
Intrapersonal perspective refers to how the leader behaves internally, and how is his or her decision making process affected. It integrates leader's self-knowledge, self-regulation, and self-concept. The leader can make up the decision based on the events of the past.
Interpersonal process brings to the table also the question of leader's relationship with his subordinates and how can they affect the leaders ability to accomplish certain task and vice-versa.  Developmental perspective tells us how the leader can be formed and trained, rather than being born with certain qualities and traits. As mentioned before not everybody has the ability, skills and characteristics to become a leader.
Leaders can become great, but not necessarily because of their power, but rather because of their ability to empower others. Good leader needs to be supportive; hence, people are the most valuable asset in a company. Equipment, machinery, tools, software, buildings, and land are all tangible assets that can be bought on the open market, thus they do not offer any competitive advantage. It is always people that make the most obvious difference. Leaders must use their position, relationships, and productivity to invest into their subordinates and nurture them into becoming leaders in their own positions.
In the particular area of authentic leadership, there are two different approaches that need to be discussed. The first one is practical approach and the second one is theoretical approach. Many of today's CEOs, directors, presidents, governors, and community leaders are very leadership-knowledge "hungry." They strive to become better leaders, to better serve the people around them, to become an inspiration, and to be honored and remembered by their followers.
Practical approach to authentic leadership focuses on the actions of the leader and his leadership team. This approach is also called Terry's approach. The main goal is that the leader has to always strive for what is right. Integrity and moral views are unmistakably present in the practical approach to leadership. Leaders change lives of the people they lead in one way or the other. For example leaders like Dalai Lama, Gandhi, Nelson Mandela, or Lech Walesa changed the lives of his followers for the better by showing compassion and strong charisma. On the other hand leaders like Adolf Hitler, Joseph Stalin, or even Fidel Castro have taken advantage of strong followership to ultimately changed the lives of the people for worse. These men have not shown the signs of good authentic leadership.
Leaders can become agents of change by tackling tough problems, touching on thorny issues, and dealing with moral dilemmas. Their ability to come as a winner in the eye of his followers is vital in order to keep the leader in actual his actual position. Depending on the outcome of "the battle" his subordinates can lose the respect for the leader or gain more of it. Respect of subordinates is not given to the leader, it is earned by the leader. By having the ability to make difficult decisions, leaders can make a difference. Every single problem or adversity always offers more than one answer or solution. Therefore, leader should always ask to vital questions before tackling a problem. First, "What is really going on?" and second one, "What are we going to do about it? The leader and his team must answer these two questions with integrity and veracity , while striving for the best for the company and his employees, otherwise any decision can cause serious consequences. A helping tool, a wheel with six components, was developed in 1993 to help the decision making process. The six components are: meaning, mission, power, structure, resources, and existence.
Mr. Terry grouped the first three on the top part of the wheel, and the remaining components on the bottom part. The whole idea of doing so, was to divide the problem presented, and to position it according to the best component; hence, the best solution in less time can be taken.
For example, if a company is having a high turn-over, the problem can be solved as a mission problem; therefore, the company has to create a better way to tech, train, motivate the new employees, as well as the old employees. A current problem that two large companies, Amazon.com and United Parcel Service (UPS) are facing, is the inability to hire new employees for the season. This could either be due to a little compensation offer, or inconvenient scheduling of the shifts. Whichever the case, both companies must address this issue as soon as possible. Another example of poor leadership skills comes from the baseball team Miami Marlins. Team has lost most of their games this season after the manager Ozzie Guillen was let go by the owners of the team. In this particular case, the directive felt that the problem is a structure one, and new players and manager need to be hired. In other words, new power, mission, meaning, existence and resources must be in place.
The authentic leadership wheel is a great tool that helps managers around the globe to frame the issue, and tackle it in shorter period of time. If the wheel is used properly it is a very strong leadership tool.
Building great relationships with people and moving to a higher level of productivity is the best technique for an authentic leader to earn respect and admiration from his subordinates. Mr. Bill George created another approach in 2003. His approach focuses on the leader's internal persona, and how it affects, either in positive or negative way, his subordinates. Mr. George's research was based on a study of 125 leaders, and it showed that "leaders have the genuine desire to serve others, they know themselves and they feel free to lead from their core values." (Northouse, Leadership, page 258) Mr. George came out with five basic characteristics that a true leader must possess and be willing to put into action.
True leaders must understand their purpose, they must strive to do the right thing, they must establish trusting relationships with others, they must have self-discipline, and they must be passionate about their mission. All these applied the proper way will create, not only a strong leader-follower relation, but will also bring a success to a company of any size. The worst thing a leader can do after having created a good relationship with their follower, is to stop nursing all the five aforementioned aspects. If that every happens, the followers will feel betrayed and could lower their productivity levels, and in the worst case scenario leave the company and/or leader.
A good leader never acts alone; he or she must learn how to listen to others' opinions, ideas, stories, complaints, comments, and suggestions. Leader must be able to accept criticism, from the top as well as from the bottom, he or she must be able to develop a clear and powerful vision, initiate changes, and act promptly on every situation or problem presented. By acting in a timely manner, small problems will remain small; thus, large problems will be almost non-existent. Leader must be able to empower his subordinates to deal with problems, and little by little support and nurture them into becoming leaders in their own ways.
True leadership is not a matter of having a certain job or position within a company, it is becoming much more than a boss being followed by his subordinates because of his or her title. Theoretical approach, discovered and established in 2003, focuses on the leaders and leadership in harsh times, like recessions, depressions, economical downturns, and wars. These are the times when people are looking up to be lead. During the recent presidential race, here, in the United States, the word leadership was used more than any other word. The reason behind it is very simple. Times are not easy anywhere in the globe; therefore, the population of the United States is looking for a great leader that could lead them out of the hard times. And since the US is a world leader, other countries are looking for a great leader of the leading country.
Authentic leadership can also be defined as "a pattern of a leader's behavior that draws upon and promotes both, positive psychological capacities, and positive ethical climate." (Northouse, Leadership, page 262) With better training and coaching, companies will be able to raise individuals with capabilities to develop better leadership skills and techniques. Other components of authentic leadership include, confidence, hope, optimism, and resilience. All these factors positively influence the followers of great leaders.
Confidence refers to the efficacy a leader has to motivate others, and the willingness to triumph. Person that is promoted into a leadership position by the senior management is usually the one that possesses the most talent and potential.
Optimism is basically looking on the positive side of the problem at all times. Leader's initial point of view is very important when problem occurs. Foreseeing the good outcome from a bad experience is one of the most important traits of a good leader. This ability can change the view of the followers, and make them understand the complexity of certain decisions. Some leaders are mistakenly relying on their position, expecting the people to come to them. Good leader is a person that is approachable yet, he or she also approaches people to get feedback, offer assistance, and look for people's needs. As Socrates once said, "Let him that would move the world, first move himself."
Hope shown by leaders will earn their followers' respect and will make them fight harder for the same purpose. Leaders must be always ready to leave their comfort zone and be prepared to confront new problems. It is easy to be a leader when everything is right and all the goals have already been met. Resilience is the ability of a leader to confront all situations, including new complicated problems and setbacks.
Leader does not need to know all the answers at all times. It is perfectly fine to admit that one is not a prophet within the company. What is important, is to be able to be surrounded by people that are able to help new unknown problems. The creation of solid, knowledgeable team of people is one of the most important roles of a leader that strives to succeed with the company. Relationships are a major key to success. True leader must be able to lead his people in a manner where he or she can always ask for help. An authentic leader can be recognized because others like to work with him. Under many circumstances people are willing to sacrifice in certain areas like scheduling, or income, if they feel that they are lead by a great leader towards future success. If the followers are treated with respect, honesty, integrity, and they feel appreciated, they work with joy and their level of production is high.
In conclusion, good authentic leader will lead the way to higher productivity, better efficiency, and welfare of his people. Good leader will always aim higher, strive to do the right thing, and empower others to act in the same manner. We must search for a leader capable of delivering the best results for the company, community, state, or country. We need a leader that lives by performance, not by potential, a leader leading by example, a person that applies an open-door policy, a person that is easy to reach, and promptly resolves problems.
References
Leadership, Northouse, Peter G. Sage, Inc. 6th edition
http://www.miamiherald.com/2012/10/24/3064280/ozzie-guillens-unfiltered-honesty.html
http://www.usatoday.com/story/money/business/2012/11/30/temporary-seasonal-hiring-struggle/1737161/

http://politicalticker.blogs.cnn.com/2012/11/29/romney-obama-talks-could-be-about-white-house-position/
Related Topics