Symbols in "A&P", "Story of an Hour" and "Guest of a Nation"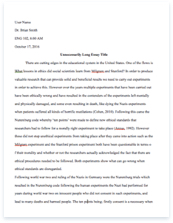 The whole doc is available only for registered users
A limited time offer! Get a custom sample essay written according to your requirements urgent 3h delivery guaranteed
Order Now
Symbolism is an integral part of literature. The use of symbols provides greater meaning and depth to a story. In three chosen stories, "A&P", "Story of an Hour", and "Guest of the Nation," several prominent symbols are utilized that bring about the message of the story.
In "A&P," John Updike writes a story that depicts the consumerist culture that prevails today. The most critical symbol that the writer utilized is the setting of the story, the supermarket. The supermarket symbolizes consumerism and its hierarchical structure. In the supermarket, different people purchase different goods, depending on the class they belong to. Some, like the witches, purchase "HiHo" while there are those, like Queenie, who buy "Fancy Herring Snacks." Through these symbols, Updike is able to demonstrate the consumerist attitude and the differences between people of different classes.
In Kate Chopin's "Story of an Hour," a very important symbol is the dawn of the springtime. The coming of spring serves as a symbol for the change that the character, Mrs. Mallard is about to experience. As spring comes so does the new life that awaits Mrs. Mallard. Spring denotes something better, the blossoming of the flowers and the renewed life of plants. This is symbolic of what lies ahead for Mrs. Mallard, who had just lost her husband. It symbolizes the new life and freedom she feels despite of her husband's tragic death.
In "Guest of a Nation," the most prominent symbol that the author utilizes is the game of cards. When they play cards, the guards and the prisoners take each other's money. While one of the prisoners, Belcher, wins , the other, Hawkins, loses to the guards. This is symbolic of war. In war, the two sides both win and lose. Each side takes something away from the other. Soldiers on either front die. It is similar to the losses and gains that the two groups in the card game experience. As O'Connor wrote, "He could have skinned myself and Noble, but whatever we lost to him, Hawkins lost to us, and Hawkins only played with the money Belcher gave him." In these lines, the losses and gains of war are clearly symbolized.
Related Topics