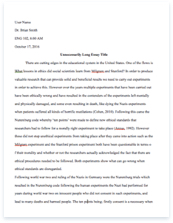 The whole doc is available only for registered users
A limited time offer! Get a custom sample essay written according to your requirements urgent 3h delivery guaranteed
Order Now
After completing the "Evaluate Your Lifestyle" assessment, I have concluded that I would like to improve on the mental health section of the quiz. Mental health is very important in an individual's life and is important to one's success. When it comes to my personal needs, I will focus on learning how to effectively manage my stress and deal with symptoms of anxiety.
More specifically, the lifestyle quiz emphasized my overall stress levels are certainly at an all-time high. I was not very surprised by the results of the quiz, due to the fact that I have noticed myself feeling more overwhelmed and anxious over the course of the last few months. Factors such as the start of the Covid-19 pandemic, transition to online learning as a high school and college student, and the passing of my grandmother has led me to feel apprehensive and on-edge. Additionally, the fact that I am a Junior in high school which is arguably the most stressful year of high school due to the major testing that determines the university I will get accepted into. Although I have my reasons to feel overwhelmed, stress can be detrimental to your mental health and greatly impact your ability to work efficiently. It is important to know the ways in which you can manage and reduce the stress of everyday life.
It is important to understand stress management. According to Dr. Phyllis G. Cooper, "stress management is the mastery of specific skills that help reduce the negative effects of stress on the body and mind." Cooper describes the reasons in which being able to effectively manage stress is essential. If overwhelming feelings are not taken care of properly, worse conditions can develop over a long period of time, such as depression. Examples of the strategies Dr. Cooper recommends: taking care of your health, getting adequate sleep and exercise, keeping family and friends close, and engaging in calming activities such as walking or painting. Simple activities that keep your mind focused are crucial in order to control your stress.
When it comes to addressing stress and taking the first steps to management, there are two theories to achieve my behavior goal. The first approach is the Health Belief Model, which attempts to predict and explain specific health behaviors. The second approach and the most effective for me personally, is the Transtheoretical model. According to Crystal Kaczkowski, "This model classifies individuals into stages according to their degree of readiness to consider change and identifies the factors that can induce transitions from one stage to the next." After researching about the Transtheoretical model, I have come to the conclusion that it is most effective for my health goal. The fact that the model classifies individuals into categories based on their level of interest in change works effectively. The several stages include; pre-contemplation, contemplation, preparation, action, maintenance, and termination. Different actions and thoughts occur during each stage. For example, before I started to record my stress data, I was in the preparation stage. I was prepared to make changes in my behaviors. As the week went along, I was in the action stage as I was progressively making changes to my stress management. And now that the span of a week has ended, I have been continuing to manage my stress accordingly, placing me in the maintenance stage of the psychological model.
Personally, I have been dealing with general stress for years. Only within the last 12 months has it become noticeable, that it has been affecting my overall wellbeing. Becoming irritable, having low patience levels before giving up, and having a negative mindset are things that I have recognized in myself derived from stress. These things can all negatively impact my wellbeing and can cause more drastic health issues. It makes it harder to do well in school, and deal with complicated situations without giving up from being overwhelmed. I recorded my stress levels on a scale of 1-5 throughout a single week. 1 being not stressed, and 5 being highly stressed. I did a lot of thinking about ways in which I could calm down and relax to manage my stress throughout the seven days. In order to effectively reduce stress, I created a SMART goal, which is an organized way to reach any goal successfully. I made sure my goal was specific, measurable, attainable, realistic, and time-bound. My SMART goal was to reduce my overall stress during the span of 7 days by trying techniques such as exercise and listening to my favorite music. I tried a variety of activities every time I felt overwhelmed. The table below demonstrates my stress levels during the span of 7 days: When analyzing my data, I noticed that for the majority of the week I was experiencing high levels of stress. Three out of seven days I had major symptoms of anxiety and stress, which gave me the opportunity to manage the pressure. After the week had concluded, I discovered that the absolute best technique for me to release stress was through vigorous exercise. I went on frequent runs, bike rides, and did strength training classes. I was in disbelief with how great I felt after a good workout. Giving my brain a break from overthinking about school, my social life, family, or work, helped me to relax. Additionally, I started eating healthier and getting more sleep every night. I had a great experience with managing my stress levels, and I will certainly keep these activities in my daily routine.
After keeping track of my stress levels for the last week, I have learned more about how I can personally manage the feeling of being overwhelmed and anxious. Through the use of a well developed SMART goal, transtheoretical model, and a few helpful strategies, I have learned to reduce my stress levels significantly. Exercise, talking to a friend, and listening to my favorite music are tactics I will continue to follow. Through the use of these methods, I will continue to manage stress effectively.
Related Topics