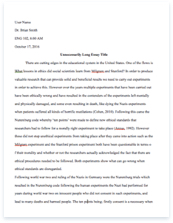 The whole doc is available only for registered users
Pages: 5
Word count: 1024
Category: Recycling
A limited time offer! Get a custom sample essay written according to your requirements urgent 3h delivery guaranteed
Order Now
Paper is taken from the bin and deposited in a large recycling container along with paper from other recycling bins.
The paper is taken to a recycling plant where it is separated into types and grades.
The paper is then washed with soapy water to remove inks, plastic films, staples, and glue.The paper is out into a large holder where it is mixed with water to create a "slurry".
By adding different maerials to the slurr, differen paper producs can be created, such as cardboard, newsprints or office paper.
The slurry is spread using large rollers into make large thin sheets.
The paper is left to dry, and then it is rolled up ready to be cut and sent back to the shops.
Remona Richards
Recycling requires clean recovered paper, so you must keep your paper free from contaminants, such as food, plastic, metal, and other trash, which make paper difficult to recycle. Contaminated paper which cannot be recycled must be composted, burned for energy, or land filled. Recycling centers usually ask that you sort your paper by grade, or type of paper. Your local recycling center can tell you how to sort paper for recycling in your community.
You may take your sorted paper to a local recycling center or recycling bin. Often, a paper stock dealer or recycling center will collect recovered paper from your home or office. Your local dealer can tell you the options available in your community. At the recycling center, the collected paper is wrapped in tight bales and transported to a paper mill,where it will be recycled into new paper.
Paper mill workers unload the recovered paper and put it into warehouses, where it is stored until needed. The various paper grades, such as newspapers and corrugated boxes, are kept separate, because the paper mill uses different grades of recovered paper to make different types of recycled paper products.
When the paper mill is ready to use the paper, forklifts move the paper from the warehouse to large conveyors.
The paper moves by conveyor to a big vat called a pulper, which contains water and chemicals. The pulper chops the recovered paper into small pieces. Heating the mixture breaks the paper down more quickly into tiny strands of cellulose (organic plant material) called fi bers. Eventually, the old paper turns into a mushy mixture called pulp. The pulp is forced through screens containing holes and slots of various shapes and sizes. The screens remove small contaminants such as bits of plastic and globs of glue. This process is called screening. Mills also clean pulp by spinning it around in large cone-shaped cylinders. Heavy contaminants likes staples are thrown to the outside of the cone and fall through the bottom of the cylinder. Lighter Mills also clean pulp by spinning it around in large cone-shaped cylinders. Heavy contaminants like Mills also clean pulp by spinning it around in large cone-shaped cylinders. Heavy contaminants like staples are thrown to the outside of the cone and fall through the bottom of the cylinder. Lighter contaminants collect in the center of the cone and are removed. This process is called cleaning.
Sometimes the pulp must go through a process called "pulp laundering" and deinking (de-inking) to remove printing ink and "stickies" (sticky materials like glue residue and adhesives). Papermakers often use a combination of two deinking processes. Small particles of ink are rinsed from the pulp with water in a process called washing. Larger particles and stickies are removed with air bubbles in another process called flotation. During deinking, pulp is fed into a large vat called a cell, where air and soap-like chemicals call surfactants are injected into the pulp. The surfactants cause ink and stickies to loosen from the pulp and stick to the air bubbles as they fl oat to thetop of the mixture. The inky air bubbles create foam or froth which is removed from the top, leaving the clean pulp behind.
During refining, the pulp is beaten to make the recycled fibers swell, making them ideal for papermaking. If the pulp contains any large bundles of fibers, refining separates them into individual fibers. If the recovered paper is colored, color stripping chemicals remove the dyes from the paper. Then, if white recycled paper is being made, the pulp may need to be bleached with hydrogen peroxide, chlorine dioxide, or oxygen to make it whiter and brighter. If brown recycled paper is being made, such as that used for industrial paper towels, the pulp does not need to be bleached.
Now the clean pulp is ready to be made into paper. The recycled fiber can be used alone, or blended with new wood fi ber (called virgin fiber) to give it extra strength or smoothness. The pulp is mixed with water and chemicals to make it 99.5% water. This watery pulp mixture enters the headbox, a giant metal box at the beginning of the paper machine,and then is sprayed in a continuouswide jet onto a huge flat wire screen which is moving very quickly through the paper machine. On the screen, water starts to drain from the pulp, and the recycled fi bers quickly begin to bond together to form a watery sheet. The sheet moves rapidly through a series of felt-covered press rollers which squeeze out more water.
The sheet, which now resembles paper, passes through a series of heated metal rollers which dry the paper. If coated paper is being made, a coating mixture can be applied near the end of the process, or in a separate process after the papermaking is completed. coating gives paper a smooth,glossy surface for printing.
Finally, the finished paper is wound into a giant roll and removed from the paper machine. One roll can be as wide as 30 feet and weigh as much as 20 tons. The roll of paper is cut into smaller rolls, or sometimes into sheets, before being shipped to a converting plant where it will be printed or made into products such as envelopes, paper bags, or boxes.
Related Topics