Principles of Management Persuasive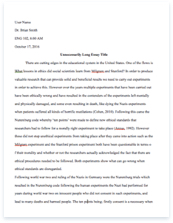 The whole doc is available only for registered users
A limited time offer! Get a custom sample essay written according to your requirements urgent 3h delivery guaranteed
Order Now
How will you influence people to strive willingly for group objectives in your organization (target based industry)? Apply your interpersonal influence through communication process toward attaining your specialized goals?
Organization development is a situational or contingency approach to improving enterprise effectiveness. Although various techniques are utilized, the process often involves the chief executive collecting information from several organizational units, using questionnaires, interviews and observations. The data are analyzed and prepared for feedback. The group then ranks the problems in order of their importance. The group as such discusses the difficulties, identifies the underlying causes, and explores possible solutions. The role of the manager is that of that of a coach facilitating the process. Short lectures and exercises on decision making, team building, and problem solving are integrated to the process. At times, sub-groups are established to deal with specific issues. The emphasis is on openness and objectivity. The meeting ends with an agreement on a change strategy.
The specific interventions may include a change in the organization structure, a more effective procedure for handling customer complaints, and the establishment of a team charged with the responsibility of implementing a cost reduction programme. Furthermore, the group agrees to meet again, maybe within three months to measure and evaluate the effectiveness of the organizational development efforts. Although three phases complete this circle, the effort does not end. Instead it becomes a continuous process – planned, systematic and focused on change that aims at making the enterprise more effective.
It is obvious that while enterprise objectives may differ somewhat in various organizations, the individuals involved also have needs and objectives that are especially important to them. Through the function of leading, managers help people see that they can satisfy their own needs and utilize their potential and at the same time contribute to the aims of an enterprise. Managers thus require an understanding of the roles assumed by people, the individuality of people, and the personalities of people.
Individuals are much more than merely a productive factor in management's plans. They are members of social systems of many organizations. They are consumers of goods and services, and thus they vitally influence demand, they are members of families, schools, churches, temples, trade associations, and political parties. In these different roles, they establish laws that govern managers, ethics that guide behaviour and a tradition of human dignity that is a major characteristic of our society. In short, managers and the people or group they lead are interacting members of a broad social system.
People act in different roles, but they are also different themselves. There is no average person. Yet, in organized enterprise, the assumption is often made that there is. Firms develop rules, procedures, work schedules, safety standards, and position descriptions. All this is with the implicit assumption that people are essentially alike. Of course, this assumption is necessary to a great extent in organized efforts, but it is equally important to acknowledge that individuals are unique. They have different needs, different ambitions, different attitudes, different desires, different levels of knowledge and skills, different desires for responsibility, different mindsets and different potentials.
Unless managers understand the complexity and individuality of people they may misapply the generalizations about motivation, leadership, and communication. Principles and concepts, although, although generally true, have to be adjusted to fit specific situations. In an enterprise, not all the needs of individuals can be completely satisfied, but managers do have considerable latitude in making individual arrangements. Although position requirements are usually derived for enterprise and organizational plans, this fact does not necessarily exclude the possibility of arranging the job to fit the person in a specific situation.
Managing involves achieving group objectives. Achieving results is important, but the means must never violate the dignity of people. The concept of individual dignity means that people must be treated with respect, no matter what their position in the organization. The president, vice-president, manager, first-line supervisor and worker all contribute to the aims of the enterprise. Each is unique, with different abilities and aspirations, but all are human beings and all deserve to be treated as such.
Management requires the creation and maintenance of an environment in which individuals work together in groups towards the accomplishment of group objectives. A manager cannot do this job without knowing what motivates people. The building of motivating factors into organizational roles, the staffing of these roles, and the entire process of leading people must be built on knowledge of motivation and interpersonal communication. The manager's job is not to manipulate people but, rather, to recognize what motivates people.
It is no exaggeration to say that the communication function is the means by which organized activity is unified. It may be looked upon as the means by which social inputs are fed into social systems. It is also the means by which behaviour is modified, change is effected, information is made productive, and goals are achieved. Whether it is within a family or a business enterprise, the transfer of information from one individual to another is absolutely essential. Over the years, the importance of communication in organized effort has been recognized everywhere. Chester I. Barnard, viewed communication as the means by which people are linked together in an organization to achieve a common purpose. This is still the fundamental function of communication. Indeed group activity is impossible without communication, because coordination and change cannot be effected.
In its broadest sense, the purpose of communication in an enterprise is to effect change – to influence action toward the welfare of the enterprise. Communication is essential for the internal functioning of enterprises, because it integrates the managerial functions. Especially, communication is needed to * Establish and disseminate goals of an enterprise
* To develop plans for their achievement
* Organize human and other resources in the most effective and efficient way * Select, develop, and appraise members of the organization * Lead, direct, motivate, and create a climate in which people want to contribute and * Control performance.
It is through information exchange that managers become aware of the needs of customers, the availability of suppliers, the claims of stockholders, the regulations of government and the concerns of a community. It is through communication that any organization becomes an open system interacting with its environment.
The communication process involves the sender, the transmission of a message through a selected channel and the receiver. Communication begins with the sender, who has a thought or an idea which is then encoded in a way that can be understood by both the sender and the receiver. While it is usual to think of encoding a message into the English language, there are many other ways of encoding, such as translating the thought into computer language. The information is transmitted over a channel that links the sender with the receiver. The message may be oral or written, and it may be transmitted through a memorandum, a computer, the telephone, a telegram or television. Since many choices are available, each with advantages and disadvantages, the proper selection of the channel is vital for effective communication.
Many situational and organizational factors affect the communication process. Such factors in the external environment may be educational, sociological, legal-political, and economic. For example, a representative political environment will inhibit the free flow of communication. Another situational factor is geographic distance. A direct face-to face communication is different from a telephone conversation with another person on the other side of the globe and different from an exchange of cables or letters. Time must also be considered in communication. The busy executive may not have a sufficient time to receive and send information accurately. Other situational factors that affect communication within the enterprise include the organization structure, managerial and non managerial processes, and technology. An example of the latter is the pervasive impact of computer technology on handling very large amounts of data.
The two basic types of communication are oral and written communication. Of which oral communication is regarded as the most effective way of changing attitudes, beliefs and feelings. Its advantages are: 1. It saves time as it is face-to-face.
2. It can be easily conveyed and understood.
3. It fosters a friendly and cooperative spirit.
4. It can lay the basis for mutual understanding and trust. 5. It provides an immediate response and feedback.
6. It permits personalized contacts and develops a sense of belonging. 7. It offers a fertile ground for new ideas.
8. It allows both parties to participate in a situation and this is importance for motivation. Again there is Downward and Upward Communication. Downward communication is that which flows from the top to the bottom, i.e., from a superior to a subordinate or from the manager to the assistant manager. Downward communication refers to to directives and other messages that originate with officials at the top of the organization and are transmitted down through the hierarchy-through the intervening levels of supervision, until they reach the lowest ranking worker in the chain.Thge traditional approach to management has been to concentrate on this kind of communication on the assumption that management was in a position to make decisions that were in the best interests of the workers. Orders, policies, procedures, circulars, bulletins, manuals, handbooks, employee magazines are most widely used written media for downward communication.
Upward communication is that which passes from subordinate to the superior as from labour to foreman, from superintendent to manager, from manager to general manager and from general manager to board of directors. This helps to encourage people to discuss fully the policies and plans for the company, to provide a clear channel for funneling information, opinions and attitudes up through the organization. The importance of upward communication stems from the fact that it reveals the degree to which ideas passed down are accepted. Horizontal or lateral communication is to change someone, some group, or something, or to head off unfavourable trends. In other words, the purpose of communication is to induce action or to secure inaction. It seeks to inform and to influence or persuade individuals and groups of individuals. The basic purpose of communication is to facilitate and lubricate the organization. It is also meant to increase employee morale and to promote loyalty, cooperation and understanding. Thus communication in its various ways helps attaining objectives.
Bibliography
1. Pagare Dinkar – Principles of Management published by Sultan Chand & Sons. 2. Dr. B.S. Mathur – Principles of Management published by National Publishing House, New Delhi. 3. Henry Albers – Principles of Management John Wiley& Sons, Inc., New York. 4. Tripathi P.C. Principles of Management Tata McGraw – Hill Publishing Company Limited New Delhi. 5. Harold Koontz, Welhrich Heinz and Ramachandra Aryasri – Principles of Management Tata McGraw – Hill Publishing Company Limited New Delhi.
Related Topics