Principle of Management Argumentative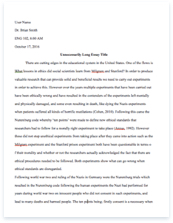 The whole doc is available only for registered users
OPEN DOC
A limited time offer! Get a custom sample essay written according to your requirements urgent 3h delivery guaranteed
Order Now
Goods and services that consumers need must be supplied and the means by which they can purchase these goods and services must be provided. Management's role must therefore be to provide this in the most efficient manner by combining factors of production and distribution and directing the efforts of the people concerned tot he given purpose. The functions of management uniquely describe managers' jobs. The functions of management performed by PTCL are planning, organizing, leading, and controlling. 1. Planning: PTCL involves mapping out exactly how to achieve a particular goal. For example, that the PTCL's goal is to improve company sales. The manager first needs to decide which steps are necessary to accomplish that goal. These steps may include increasing advertising, inventory, and sales staff. These necessary steps are developed into a plan. When the plan is in place, the manager can follow it to accomplish the goal of improving company sales. 2. Organizing: Then the manager organize the team and materials according to plan.
Then he assigns the work and give authority that are very important for organizing. 3. Staffing: After that he discerns his area's needs and may decide to breif up his staffing by recruiting, selecting, training, and developing employees. He often works with the company's human resources department to accomplish the goal. 4. Leading: THEN he do more than just plan, organize, and staff his team to achieve a goal. So he must also lead the PTCL by motivating, communicating, guiding, and encouraging. Then he coach, assist, and solve the problems with employees. 5. Controlling: After the other elements are in place, his job is not finished. He needs to continuously check results against goals and take any corrective actions necessary to make sure that his area's plans remain on track. If any of the above functions are missing then management can't intelligently undertake any of the other basic managerial activities so without planning organization can't organize and vise versa. * Competitive advantage over other market player:
PTCL has gained a distinct competitive edge over other telecom operators because of its continued introduction of innovative products and services that are in line with consumers' needs. Comprising the 'PTCL Eco System', these include Phone, Internet, IPTV, Videophone, Wireless, On the Go Cloud, Tablet, Smartphone and IPTV on Tablet. The importance of viral space digital marketing, social media Internet marketing and mobile marketing are the essential new tools for company to maintain innovative edge over others. Today, we are living in a new marketing millennium in which technology is impacting marketing. So, PTCL's technology shift has also brought a marketing shift for the company in which they are focusing on the futuristic innovation of their products and services for consumers. The efforts of the company, not only brought a dynamic change in the perception and redefine its image, but they also changed the lifestyle of its customers. PTCL products and services are creatively addressing affordability, quality, utility and identity needs of consumers. Due to good investment, flexible network, a clear understanding of emerging technologies and customer-focused products, PTCL understand and meet the wishes of customer's aspirations.
* Organization culture(PTCL):
Organizational Structure describes the organization's formal framework or system of communication and authority. In other words, the organization structure sets forth each principal, management position and helps to define authority, responsibility and accountability. An organization chart is essential to the development of a cost system and cost reports which indicates the responsibilities of individuals for implementing management plans. In PTCL President / CEO is the head of major functional areas. i.e. State management, Finance, Technical, Operations, HR & Admn and Corporate affairs. So Senior Executive Vice President who is the head of these units generally reports directly to the President. The main purpose of PTCL is allowing them to effectively and efficiently accomplish organizational goals and objectives. Designing an appropriate structure means that managers must decide how to coordinate work activities and efforts both vertically and horizontally. Organization structure of PTCL can be described as having three components like any other organizations: Complexity
Formalization
Centralization
1. COMPLEXITY: The term complexity refers to the amount of differentiation in an organization. The more division of labor there is in an organization, the more vertical levels in the hierarchy and more geographically dispersed the organization's units, the more difficult (or complex) it is to coordinate people and their activities. When we analysis the complexity of PTCL, there is big amount about 70,000 employees and hierarchy is as under:
This is a very large hierarchy, which creates problems for the organizational activities and coordination's. The result is a slow correspondence between management and officials at lower levels.The Etisalat (who control the charge of PTCL) is restructuring the organization and the work is under process. 2. FORMALIZATIONS: The degree to which an organization relies as rules and procedures to direct the behavior of employees is formalization. The PTCL organization structure operates with standardized guidelines, rules and regulations. Each officer/official knows his/her responsibilities of what he has to do. Due to these strict rules and regulations the PTCL organization's structure is more formalized. 3. CENTRALIZATION: The term centralization describes where the decision making authority is. In PTCL, organization decision making is highly centralized at upper levels of management. Problems flow up to senior executives, who decides what, should be done. In some cases, decentralized policy is used and decision making is delegated to lower levels of management. Which is not correct and creates problems in the creation of long term value aided strategies. * Corporate Responsibility:
PTCL as a socially aware and responsible entity is determined to do its utmost in furthering worthy causes that contribute to the lives of individuals and help better the standards of society as a whole. 1. PTCL employees donate One-Day salary for IDPs: Pakistan Telecommunication Company Limited employees have contributed their one day salary that amounts Rs. 20 million for the support of internally displaced people of Swat and other affected area.
2. Donation to SOS Villages: PTCL keeping with its healthy tradition of supporting non-governmental organizations recently donated a sum of Rs.2.5 million to the SOS Villages. As most people would be aware, SOS is an organization that looks after the well-being and education of orphans and the destitute. 3. Scholarships for Persons with Disabilities: Another recent CSR initiative taken by PTCL was announced at the World Telecommunication Day held on May 17, 2008. This year the worldwide theme for the Day was "Connecting Persons with Disabilities." To raise awareness of this theme and support initiates focusing on less privileged persons, PTCL chose to become the lead sponsor of the World Telecom Day event in Islamabad contributing PKR 6.8 Million.
4. Collaboration with Universal Service Fund (USF): The Universal Service Fund (USF) and PTCL have entered in a contract to provide basic telephony and data services to the population in the yet un-served areas of Baluchistan districts of Pishin, Killa Abdullah and Quetta. PTCL is making consistent efforts to enhance Pakistan's capacity to develop and produce a globally competitive telecom sector and industry.
5. Donation to Earthquake victims in Baluchistan: Earthquake struck the western telecom region Quetta leaving terrifying effects in the region. Mr. Walid Irshaid President & CEO PTCL donated Rs.10 Million for the reconstruction and rehabilitation of the area.
6. Donation to Benazir Income Support Program: Mr.Walid Irshaid President & CEO PTCL donated Rs.10 Million to the Benazir Income Support Program. This program directly focuses on the poor populace of Pakistan. Thus, PTCL, as a socially responsible corporate entity, has been pursuing different social causes touching on areas of culture, sports, music, environment and general welfare by supporting different initiatives. As such, PTCL's CSR activities and new ventures are warmly welcomed.
* Conclusion & Recommendations:
1. PTCL needs innovative service offerings — currently it doesn't even offer bundles or a single bill. 2. Has been unclear about its IPTV and WiMAX plan and strategy (trials are in progress) 3. Overall PTCL still behaves as a monopoly … it has to change its attitude. At a minimum, avoiding billing errors and providing competent and courteous service to its customers is essential if PTCL wants to show that it is transforming itself to a competitive company which cares for its customers. 4. In every year PTCL starts new ventures and services in the country but on the other hand, the people of Azad Kashmir, and many other Rural Areas are still being neglected. There is a high potential market for value added services of PTCL in Azad Kashmir and Rural Areas. The company should start the internet, Pay-card Phone, and Mobile phone services in these areas in collaboration with private investors.
5. There exist a huge amount of outstanding bills to be collected by the defaulters. The company should frame tight and effective policies to ensure the collection of its outstanding bills. The revenue officers should be provided incentives and bonuses on achieving the determined targets of revenue collection. 6. Hundred percent computerization in PTCL would be helpful to save the time and money and provision of quick services to its valued customers. 7. Human resource development is a key component in every organization; In PTCL this is not going well. So there is an immense need to improve this department. 8. Over employment is main and major problem in PTCL. Reduction / Right Sizing in over employment can give better results. 9. PTCL management should give more emphasis towards customer satisfaction, delight and retention. 10. PTCL higher management should adopt a uniform policy for every region. 11. Finally, PTCL revenue is decreasing due to arrival of market competitors in the country, so the management should adopt special careful steps to face this competition environment.
Related Topics