Paul's Lack of Self in the Rocking Horse Winner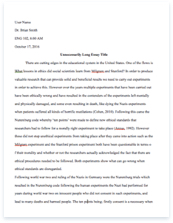 The whole doc is available only for registered users
Pages: 4
Word count: 803
Category: Horse
A limited time offer! Get a custom sample essay written according to your requirements urgent 3h delivery guaranteed
Order Now
Heinz Kohut, days before his death, boldly stated at a Self Psychology conference in Berkeley, California, "The worst suffering I see in adult patients are in those very subtle, and difficult to uncover, absence of the mother, because her personality is absent. It is this emptiness that leads to the worse sufferings later in life" (Kohut, 1981). This cannot be more true of the story of little Paul in the story "The Rocking-Horse Winner" written by D. H. Lawrence in 1924.
Paul, Hester's youngest child and only son, in order to try and win his mother's affections and love, violently rides his childhood rocking horse, in order to predict the winners of their town's horse races. With this special, fortune-telling power, life-threatening exhaustion ensues, but leads to winnings worth thousands of pounds. With this money, Paul hopes to ease his mother's worry of their family's 'un-luck' and finally win the attention and affection of a mother with a 'hard center of a heart' (Lawrence, 1924). To Paul's disappointment, the mother never acknowledges the money, himself, or their family's streak of luck through Paul.
Heinz Kohut, the main founder of self psychology, defines psychopathology as a result of developmental deficiencies and unmet needs, particularly from mother (or caretaker) to child (Kohut, 1971). If the child receives a sufficient 'holding environment' from the mother in which the child is loved and cared for in a truly empathetic fashion , then according to Kohut, she is 'successful' and the child will develop a structured and healthier sense of self, particularly in the child's development and relation to others or 'objects'.
Kohut writes, if empathic care by the mother is to be successful, she not only takes notice of some of the infant's requirements and achievements but speaks to the child as an integral whole (Kohut, 1971). For poor little Paul, his pathology is rooted in the mother's inability to love and empathize with her son, from the very day he was born. As Lawrence writes of Hester, "She had bonny children, yet she felt they had been thrust upon her, and she could not love them" (1223).
Additionally, Hester knew very well that "when her children were present, she always felt the centre of her heart go hard. " Eventually, this heart turns to stone, proving her inability to be human, and love and empathize. This lack of love and empathy creates a near absence of self for Paul and unfortunate mental impairment. Similar to those who hear voices or hallucinate, Paul becomes so obsessed with wanting to please his mother and give her the money she always wanted, that he believes to hear the actual house whispering saying "There must be more money!
There must be more money! " (1224) Near the end, the voices become "like a chorus of frogs on a spring evening" (1232). Young Paul, now to the point of madness, believes these voices to be true (and yet there is no mention in the story of the parents hearing these same voices) and pushes himself to his tragic demise in thrusting back and forth on his rocking horse in order to finally get the name of the winner for the Derby, the horse race that would win the family 80,000 pounds.
Finally, with regards to the cold, lifeless rocking horse, for Paul this becomes his temporary mother-figure or 'object-love' in which he uses to build and strengthen his self (which one may argue is nearly absent or poorly structured). Just as Kohut says, "…'object-love' like any other intense experience, strengthens the self…and a strong self enables us to experience love and desire more intensely" (Kohut 1984, 86). With Paul's faint, weakened self, his attachment to his rocking horse gives him enough sense of self to love and desire his real mother's affection even more so.
As Goldstein (1983) brilliantly writes, "In addition to the self states that may occur in response to the deprivations or excesses of the caretaking environment, there are some character types that develop in order to deal with circumscribed selfobject failures and resultant weakness in the self. " Ultimately, because his mother does not acknowledge the money on her birthday (the symbol of Paul's love and self), and instead becomes like the rocking horse, "with her face hardening and become more expressionless, with a voice cold and absent" this leads to Paul's even greater fall from innocence (1231).
In conclusion once again, according to Kohut, "The worst suffering I see in adult patients are in those very subtle, and difficult to uncover, absence of the mother, because her personality is absent. " "When he had ridden to the end of his mad little journey, he climbed down and stood in front of his rocking-horse, staring fixedly into its lowered face. Its red mouth was slightly open, its big eye was wide and glass bright" (1225).
Related Topics