Organizational Structure Persuasive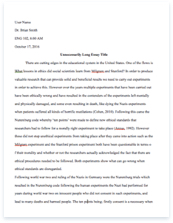 The whole doc is available only for registered users
A limited time offer! Get a custom sample essay written according to your requirements urgent 3h delivery guaranteed
Order Now
Organizational structure provides the framework of an organization determining how roles and responsibilities are delegated throughout the different levels of the organization. It has been defined by some as the looking glass through which coworkers see their organization and its surrounding environment while others have described structure as the backbone of the organization. In this memo, I will briefly discuss the importance of organizational structure, give examples of some major organizational structures, and provide factors influencing the choice of organizational structure.
Importance of Organizational Structure
Organizational structure is important in the following aspects of an organization: strategy, performance, and member's behavior. Once an organization has developed a strategy, it is extremely important to choose some type of structure. Without structure, tasks cannot be assigned and carried out nor can authority be properly exercised resulting in an ineffective strategy. Performance can also be affected by structure. While good organization does not necessarily produce good performance, poor structure will make good performance almost impossible (Naoum, 2001). Structure minimizes individual influence, defines how decisions are made (Dalton, et al.) and enables or restricts communication. All of which are likely to affect member's behavior.
Major Organizational Structures
For the purposes of this memo, four major organizational structures will be discussed. The traditional structure is the simplest and is also known as craft structure. Businesses in their early stages often use this type of structure. It is characterized by a manager who assumes most or all of the responsibilities of the organization (Naoum, 2001). As an organization grows or has multiple product lines, a matrix structure is advantageous. This structure is characterized by a project manager with several functional managers (Naoum, 2001). If a company had two product lines, each product line would have its own sales department, customer service department, and accounting department ("Organizational Structure", 2013). For organizations which produce standardized goods and services, a functional service is beneficial. Within this structure, employees perform very specialized tasks (Naoum, 2001). For example, an engineering department would be staffed with only software engineers. Divisional structures, also known as product structures, groups each function into a division. Automobile industries typically use this divisional structure. Within this industry, divisions may include: SUVs, subcompact cars, and sedans. Although not discussed in detail in this memo, other organizational structures include: organizational circle, team, network, lattice, and virtual ("Organizational Structure", 2013).
Factors influencing the choice of Organizational Structure
The following factors can affect the type of structure which an organization may use: strategy, characteristics, management, operation, and environment. Strategy is the most important factor influencing type of structure. According to Phillips and Gulley in their book Organizational Behavior: Tools for Success, higher performance will be achieved if structure and strategy are directly related). Organizational characteristics include the age and size of the organization. If the organization is small, there is less need for formal structure as communication within a small group is simpler than that of a large organization. Management also affects that the type of structure which is used by an organization. How a manager develops an overall strategy, views freedom and values the organization will all affect the structure of the organization. Operation's task and degree of technology are also important factors. Finally, the environment plays a vital role in the organization's structure. Environments that are complex require structure to be decentralized while hostile environments require the structure to be very centralized. An environment which is constantly changing requires a flexible structure (Naoum, 2001).
Conclusion
If an organization plans to be successful, it must carefully evaluate all internal and external factors before determining what type of structure it chooses. It is important to evaluate these factors from time to time to determine if there is a need for reorganization. It is only with the proper structure that an organization will have an effective strategy and succeed. Each structure will have its advantages and disadvantages to the organization. Without some type of organizational structure, the workplace environment would be chaotic (Marquis and Huston, 2009). Finally, it is important to note that organizations may use more than one type of organizational structure. This is especially true of large organizations, often with separate subsidiaries (Taylor, 2006).
IBM Recommendation
Some 80 years after International Business Machines Corporations (IBM) was founded, the company was still operating under a simple organizational structure. Decision making was very centralized at the senior level. While this structure is advantageous in a newly developed organization, it is not always beneficial to a company who has expanded operations. IBM was much too large to have all decisions to be made at the corporate headquarter level. It not only resulted in delayed decision making but decreased enthusiasm and creativity from lower level managers. It was clearly obvious that this simple structure was not allowing IBM to carry out an effective strategy but it was also obvious that breaking up the company into thirteen divisions was not the way to put this company back in the leader's seat either. The matrix structure could have been proven to be the most effective structure for this struggling company. Decision making could have been pushed down to functional managers which would have led to higher employee morale and increased creativity. Matrix designs are also effective in a rapidly changing environment (Gully and Phillips, 2012) and such was the environment for IBM. IBM's customers should have been their focus, another reason the matrix structure was ideal (Taylor, 2006).
Certification:
I have reviewed this memo relative to the Writing Guidelines and I believe it fully conforms to them.
Electronic Signature: Jessica Rushing
References:
Dalton, Dan, et al. Structure and Performance: A Critical Review. Retrieved from
http://scholar.google.com/scholar?start=20&q=organizational+structure+importance&hl=en&as_sdt=0,5; http://www.its.uci.edu/its/publications/papers/ITS/UCI-ITS-WP-78-10.pdf Gully, S & Phillips, J. (2012). Organizational Behavior: Tools for Success. Mason, OH. Retrieved from
http://books.google.com/books?id=feC9kRPcFRwC&printsec=frontcover&source=gbs_ge_summary_r&cad=0#v=onepage&q&f=false Marquis, B & Huston, C. (2009). Leadership Roles and Management Functions in Nursing: Theory and Application. (6 ed.) Philadelphia, PA. Retrieved from
http://books.google.com/books?id=38mzZLwcOe0C&printsec=frontcover&source=gbs_ge_summary_r&cad=0#v=onepage&q&f=false Naoum, Shamil. (2001). People and Organizational Management in Construction. Reston, VA. Retrieved from
http://books.google.com/books?id=_BjBzBw2IHMC&printsec=frontcover&source=gbs_ge_summary_r&cad=0#v=onepage&q&f=false Organizational Structure. (n.d.). In Wikipedia. Retrieved January 16, 2013, from
Related Topics