Organizational Behavior Final Paper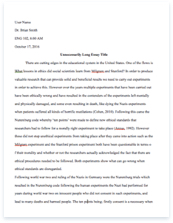 The whole doc is available only for registered users
A limited time offer! Get a custom sample essay written according to your requirements urgent 3h delivery guaranteed
Order Now
"Organizational behavior is defined as a field of study that investigates the impact individuals, groups, and structure have on behavior within organizations, for the purpose of applying such knowledge toward improving an organizations effectiveness" (Robbins& Judge, 2018, pg3). Organizations can improve their company's productivity by implementing organizational culture, improving employee engagement, openness, incentives, and clear communication. Organizational culture is defined as shared values within an organization that sits them apart from another corporation (Robbins& Judge, 2018, pg266).
An effective organization promotes growth, fairness, open communication and shared values ("Feeling valued at your Job",2015). "To improve retention and employees' feeling valued, companies can assess the organization's current degree of wellness, determine important company values and norms and lead by example and through communications with employees" ("Feeling valued at your Job",2015). Job satisfaction goes hand in hand with employee engagement and job performance. The more valued employees feel, the more effective the will be at their job.
Employee engagement is an individual's feelings toward their job, their satisfaction and their enthusiasm in performing their job responsibilities (Robbins& Judge, 2018, pg266). There are several ways organizations can improve employee engagement. Sharing common goals with employees, making employees feel valued and rewarding good behavior with incentives. Promoting openness in an organization can help managers gain their employees trust. Managers who are open with their employees are more approachable.
Employees who trust their leadership and company are more likely to take risk. Incentives can be used for motivational purposes, rewards and bonuses. Implementing employee of the month reward programs are used to recognize an employee's hard work. This too can make an employee feel appreciated by their supervisors and or company. Free park passes, or gift cards can be given for positive attitudes and hitting the common goal. Bonuses can be given to managers who have led by example and went above and beyond for the company.
Organizational behavior is vital to the company's productivity. This systematic application can help the company predict, influence and comprehend behaviors at all levels within their organization. Universal Studios of Orlando, FL is a major theme park here in the state of Florida. It is open 365 days a year. The park stays busy. Furthermore, the company depends on the productivity of managers and employees to inform, persuade, and satisfy new and loyal customers. I work in one of the park's main areas of attraction; that is The Wizarding World of Harry Potter.
There are two sides to the theme park, you have Islands of Adventure, and then Universal. In each side, you have a different 'town' of Harry Potter. I work in Hogsmeade, which is in the Islands of Adventure side. I work in a restaurant known as The Three Broomsticks. It functions as a typical restaurant would, with a few exceptions. We are basically in character while working, we aren't people, we are witches and wizards, and our attires fit as such (if you have ever seen harry potter, you'd understand).
At this job, I was hired as a cashier, but I was trained on every position. From the course, Organizational behavior, I learned that the definition of job satisfaction it is a comparison of perceptions of conditions experienced on-the-job with personal standards of what the job should provide. Again, I was HIRED as a cashier, when I tell you that I do that, everything, and then some, that is not an exaggeration. I have gone above and beyond for them at some points.
This job is well organized, but if an individual does their job incorrectly things can get off track quickly. I have come in on my days off, I have stayed longer than the time I was scheduled to leave, and I have worked multiple positions in one day. The quality of work life is best described as identifying the factors that are associated with job attitudes, designing programs to reduce work strain and stress, and developing programs to increase safe work behavior and prevention of accidents.
Being that it is a theme park, there is literally a person hired for everything. We have a hiring manager, scheduling manager, cook manager, restaurant manager, team captains (those over the team members), and so forth. "Work stress and unhealthy work environments intensify workers' sense of being undervalued and can contribute to absenteeism and lack of productivity when employees are at work" ("Feeling valued at your Job",2015). Job satisfaction is vital to an organizations productivity and overall effectiveness.
Job satisfaction is an employee's evaluation on their job characteristics (Robbins& Judge, 2018, pg39). Implementing job rotation into job descriptions can be beneficial for example stating, "assisting where needed". Can eliminate some of the confusion employees face when they are hired for one specific job, but the company has them working other positions. Job rotation is can be used so new hires can experience different areas within the organization and cover positions when short staffed (Robbins& Judge, 2018, pg252).
Job conditions, personality, pay and social responsibility also affect job satisfaction. The more satisfied workers are the more managers can get out of them. Good work environment, positive attitudes and deceit pay can increase one's job satisfaction. Which ultimately improves their overall job performance. Satisfied workers tend to do more than their listed job description, as I mentioned earlier there have been plenty of days I have stayed later than scheduled, come in on my off days and worked other positions. Only because I am satisfied with my job.
Areas of Opportunity
When it comes to suggestions and improvements, they attempt to hear us out. Every morning before we open, we have open discussion called "Spot Talk". During spot talk we discuss the amount of people expected to visit the entire theme park, park times, changes made within the restaurant, weather, as well as complaints and suggestions. One thing that I would improve is that when one person messes up, it should not affect us drastically as it does. For example; if the scheduling manager doesn't schedule x amount of people, we should not have to be forced to extend. I would also change the spacing. We get so busy that we have a queue line as if we are a roller coaster ride. When the restaurant reaches capacity, people must wait in a line before the real line just to ENTER the restaurant. There should also be more seats, being that we are a main area of attraction.
According to the text, the three stages of model of creativity in organizations occur in four steps: identifying the problem, collecting data, creating a solution to the initial problem, evaluate the solution (Robbins& Judge, 2018, pg96). I think the daily "Spot Talk" demonstrates this model effectively. Discussing the daily goals and concerns help prevent confusion and conflict. Addressing the problems that we previously faced and overcome help us avoid making the same mistakes twice. This also increases employee engagement. Knowing their thoughts and concerns are acknowledge makes employees more open. Openness in an organization is beneficial. The more open employees are the more they trust the company and management. Employees who trust their company are more likely to take risk. Letting employees have a say so in the decision-making process such as creating a solution for the identified problems. I believe team meetings like "Spot Talk" increase team corroboratory. Furthermore, "employees who feel valued are more likely to be engaged in their work and feel satisfied and motivated" ("Feeling valued at your Job",2015).
Recruitment/Selection
The hiring process for my specific job is rather interesting. Initially you go through an interview process like that of any job, only difference is you are questioned on your knowledge of Harry Potter. After this interview, you come back for a three-day orientation. Day one consists of informing you of Universal Studios in general, its history up until its current. Second day is Harry Potter training. They make us aware of how our attire works, the do's and do not's, the language, and our currency. On the third day, we are tested and awarded with a certificate (if you passed). It seems like a long process, but the process is reasonable because we get Harry Potter Fanatics, they speak in harry potter lingo, and they pay you in harry potter money, and if you are unaware of either, you would not succeed.
Training/Development
Once I was hired, the welcoming process of The Three Broomsticks was amazing. Everyone was super friendly, they show you around, and they allow every New Hire to try butterbeer, cold and frozen! As far as training, the process is the same for everyone. Just like orientation, there are three days of training. Day one, we are trained on greeting. In this position we literally stand in front of the restaurant, for the entire day just saying hey, answering questions on the food, harry potter in general, and the theme park as a whole. Not too bad. Day two, we are trained on the actual position that we are hired for. One thing that I disliked about my training process was that I was being trained on cash, but I could not do any hands on because they put you with somebody who's working and essentially only they can touch their drawer of money, it's reasonable, yet unfortunate since I am a hands-on learner. Day three, we are thrown out to the wolves. The things that you learned during day two, you apply on day three. Most likely you are going to have tons of questions, but again we have team captains, one for each area, so receiving help was never an issue.
Job Analysis
In reference to Job Analysis, the job descriptions, duties, and responsibilities are written daily for every person working that day. When you walk in through the door there are boards to look at, to determine your duties for that day. Of course, you know by your schedule what time, but our schedules also tell us if we are working inside or outside, and the exact position we are to work that day. For example; it would read "Andrea Miller 10-6pm, Outside Cashier, Butterbeer Cart." From this job description I know everything I need to know, and that includes attire, which also differs from inside and outside.
Based off the demands and needs of the position, the rate of pay is different. Cooks, aka those who work in what we call back of house, they get paid 10$ an hour (Warner Bros, 2016). They deal with the food, and it's constantly demanding. Everybody in front of house, gets paid $9.25. The positions in front of house are those of a cashier, service line, closet, and trash duty, and floor duties. The basics, and general positions. Team captains get paid like a few cents above cooks, they're like fake managers. Their hours are longer though, and they have to make sure their area, and employees are well attended to. The needs of theme park workers are non-stop, we run out of things constantly, especially as a cashier, we need change at least twice during a shift, either we need more bills or more coins.
Criteria Appraisals
When it comes to Job Appraisals, we are rewarded with way-to-go cards for good services, or an overall good day. If you get 5 way-to-go cards, you get a 5$ slip which is redeemable for a full meal, or just 5$ overall. If you get 5 of the 5$ slips, you can turn those in for a gas card. We also have Wizard/Witch of the month. I like this because it's a vote. Our Team members write down who they feel deserves it, and at the end of the month the winner is revealed. On several occasions there has been multiple wizards/witches of the month. We are also awarded with one-day park to park passes 3, every so often, depending on the number of hours you have worked (UO team member handbook, 2015, p. 35-39).
Communication
At this job communication is key. We have a language that speeds up the process of our services. When it comes to food, for example instead of asking for a chicken and rib platter, we would yell "Combo!" to the cooks to prepare it. If there is a problem between us and a guest, we first bring it to a Team Captain, if they are unable to help when then go to a manager. Managers are last resort unless it's a medical emergency. We have a pretty decent system of operation now that I think about it. I've never broke down my job and analyzed it from this perspective, and this is allowing me to appreciate it more.
They motivate us with constant rewards, sometimes we'll walk in to pancake day, sometimes it'll be a bowl of candy on the table, sometimes they host friendly competitions like who can pour butterbeer the fastest and winner gets a stein. Little things of that nature keep us involved and not as tense. Reinforcement theory is the behavioral construct where control is achieved by manipulating the consequences of behavior. A business manager using reinforcement theory might employ rewards for desirable behavior by staff and punishments for undesirable behavior to help steer employees toward intended performance goals. This theory is a prime example of how things operate in this workplace.
Overall, I think Universal Studios has demonstrates effective organizational behavior. Of course, it is not perfect because the company is diverse, and it is hard to please everyone using the same techniques and managerial strategies. But I think they have an efficient system that meets as a common ground for all employees.
References
Robbins, S.P. & Judge, T. A. (2018). Essentials of Organizational Behavior (14th edition eBook). Boston, Mass.: Pearson.
™ Warner Bros. (2015). Team Member Handbook. Retrieved 2018, from www.universalorlando.com
Three Broomsticks™. (n.d.). Retrieved February 23, 2018, from https://www.universalorlando.com/Restaurants/Islands-of-Adventure/three-broomsticks
Feeling Valued linked to Job Performance. (2015, August 07). Retrieved February 23, 2018, from https://psychcentral.com/blog/why-its-important-to-feel-valued-at-your-job/
Related Topics