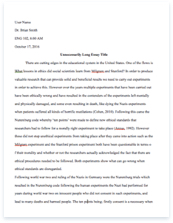 The whole doc is available only for registered users
Pages: 2
Word count: 341
Category: Gene
A limited time offer! Get a custom sample essay written according to your requirements urgent 3h delivery guaranteed
Order Now
            The manner in which genes that are related in function are grouped together do have an advantage in that it is possible to have an off-on switch that is capable to control the functions of the genes. Taking for instance an E. coli cell must make tryptophan for itself due to the fact that it misses the nutrient for amino acids. Therefore, all the enzymes needed for the function to be possible have to be synthesized at the same time. The switch that is needed is the one that is known as the operator which is a segment of the DNA molecule.
It is positioned between the promoter and the enzyme-coding genes; hence it controls the access of RNA polymerase to the specific genes. Altogether the promoter, operator and the specific genes they are capable to have the control of the whole stretch of the DNA stretch that is needed for the tryptophan production.
The binding site for RNA polymerase is the promoter. Therefore there needs to be a sequence that is needed so as to be able to synthesize a specific enzyme that the body needs at any one time. In any moment the lack of lactose brings about the prevention of transcription due to binding to the lac operator.
            The lac repressor binds to specific sequence of nucleotides called operator. The operator is downstream of the promoter. When the repressor is bound to the operator, RNA ceases to proceed downstream hence gene transcription is halted. But if the lactose does present itself there is a release of the repressor gene by the operator which in turn makes it possible to make the downstream possible whereby the RNA polymerase begins to transcribe the structural genes of the operon making it to be a single molecule of mRNA (messenger RNA).
References
http://users.rcn.com/jkimball.ma.ultranet/BiologyPages/L/LacOperon.html.Retrieved April 23,   2008.
Neil A. C., Jane B. R., & Lawrence G. M., (1999). Biology 5th Edition. Addison Wesley                         Longman, Inc; Menlo park, CA 94025
Related Topics