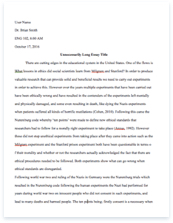 The whole doc is available only for registered users
Pages: 3
Word count: 666
Category: Design
A limited time offer! Get a custom sample essay written according to your requirements urgent 3h delivery guaranteed
Order Now
"Network addresses should be carefully planned managed and documented (Oppenheimer, p. 168)". All of the address names should make sense and should be easily understood. As Oppenhiemer states, I would begin planning by designing a model. Design the model without assigning any addresses (p.168). Once the model is designed, the network engineer will begin to assign blocks of addresses in a hierarchical fashion to allow scalability, and an easy level of understanding. Also important is developing policies and procedures for addressing and naming. This would involve plans for distributing authority for addressing and naming to avoid one department having to manage all addresses and names.
I would also use private network addresses for the advantage of making it easier for the organization to change their internet service provider without having to renumber their IP addresses and for added security. The use of a subnet would work as well. Subnetting will allow a network administrator to divide one physical network into smaller logical networks. It would also control the flow of traffic for security and efficiency. There is not an accurate mechanism that exists for assigning network or subnet number dynamically. The network layer address numbers should be planned well, administered and accurately documented. The benefits of this approach will make the network easy to manage, maintain, troubleshot and isolated to the location as well as scalable (Oppenheimer, p. 169, 2011). Skipping the planning and administering of a structured model approach to the network layer addressing can cause problems such as disorganization, duplicate network addresses, illegal addresses that cause routers to not route to the internet, shortage of addresses (Oppenheimer, p. 168-169, 2011).
Executive Summary
First a design of a structured model will be done before assigning any addresses. IP addresses that include a prefix and host part will be structured during this step. Next we will assign an IP network number to an enterprise network (subnetting the network number and subnetting the subnets, as in the structured (hierarchical) model" (Oppenheimer, p. 168, 2011). Following is a list of additional steps that will be use in addressing and numbering a network layer: 1.Leave room for growth, renumbering or experimental purposes 2.Assign blocks of addresses in a hierarchical manner to facilitate good scalability and availability 3.Assign blocks of addresses based on the physical network, not on group membership, to avoid problems when group or individual growth or move occurs 4.Delegate authority for addressing regional and branch-office networks, subnets, servers, and end systems (if network management expertise is high in this area) 5.Use dynamic addressing for end systems to maximize flexibility and minimize configurations 6.Use private addresses with network address translation (NAT) in IP environment to maximize security and adaptability.
Using a hierarchical network design topology, there will a Core Layer, Distribution Layer, and an Access Layer. The Core Layer will consist of the high-speed backbone, these will consist of the 20 backend enterprise servers, our headquarters. Since the core layer is the primary basis for interconnectivity, included are redundancy components (Oppenheimer, p. 127, 2011). The Distribution Layer will be the point of boundaries between the Core Layer and the Access Layer while controlling access to resources for security purposes and controlling network traffic. Since each department is uniquely geographical and we predict that 100 employees will reside in each department, this layer will be the regional offices with one department represented. The distribution layer will connect network services to the access layer and implement policies pertaining to security, routing, and traffic loading (Oppenheimer, pp. 126-127, 2011). The Access Layer will consist of low-end routers or switches for employees and other end users, where they are needed and provide access to the internetwork. In addition to routers and switches, included will be bridges, wireless access points, and shared-media hubs. Wide-area network technologies such as ISDN, Frame Relay, and leased digital lines will be available (Oppenheimer, p. 128, 2011).
Works Cited
Oppenheimer, P. (2011). Top Down Network Design. Indianapolis, IN, USA: Cisco Press, Inc.
Related Topics