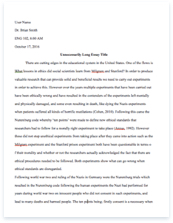 The whole doc is available only for registered users
A limited time offer! Get a custom sample essay written according to your requirements urgent 3h delivery guaranteed
Order Now
It is critical for any organization or business to seriously analyze and implement maintenance, repair and operations (MRO) goods and services that will help the company achieve it organizational goals. Johnson, Leenders, & Flynn (2010) explain "Identifying and streamlining key business processes to reduce costs, grow revenues, and manage assets represents an opportunity in most organizations" (p. 77). This is important when applying the concept to maintenance, repair and operations (MRO) goods and services for any company or organization. Scott Singer (as cited in Avery, 2009) tells us "You want a superior unit price, a fair and reasonable mark up and a fulfillment model that provides the service you need" (line 3). With the advent of the globalization of world markets, companies have been forced to transform their strategic plan to accommodate these new emerging markets and competitors around the globe. This has forced companies to direct their efforts to create a strategic plan for taking care of their maintenance, repair and operations (MRO) goods and services associated to the sourcing strategy.
The three practices that I found to talk about from this article are; purchasing, buyers, and suppliers. At Stihl the company I work for the Procurement Capital Goods department is responsible for the entire capital goods procurement for the company headquarters. As a lead buyer it supports procurement projects of the associated manufacturing and distribution companies around the world. Its procurement activities mainly focus on Hardware, Software, Information Technologies Construction Works and Warehousing/Materials Handling Technologies and Manufacturing Facilities. Purchasing of production facilities at STIHL is divided into the following functional groups the production facilities and services. To meet market requirements now and in the future, purchasing of production facilities is regarded as a link between STIHL and the supplier. We want to attain our purchasing objectives through a cooperative partnership with our suppliers. These are readiness of the required goods and services on time, competitive prices, and the quality required by STIHL. We are open to innovations, new technologies and the very latest logistics processes and we expect the same from our suppliers. Constant optimization of the procurement process is another focus of our activities.
Within the worldwide network of companies in the STIHL Group, Head Office is responsible for purchasing of production facilities and for coordinating procurement between Head Office and the affiliated companies. Selecting qualified suppliers can be a tough job in today's marketplace. There are many organizations that make themselves sound appealing who do not produce the agreed upon terms of service. It can be difficult to find a new supplier and it can be a very time consuming task. Having a good database of resources can make life a lot easier with this part of the job. It also helps to plan visits to a few top potential suppliers to see how they operate internally. It is also useful to request product samples to examine and test. Not only that, it is important to check references. This can shed light on things that the company would not disclose such as poor customer service or frequent delayed deliveries. For a successful and long-ranging collaboration we demand from our suppliers are market-driven Terms, quality, cost transparency, reliability, innovative Ability, fairness, readiness to Collaboration, and competitiveness.
References
Kourdi, J.. (2009). Chapter 36 – OUTSOURCING. 100 Great Business Ideas: From Leading Companies Around the World. Retrieved December 29, 2012, from Research Library. Review the following article from ProQuest: Avery, S. (2009, February). MRO sourcing goes Global Purchasing, 138(2), 48-52. Retrieved January 5, 2013, from ProQuest Database.
Related Topics