Exemplary Nature Of The Leader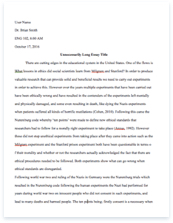 The whole doc is available only for registered users
A limited time offer! Get a custom sample essay written according to your requirements urgent 3h delivery guaranteed
Order Now
A good leader is a person who has an exemplary character.It is of the upmost importance that as a leader is trustworthy to lead others.Therefore, the leader role influences how the leader performs the other roles (Lussier & Achua, 2016).A leader needs to be reliable and be recognized as living their life with honesty and integrity.The major sign of a leader is that he/she has the ability and skillset to motivate a group of people to achieve a goal.Leaders perform the figurehead role when they represent the organization or department in legal, social, ceremonial, and symbolic activities (Lussier & Achua, 2016).A good visionary leader can be very beneficial for the company as he/she can warn the company of upcoming hazards.A bad leader is a person who does not possess the quality or knowledge to grab the hand of its company in a crisis.A bad leader chooses to ignore the effects of an economic crisis around them and continue to live comfortably.
When working in any business regardless of what it is, you will have good leaders and bad leaders.In any business learning to sacrifice for the good of your team, will increase cohesion and willingness to follow.We currently have Chief Executive Officers, who will stay persistently silent on issues that could theoretically put the economic wellbeing of the country at risk.Then we have leaders that would give their last to ensure that the country was stable and remained that way.Equifax CEO Richard Smith, who was also chairman, stepped down from his position, less than three weeks after the credit reporting agency revealed a detrimental hack to its computer system that exposed extremely sensitive information for about 143 million Americans (O'Keefe, 2017). When Smith was first hired with Equifax, he stated they had little to no cyber security. Equifax employs a professional cybersecurity team and have invested a quarter billion dollars into its security, but yet it was breached and no one wanted to admit responsibility.
Cesar Chavez, the founder and leader of the United Farm Workers of America, must be the only union boss who refused to wear a tie, he received no salary, maintained a strict vegetarian diet, and meditated regularly (Barr, 1985). After two years in the U.S. Navy during World War II, Chavez returned to be a migrant farm work in Arizona and California (Soto, 2003).Chavez's initial training as a coordinator was provided by the Community Services Organization (CSO) in California, a creation of Saul Alinsky's Industrial Areas Foundation (Soto, 2003).
Richard Smith's departure trailed two other executives who left in the wake of the hack.The hack exposed a significant software flaw that the company did not fix, that exposed Social Security numbers, birthdates and other personal data that are usually the gateway to identity theft. In Equifax's case, that patch notice came two months before the hack was discovered and a week before the company was hacked. Despite that, every internal system that should have put it in place or found out if it hadn't been somehow failed much to the distress of lawmakers (Weise, 2017).As a figurehead of one of the top credit bureaus in the world, Smith's departure left many consumers and businesses guessing what would happen next.The very thing that happened next, was a quick fix.Consumers could sign up for free credit monitoring, but of course the fine print stated that they could not join the lawsuit once it was filed.
Chavez devoted his life to cultivating the equality, pay, and working environments for farm workers. He knew all too well the hardships farm workers faced from when he was younger, working in the fields as migrant farm workers. As a work front-runner, Chavez employed nonaggressive means to bring awareness to the quandaries of farm workers. He led marches, encouraged boycotts and went committed to hunger strikes, for which he was famously known for.He brought national awareness to the hazards of insecticides to workers' well-being. His devotion to this cause produced him numerous friendships and supporters of high-profile activist, including Robert Kennedy and Jesse Jackson.Unknowingly, Chavez shaped a generation of broadminded leaders who are restructuring the labor movement.
The major comparison between these two leaders is the acknowledgement that something was unjustified and wrong.One leader chose to correct the situation as best he could, while the other one chose to walk away.Instead of Smith, saying that he failed at ensuring that pertinent information for many consumers was properly secured, he fell back on his past accomplishments.Another issue that confused consumers is that the website created to help customers wasn't linked directly to Equifax. Consumers must go to trustedidpremier.com rather than Equifax.com (O'Keefe, 2017).To ensure the rights of all migrant workers, Chavez broke from the Community Service Organization and returned to Delano, where he printed registration cards for a Farm Workers Association (Heller, 2014).The difference in being a bad leader and good leader, is accepting responsibility of things that fall under your control.Once you have accepted responsibility, then you are able to progress forward with a contingency plan.
When workers left the picket lines to take jobs elsewhere, urbanites and college kids took their places.Chavez lead a march from Delano to Sacramento, some three hundred miles, under the slogan "Peregrinación, penitencia, revolución" "Pilgrimage, penance, revolution" (Heller, 2014). Despite the union's expansion, Chavez still did much of its work.Chavez began to step away from the union's daily procedures upon learning of an intricate assassination plot and he moved the union headquarters to a former sanatorium into the Tehachapi Mountains. Chavez's willingness to take on ethical accountability through physical sacrifice, to lead an mounting moral crusade, to be both modest and essentially commanding has its origins in the creation of the Church.
Through the hard-postwar years, laborers desired a political and enlightening leader. Chavez's faith assisted in making his morals and structural desires clear. But he also aimed to be an unworldly leader, and his efforts had less of an effect on people. In the wake of his stepping down Richard Smith left Equifax facing numerous federal investigations over its handling of the hack.There are also investigations streaming from reports that senior management sold certain amounts of stock before the breach was publicly disclosed (Plunkett, 2005). When a company is faced with a disaster such as this, that could have been avoided, the CEO should have been held responsible.Smith took on an obvious risk that brought about Equifax being hacked.
Smith, 57, had been the chairman and chief executive since 2005, after spending 22 years at General Electric (Weise, 2017).Upon his stepping down from his position, Smith received a pension and will be kept on as an unpaid adviser as the company searches for a permanent replacement.Equifax has also created a special committee to examine the breach.Smith's exit clears the way for new more reputable leaders with a proficiency in cybersecurity.Chavez came into a position to make it better.In doing so, he forewent his own health and monetary gains to ensure that workers go the equality and rights that they so deserved.Chavez learned the indispensable method of establishing block-by-block structure of a union.Regardless of how long it took, sitting with one worker at a time, hour after hour, until the tide of unity is so high, no proprietor can defeat it.
To be an effective leader, you must exude confidence but not to the point where you are saw as arrogant, to ensure that other follow your instructions.As a leader are if you are unsure about your own decisions and qualities, then those juniors to you will not follow you.The most difficult job for a leader is to influence others to follow.In order for others to follow you, you have to inspire them. Giving your followers purpose, direction, and motivation will lead to the accomplishment of common goal.As a leader, your employees need to see you in the trenches with them getting in a fair share of work.Working side by side with you employees helps you to gain the respect of your subordinates and all lets them know that you know your job as well as theirs.A leader should have the ability to make the right decision that will have a profound impact on the multitudes.
A good leader takes is willing to take the blame for mistakes and correct them and ensure that all subordinates are accountable for their actions in the workplace. Most leaders follow a tyrannical style of leadership and disregard compassion altogether. Leaders with this type of style fail to make a connection with their employees and thus they are unhappy or quick to ensure all blame is placed on the leader.Good communication skills and decision-making competences play a vital role in the accomplishments and disasters of a leader. Innovated and creative intellect are key characters which make a trailblazer stand out.The major differences between these leaders, is that when the situation got out of hand and tough, one ran while the other one stood his ground and fought.In the face of serious adversity, the good leader is normally the one that will forego their own comfort to ensure things are properly fixed for future endeavors.
Related Topics