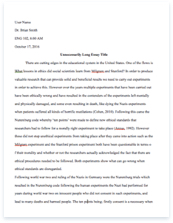 The whole doc is available only for registered users
A limited time offer! Get a custom sample essay written according to your requirements urgent 3h delivery guaranteed
Order Now
Do you think a professional athlete should be punished for cheating in an event that has already taken place? This is the case with professional cycler Lance Armstrong. He was found guilty of doping, or using an illegal performance enhancing drug, in the Tour de France, which is the biggest cycling race in all of professional cycling. He was rightly stripped of his titles and Olympic medals for the illegal uses of drugs such as EPO, Testosterone Enhancement, steroids, and other performance enhancing drugs that are outlawed in the professional biking scene.
When partaking in a competition breaking any rule, no matter how big or how small, turns you into a cheater. When a person breaks a rule unknowingly it is understandable, but when a person, such as Lance Armstrong, knowingly breaks one of the biggest rules in all of cycling, they should be punished and severe action should be taken. Furthermore when it is a professional sport the repercussions should be serious because at this stage it is not only a sport, but also a job. The International Cycling Union took the right steps by banning Lance Armstrong for life as well as stripping him of his Tour de France titles. The International Olympic Community rightly followed suit by stripping Armstrong of his Olympic Medals (Hoslet). When competing in anything at a professional level, the rules of the competition should be upheld with the utmost respect. While it is a job, at this level it should also be a love of the competitors. Lance Armstrong forgot this and cared more for the wins and the fame and less for the love of the sport. Armstrong cheated and what he got was what he deserved.
The only thing worse than a cheater is a liar. Lance Armstrong lied on many occasions and denied any allegations of doping (Hoslet). When a sport's icon, as well as an American icon, is found guilty of not only cheating but also lying it is heartbreaking. Armstrong was looked up to for his underdog streak of victories, his charisma, his life changing Livestrong cancer prevention organization, and now will be remembered as the biggest liar in all of cycling. Lance Armstrong had lied since 2003 about alleged doping and has never been found guilty until his confession in an interview with Oprah Winfrey in January 2013 (Hodge B1-B3). After he admitted to doping and lying in response to all of the allegations that had been made, the press blew up and Armstrong instantly became arguably the biggest liar in all of professional sports. While it is sad to see an American underdog have his life destroyed in a matter of weeks, what has happened needed to be done. Lance Armstrong lied to, not only the organizations and people claiming he had taken performance enhancing drugs, but also all of his American supporters.
Lance Armstrong was not the only doper in the Bicycling Circuit, he was just one of the first to get caught. The cycling circuit is at times a very dirty and cheating community. There are many others just like Lance that dope. The difference is Lance Armstrong was the Tour de France's icon, their star, their leading biker, and the sport's biggest Cinderella Story (Gallagher). After battling cancer, Lance came back and won seven Tour de France titles, when no one thought he could do it (Hoslet). While he did do it illegally and broke one of the biggest rules in the sport, at the time he had denied any allegations of doping. Whenever he told his secret to the world the sport would lose its lead cycler. Lance was competing against many others who also used performance enhancing drugs, but he was the one to get caught. He was the success story of the generation that would be found guilty and have his life destroyed.
Lance Armstrong was an American sports hero, icon, and role model. He would fight against the odds and win the biggest title in his sport seven times along with several Olympic medals. It is heartbreaking for him to be found guilty of doping but in the end Lance Armstrong has gotten what he deserves. He is a liar and a cheater, and has sadly had his life flipped from this incident. Lance lost the one thing most important to him by becoming greedy and caring more for the fame and less for the love of the game.
Works Cited
Gallagher, Brendan. "Lance Armstrong Controversy." The Telegraph. 5 Nov. 2013
Web. 21 Feb. 2013
Hodge, John. "Lance Armstrong to be Stripped of Medals." Johnson City Press. 18 Jan 2013: B1-B3. Print. Hoslet, Oliver. "The Ultimate Downfall of Lance Armstrong." The Telegraph. 24 Dec.
2013. Web. 13 Feb 2013.
Related Topics