Keyboard Company Analysis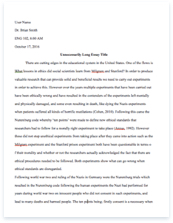 The whole doc is available only for registered users
A limited time offer! Get a custom sample essay written according to your requirements urgent 3h delivery guaranteed
Order Now
Read Case 6.1: The Keyboard Company in your text (pages 186-187). You are to act as an OD practitioner who has landed the Keyboard Company as a client. Create a case analysis using the Case Analysis Format as it appears on page 188 of your text. You can add additional space to this format if you need room to fully explain or examine different sections of the form. Additionally, make certain that you justify your recommendations to the Keyboard Company management.
Situation:
The Keyboard Company is a medium sized firm that manufactures and supplies computer keyboards. The company was founded by John Zoltan, and has experienced rapid growth in recent years. Zoltan attended an executive seminar, deciding to hire the professor as a consultant. He also ran an ad in the Wall Street Journal for four MBAs, and hired them forming the OD group, as well as an internal prospect for hire as a full-time employee. The OD group had offices in an old conference room. The members ranged from 23 to 34 years old, and here is a short biography
a. Pete Loomis, 25, behavioral specialist with industry training.
b. Kay Hughes, 27, prior to graduation was a sales representative.
c. Bill Heller, 26, specializing in group dynamics with no industry experience.
d. Don Morgan, 34, an individual with OD experience from the military.
e. George Kessler, 23, a person with 3 years of experience in human resources.
In the first month, the group got to know each other, holding weekly meeting with Zoltan, and familiarized themselves with the organization. They began a company wide 3-day training program at a resort location with the standard perks, including meals. Some of the members of the company referred to this training program as the "country club". The group was highly cohesive, spending long hours trading ideas and supporting each other. All of the members of the OD group, including Zoltan, worked hard to make the project a success.
Within the OD group, the case states that there were the following two subgroups:
1. Pete, George and Bill – All men under the age of 26 with a modicum of experience.
2. Kay and Don – A man and a woman in their late 20s and early 30s.
The first subgroup dressed informally blue jeans and sport shirts, while the second subgroup dressed in a business casual style. The first subgroup wanted to be confrontational and aggressive, while the second subgroup opted for a more gradual approach. Both subgroups wanted to ensure change, but perhaps the difference in styles was a caused by a difference in age and experience rather than due to a difference in assumptions. As the training progressed, and data was collected a small controversy began to emerge. Pete, George and Bill wanted to confront the organization with the data, and begin a job design that would lead to total quality management. Kay and Don believed in a more gradual approach, where the level of potential acceptance might be much greater.
Another issue that occurred was that the OD group began to see less of Zoltan, even though Kay could get an appointment with Zoltan any time, and Don had weekly briefings with Zoltan when he was in town. Pete, George and Bill had difficulty scheduling meetings with Zoltan, and proceeded to make jokes about this fact. Kay justified the fact that she could meet with Zoltan any time by stating that she was attempting to keep good relations with the client, while Pete felt that the whole company was the client.
The training program experienced mixed results, where some line managers praised the program, while other felt that it was a waste of time and money. In a meeting with Zoltan, the controller believed that it would be a good idea to move the OD group to the Human Resources department under Paul Blake, the vice president of that department. The group was charging $700,000 per year to overhead, and this money was allocated to the budgets of the manufacturing, engineering, marketing, human resources and finance departments. Zoltan decided to give the matter some thought. One issue that is readily apparent here is that the department heads may not have wanted to pay for the OD group. They may have believed that this money was an unnecessary expense, and thus, the suggestion by the controller may have been a political move on the part of some of the department heads.
One year after the OD group was formed, the members of the group were invited to the executive committee meeting, where the performance of the group was discussed and evaluated. The executive committee had some recommendations for improving the group in the future. Because of the need for more coordination and integration in training activities, and for budgetary reason, the OD group was placed under the auspices of human resources reporting to Paul Blake. The committee assumed that this change would not affect group activities and behavior. The committee also suggested that one person be designated as the central contact person, and that person was felt to be Don Morgan, the oldest individual in the group. Even so, the executive committee left final decision up to the OD group to make. When the group got back to the office, both Kay and Pete were considering resigning from the company.
Problem:
John Zoltan, founder of keyboard Company, attended an executive seminar and decided to hire an outside OD team without adequately educating his management team as to the purpose of this new division. It has caused misunderstandings, lack of trust issues, and confusion within the company. Some managers believe this group is taking monetary resources from other more important functions, such as their own division. And that these "outsiders" are so young, recent graduates with little to no industry experience, has left many wondering how this new group can help them design a best system when they know so little of the operation.
Within the OD group itself there are some problems. On the surface the team seems to have developed a group cohesiveness, but upon closer inspection I find that they really have split into two distinct groups: one that advocates rapid change towards TQM and another who wants to take a more gradual approach. Each side believes firmly in his or he position and the goup has not been able to get past this impasse.
John Zoltan, in the beginning, was very involved with this new OD group, but has since backed off becoming available only to Kay on a regular basis. This behavior has led to suspicions about their relationship. Is something more than work going on between them? This teasing by Pete, George, and Bill has caused Kay to want to quit the company. Pete is becoming frustrated by all of what is happening–not being heard by the other side, lack of effectiveness on the job, the lack of trust by the company managers, and the insulting jokes at Kay's expense–that he too is ready to leave Keyboard Company.
Causes:
Some of the underlying causes are;
· Lack of direction from Zoltan
· Lack of explanation and education of new OD group's purpose by Zoltan
· Lack of co-operation by all management and employees
· Distrust of these "whiz kids"
· Zoltan's seemingly unfair allotment of time to various team members
· Employees' sense of insecurity due to the uncertainty of all the recent changes
· The company's rapid growth has caused a lot of changes already, and employees are distrustful of more, especially if viewed as unnecessary
· Re-allocation of monetary resources has left many managers scrambling for departmental funding–causing hard feeling towards these expensive recent MBA graduates, thus mistrust
· The OD team that at one time was a cohesive unit is now having internal problems also leads to feelings of uncertainty–fear, insecurity, and so forth
Systems Affected:
Psychological–
The lack of direction has caused much uncertainty throughout the company. Uncertainty leads to fear; fear leads to a perceived sense of threat; sense threat leads to decreased productivity and increased absenteeism. Marilyn Rumsey and Jeff Christie, in an article for Human Resource Executive Magazine, add to this assessment, "The fact that perceived threat induces a stress response is well established. In the workplace, high levels of stress have been associated with decreased productivity, attendance and quality of output as well as increased medical costs, turnover and interpersonal conflict. In industrial settings, the mental preoccupation instilled by stress (presenteeism) brings a heightened risk of accidents." (Rumsey and Christie, ?)
Technical–
The change of moving the OD department under the auspices of the HR department does not entail any technical problems.
Alternatives:
· Do nothing.
· John Zoltas takes on the leadership role in the OD department.
· The OD department goes under the auspices of human resources reporting to Paul Blake.
· The OD department is disbanded and the company hires an outside change agent firm in order to break the impasse.
· The company hires a mediator in order to help determine the company's best choice of action.
Recommendation:
I recommend that the company hire a mediator in order to help the company resolve its own internal quandary. "Mediation is a process in which neutral parties, the mediators, help two or more individuals explore ways to resolve their differences and reach an agreement that suits their individual interests. The mediator assists in clarifying issues, helps to focus on underlying concerns, helps in creating options for conflict resolution, and helps in creating a plan of action or agreement that is acceptable to the parties and the plan works to resolve the underlying issue. Mediation is an alternative method of dispute resolution where the problems are identified and defined by the participants." (Moore, Hasler, and Sakamoto, 2003)
The mediator could assist Zoltas in explaining why he formed the OD department and why he chose the people to staff it. This would clarify the team's purpose within the company vision and goals. It would also assist the committee in determining the best possible course of action for the company.
Mediation helps both sides be heard and understood by all parties that are affected. This cuts down on misunderstandings, mistrusts, and so forth. Thus the process leads to a sense of teamwork among the different divisions, individuals, and so forth. It also cuts down on blame and "finger-pointing."
"Central to the mediation process is the concept that the involved parties, aided by the mediator, seek a solution that is mutually agreeable to both parties. There are several reasons that it is possible to arrive at a solution that works for both parties:
· Mediation is more informal than an internal investigation, filing with a human rights agency or litigation.
· The parties own the process and the solution.
· Solutions that are agreeable in mediation might never be advanced in a win-lose model of problem solving.
· Both parties are introduced to new methods of communication and problem solving.
· Mediation can result in the agreement to refrain from objectionable behavior without being preceeded by an admission of wrongdoing.
· Mediation may have a quicker and more long-lasting resolution than win-lose situations. It allows the employer to take quick and appropriate action.
· Mediation is confidential. The process may prevent an incident from having a long life in the rumor mill, as is often the case during a formal investigation.
· Participants are frequently more able to commit to a solution which they have formulated rather than one which has been forced on them." (Moore, Hasler, and Sakamoto, 2003) (highlighting mine)
We already have cohesive work groups that want to do what is best for the company. They merely have differences of opinion in how to achieve that objective. A mediator can help everyone involved better understand the issues, why each person's stance is important to him or her, and clarify the future direction of the company within their own terms. This is why I support the hiring of a mediator to help Keyboard Manufacturers in determining the best possible next step for the company.
References
Buresh, Donald, et al. (November 24, 2004). Organizational Change (OC). Class Chat. Retrieved on November 26, 2004 from http://flashchat.aiu-online.com/commonground3/archiveview.asp?connectionString=MGT420_01_51&instanceName=MGT420_01_2004_11_24&topic=Week%202%20First%20Chat.
Harvey, Don and Brown, Donald R. (2001). An Experimental Approach to Organizational Development, 6th ed. Upper Saddle river, NJ: Prentice-Hall, Inc.
Krames, Jeffrey A.(2003). What the Best CEO's Know. New York: McGraw-Hill.
Moore, T., Hasler, C., and Sakamoto, E. (2003). Mediation in the Workplace, 2nd ed.. Retrieved on November 27, 2004 from http://www.co.multnomah.or.us/sheriff/Mediation.htm. ©Multnomah County Sheriff's Office
Sharma, Robin. (2004). Leadership News. Quotes taken from an October (year not identified) Fortune magazine article by Matthew Boyle. Retrieved on November 27, 2004 from http://www.robinsharma.com/news.html
Related Topics