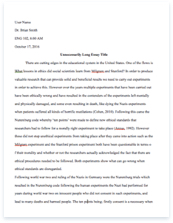 The whole doc is available only for registered users
A limited time offer! Get a custom sample essay written according to your requirements urgent 3h delivery guaranteed
Order Now
Postmodernism, also called Neo-liberalism, developed between 1970 and 2000, and it is mainly characterised by the need of liberation over oppression and the following movements and riots. The privileged white men had the power and the control of everything and the purpose of postmodernism organisational theory is to destabilise and criticise managerial ideologies by revealing viewpoints of the oppressed and marginalised with a particular focus on how language and power are used by managers to manipulate employees in order to gain benefits (M.J. Hatch, 1997). Postmodernists protect and honour human freedom (instead of restricting and dominating it) by promoting emotional appreciation of alternative forms of managing. According to postmodernism, culture does not exist; it is just an illusion created by managers at the top of the organisation for controlling and manipulating workers. Also, according to Foucault, external power is adopted and internalised so that people are controlled by self control; they follow the rules and act in the proper way believing to be observed constantly.
Postmodernism is characterised by the idea that truth and reality are relative to the context in which we see them: our interpretation depend upon our personal experiences. It takes into account the humanity of people and no longer just the effectiveness and the productivity of the organisation. There's a structure but there's also freedom since the organisation is no longer hierarchical but is seen more as a network and this affects the behaviour of the members as people are now able to give their personal opinions, so to work a bit more in harmony with managers. They are no longer considered machines for the sole purpose of increasing efficiency and production, but their human side, their needs are taken into consideration.
Freedom is seen as the intent behind behaviour. Post-modernism's ontology is linguistic: everything exists in correlation to language; as the philosopher Wittgenstein said in his Tractatus Logico-Philosophicus, language is the logical representation of the world and the purpose of philosophy is to clarify the meaning of the propositions used by language. Only true propositions explain the world, and the totality of true propositions is science.
Epistemology is interpretivist; the aim of researchers is to understand what is going on depends upon subjective understanding. Everything is known through self-reference (Hatch M.J.,1997) and criticise managerial ideologies by revealing viewpoints of the oppressed and marginalised is the key of the study of this behaviour through quantitative methods (surveys, questionnaires, interviews) and deconstructions of already existing theories through criticism. 
Related Topics