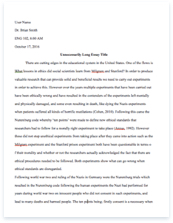 The whole doc is available only for registered users
A limited time offer! Get a custom sample essay written according to your requirements urgent 3h delivery guaranteed
Order Now
There are a variety of ways to approach the management of HR in a business. The business textbooks like to describe two broad approaches to HRM which are explained further below:
•"Hard" HR
•"Soft" HR
However, it is important to remember that, in reality, these two approaches are somewhat academic in nature. In real businesses, an HR department or manager would be likely to adopt elements of both soft and hard HR, and in many cases would not be interested in the slightest in the distinction! The key features of the hard and soft approach to HR can be summarised as follows: Hard HR ManagementSoft HR Management
Treats employees simply as a resource of the business (like machinery & buildings) Strong link with corporate business planning – what resources do we need, how do we get them and how much will they costTreats employees as the most important resource in the business and a source of competitive advantage Employees are treated as individuals and their needs are planned accordingly Focus of HRM: identify workforce needs of the business and recruit & manage accordingly (hiring, moving and firing)Focus of HRM: concentrate on the needs of employees – their roles, rewards, motivation etc Key featuresKey features
Short-term changes in employee numbers (recruitment, redundancy)Strategic focus on longer-term workforce planning Minimal communication, from the top downStrong and regular two-way communication Pay – enough to recruit and retain enough staff (e.g. minimum wage)Competitive pay structure, with suitable performance-related rewards (e.g. profit share, share options) Little empowerment or delegationEmployees are empowered and encouraged to seek delegation and take responsibility Appraisal systems focused on making judgements (good and bad) about staffAppraisal systems focused on identifying and addressing training and other employee development needs Taller organisational structuresFlatter organisational structures Suits autocratic leadership styleSuits democratic leadership style Which of the two approaches is better? The answer is – it depends! The "hard" approach to HR might be expected to result in a more cost-effective workforce where decision-making is quicker and focused on senior managers. However, such an
approach pays relatively little attention to the needs of employees and a business adopting a genuinely "hard" approach might expect to suffer from higher absenteeism and staff turnover and less successful recruitment.
The "soft" approach will certainly appeal to the "touchy-feely" amongst us who like to see people being treated nicely! And you can also make a good business case for an approach which rewards employee performance and motivates staff more effectively. However, the danger of taking too "soft" an approach is that when all the employee benefits are added up, the cost of the workforce leaves a business at a competitive disadvantage. The Hard approach to HRM emphasizes on an employee as a "commodity" or a "resource" -being as much a resource as is land,capital etc. & only to be treated better incase of a short supply or incase of playing a central role in achieving the organization's goals.
Methods of implementation can vary depending on a calculative & quantitative approach in a rational manner.Thus its a way of regarding people as human capital whose development returns more gains. The Soft approach to HRM emphasises on an employee being "resourceful" (as against being just a "resource" ) & a major source of competitive advantage by use of human relations- which involves enhancing performance by using motivation, communication & leadership to increase loyalty & commitment. The soft 'model' considers increased satisfaction as the only way to go about in the management as against the various calculated methods that can be used in the hard 'model'.
Related Topics