Graduate CV and Covering Letter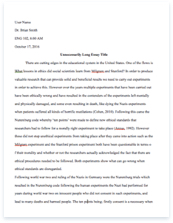 The whole doc is available only for registered users
A limited time offer! Get a custom sample essay written according to your requirements urgent 3h delivery guaranteed
Order Now
Introduction This booklet is written for students and graduates to help you to prepare and update your CV and to write an effective covering letter. In addition to this booklet members of the Student and Graduate Careers team will deliver workshops during your course, in Level 2 as part of Work Based Learning preparation and in Level 3 through subject departments. Watch out for poster and IBIS postings advertising the workshops you are welcome to drop a draft CV or covering letter into Student and Graduate Careers, or email it to [email protected] or [email protected], and we will give you feedback. The Purpose of a CV As you probably know, CV is short for "curriculum vitae", which translates as "stream of life". It has become the most popular way for prospective employees to present relevant information to employers, and is designed to get you an interview.
It is therefore a crucial first step – get it wrong and your application will go no further. A CV is a dynamic document which changes and develops as your experience grows, and it's never too soon to start. It's much easier to amend an existing, well prepared CV than to start from scratch, particularly when you're under pressure because you've just seen that dream job advertised! Not all job applications require a CV, but keeping yours up to date means that you have to hand most of the factual information you are likely to need when completing an application form or on-line application. Remember, each time you use the CV you will need to target the contents to meet the requirements of the job. Preparing your CV A CV is a factual summary of the key features about you which are relevant to a future employer. But it is more than a dry list of qualifications and previous employers – it is a way to sell yourself.
Presenting your CV There are various styles for constructing a CV and we will look at two of them; but first, there are some clear conventions for presenting your CV which are strongly recommended because they are what employers expect. A CV must be No more than two sides of A4 (this is the UK convention – in the USA the expectation is a one-page resume) Word-processed in a clear font like Arial, Tahoma, Verdana, Times New Roman Presented in black ink on good quality white paper so that it photocopies well and feels good! Spaced out well, using indent, bold, underline, and bullet points consistently and in a way which aids clarity. Avoid at all costs using coloured paper or ink, photographs or illustrations, or elaborate folders. Quite apart from the photocopying problems, flashy presentation is assumed to disguise poor content! Content and Layout For graduates who have progressed into higher education straight from school or college, with perhaps a gap year, a good format to use is the chronological CV, which emphasises your educational history since this is the most substantial part of your experience to date. Mature students, however, might prefer to produce a skills-based
CV which begins with a summary of skills developed over time, through paid and voluntary work and education. Whichever format you choose, there is no need to begin with Curriculum Vitae – it's obvious that this is what it is and you are wasting precious space. Start with your name and put your personal details underneath like this:
Sarah Thomas 14 Garden Lane Chester CH2 3LX 01244 657433 mobile: 0774 397584 email: [email protected] Giving details of your date of birth is entirely optional. If you choose to include this, it is normally listed within your personal details. For a Chronological CV, continue with the following headings: Career Profile this is a brief description of who you are and what you are looking for, for example "A final year undergraduate of Business Studies with German, now seeking a graduate training programme with a company with European links where I can apply the skills and knowledge gained in my degree"
Note: there are some categories of employer eg law firms, who dislike Career Profiles, so seek advice from Student and Graduate Careers about this part of your CV. Education and Qualifications • should start with your current course and include the dates of study, the institution attended (note the current title is University of Chester) and the qualification(s) obtained, including details of any relevant modules studied and the title of your dissertation. • you should also include your secondary school. List your A level subjects passed and grades, and your GCSE subjects (C and above) and grades, and any other substantial qualifications you have achieved like GNVQ or BTec or Access courses. Leave short courses and certificates for a later section. (put your permanent address if needed on this side)
Work Experience – again starting with the most recent, list your employment, giving the dates (month/year is enough), name and location of employer and your job title, and a sentence or couple of bullet points which summarise what you did. Think in particular about the "transferable skills" you developed which can be applied in a graduate job – communication, planning and organising, record keeping. There's no such thing as irrelevant work experience! If you have done significant voluntary work, include it here – it's not just about paid employment. And make sure that you include your work-based learning placement if you have completed it. Skills and Achievements this is a much more positive heading than "other
information" and enables you to draw attention to IT skills, languages, sports and coaching, first aid, prizes and awards, driving licence, and even hobbies and interests. References – Providing references is optional. If you decide to include them you should provide the name, job title, postal address, email address if applicable and contact phone number of two referees. One must be your Personal Academic Tutor, who is the only person who can write your university reference. A good choice for your second referee is a current or previous employer, or your work-based learning supervisor, many of whom are extremely willing to act as a referee. It is courteous to ask whether they are prepared to be a referee; they are unlikely to refuse! You need only ask them once, not each time you apply for a job. If you are really stuck, choose what is known as a "person of good standing", perhaps a family friend who has a responsible job and who knows you well enough to write about you. Never choose a relative. Here is an example of a chronological CV:-
Jennifer Brown
Woodbine Cottage College Lane Chester CH7 8SD Tel: 01244 456789 Mobile: 0778 1234567 Career Profile: A creative and committed final year undergraduate seeking a first post in finance or business where I can make a valuable contribution and at the same time develop my career. Education and Qualifications 2004-2007 University of Chester BA (Hons) Geography Modules include: Urban Environmental Management, Consumption, Society and Space, Geodemographics and Database marketing Rydal Comprehensive School, Shrewsbury A levels: Geography A, General Studies A Economics B, German C GCSE: Biology A English Language A English Literature A German A Geography A* History A Physics A Latin A Mathematics A Chemistry B
Work Experience Assessed Work–Based Learning Placement Chester and Ellesmere Port Enterprise Agency • Managed a 6 week project • Created on-line student support materials • Researched and redesigned members' website • Obtained 1st Class Hons for project report July – September 2004 English teacher, Heredia, Costa Rica • Planned and delivered lessons • Completed TEFL course and one week intensive Spanish course June 2004 – July 2005 Customer Satisfaction Representative (vacations and part–time) MBNA Europe Bank Ltd, Chester • Used computerised software to respond to customer enquiries and problems July 2003 – January 2004 Sales assistant (vacations and part-time) K Shoes, Chester • Interacted with customers, displayed stock and used till April – June 2006
Skills and Achievements • Computing and IT: competent in Microsoft Word, Excel, PowerPoint and Access; statistics packages (Minitab and SPSS); GIS software including MapInfo and ArcInfo; experience of CARDPAC and BPA financial account management systems gained through work experience. Undertook additional college courses to increase my knowledge. Languages: conversational German, Italian and Spanish. Positions of Responsibility: Student academic representative 2005 to date; President of University Geography Society 2006/2007; volunteer computer mentor assisting new students during induction, 2005 to date. Sport: Sports Diver with British SubAqua Club, training for dive leader qualification; active member of College Trampoline, Boxercise and Ski and Snowboard Clubs; Tae Kwon Do green belt. Work Placements: While in the Sixth Form I arranged and carried out work placements in Warrington Crown Court, Steggles Solicitors in Chester, and Cheshire Trading Standards Department. Additional Qualifications: full driving licence, LAMDA Silver Medal Distinction for Acting, GNVQ Young Enterprise Distinction, Duke of Edinburgh Gold Award
For a Skills-based CV the order of the content is slightly different to place more emphasis on experience, and you may choose to omit your date of birth. You should start with a Profile as described above, but include a positive statement about your maturity – it isn't a disadvantage! Use phrases like "a mature graduate with a wealth of wide-ranging employment experience….". Your next heading is Skills and Achievements. offer evidence. On a blank piece of paper set out the following headings, and any others you can think of. Under each heading, write the skill(s) you think you have, and how you know that you have them: Communication Planning and Organisation Teamwork Research and data management Problem solving Computer literacy Use examples from coursework, paid and voluntary work, and interests and hobbies. Now summarise this in a form which emphasises the skills most relevant to the jobs for which you are applying. You can now continue with Education and Qualifications and Work Experience (see guidelines above). If you are a mature student with lots of work experience which you now regard as irrelevant, it's fine to summarise the earlier jobs, for example 1992 – 1998 A variety of part-time jobs in retail and catering while bringing up my family (You can list work related skills).
Here is an example of the "Skills and Achievements" section of a skills-based CV. Team Working Work based learning placement involved ensuring that I was quickly absorbed into an established team of eight, collaborating daily in the achievement of project targets. Course work frequently requires team preparation and presentation of reports. I was one of a team of four people who set up the University Biology Society and marketed the club to students. Communication Consistently achieved high grades in written assignments. Interpersonal communication demonstrated through my chairmanship of the PTA of my children's school, requiring leadership, negotiation and persuasion, and through my employment in sales and customer service. Problem Solving I have learned through my course work to take a problem, identify the key components and find a logical, systematic solution. During work-based learning I was given the task of designing a new database which involved research, IT application, trialling and feedback and implementation. Computing Working knowledge of Windows-based programmes including Word, Excel, Powerpoint and Access. Regular user of Internet and email. Competent in statistics packages(SPSS, Minitab) and journal database searches.
The Importance of a Covering Letter Job seekers sometimes place great emphasis on the CV at the expense of the covering letter. A CV without an accompanying letter of application almost guarantees rejection. Please note that it is now common practice to send a CV and Covering Letter by email. In this case, the covering letter should form the body of the email and the CV should be an attachment. It is important to maintain the formality of a written letter and not to use a more casual style often used in emails. The purpose of the application letter is to distil from your CV – which should contain everything that is good about you – the very specific qualities (skills, abilities, experience, training etc) that qualify you to be considered for appointment to the job in question. This should enable you to aim directly at meeting the job description and person specification – that is, the requirements of the job and the characteristics of the ideal candidate – in terms of skills, abilities, experience, achievements and so on. So, before you can write your letter, you need to know the job description and person specification. These are usually included in the information the employer supplies about the job. Occasionally however, the only information you have is the job advert and you should analyse it carefully to identify the key skills and experiences being sought by the employer. Have a look at the example on the next page.
PR Graduate opportunities… XXX is a highly focused technology PR and marketing agency based in Surbiton. Established since 1990, it continues to grow and as a result is looking for motivated, enthusiastic graduates who want to break into a PR career in our lively, fun, (and often hectic) expanding business. The right people can expect to receive the training and support that will develop their skills and motivation to gain a firm foothold in the PR world. And there are great prospects here if you have the drive and determination to succeed and a keen interest in technology. Fancy a challenge? Please email your CV and a covering letter telling us your salary expectations and why you are interested in a career with us. Contact details at www.xxx.co.uk
In replying to this advertisement, your CV and the covering letter will need to provide evidence that you meet the person specification, i.e. that you are: a graduate motivated and enthusiastic seeking a career in PR interested in further training interested in and knowledgeable about technology
You also need to show that you know enough about PR to have an understanding of what will be expected of you, i.e. the job description. To an employer your letter of application is of vital importance and it will be what drives them to either contact you or throw your application in the bin. Your letter of application must:
Attract the recruiter's attention. This does not mean using fluorescent or unusual stationery, typefaces or layout. standard business format Raise interest by being positive and by showing what you can do (for a new employer). Create a desire in the recruiter – for a meeting with you. Stimulate action by the recruiter. The Basic Structure and Presentation Your first contact with an employer by letter might be in one of the following ways: 1. Letter of application accompanying a CV 2. Letter of application (CV not specially requested) 3. Letter requesting an application form or covering an application form A good first impression is of vital importance in all of the above examples, so your letter should be clear and well presented. In example 3, a letter requesting an application form should be brief and courteous – save your detailed information for the application form itself. Similarly, a letter accompanying a completed form should be brief, unless the form specifically invites you to expand on your application in a covering letter. We will now focus on examples 1 and 2. There is no single correct way of laying out a letter. Whichever style you choose, however, there are some basic rules you should follow. Always include: It does mean writing the kind of letter that is a sign of a well-organised mind – a useful work skill in itself – in
Your address and postcode The date Any reference which you have been asked to quote The name and address of the recipient including postcode. If at all possible, find out who you are writing to. If you know their name, use it and finish the letter with "Yours sincerely". As a very last resort use "Dear Sir/Madam" and finish with "Yours faithfully". One example of a layout structure is as follows (also see example of letter at end of booklet): Heading or letterhead, your address details in full including telephone number Reference Date Name and full address details of recipient Dear…….. First paragraph Middle paragraph(s) Final paragraph Complimentary close Legible signature and name under your signature Note of enclosures The golden rule of job-related correspondence is keep it short and to the point – to the recruiter's point that is. Speculative letters and requests for further information should be confined to a single page of A4 text. Application letters should not extend much beyond one and a half pages. Ideally, jobrelated correspondence should be word-processed unless the recruiter expressly requests a handwritten format.
If the letter is accompanying your CV, use the same good quality white A4 paper. Good quality white paper is preferable to coloured paper unless you are applying for a creative job. Send the letter of application together with your CV or application form unfolded in a large/A4 envelope. Content The first main paragraph(s) of the letter should mention the advertisement or job vacancy and how you came to know about it. (Employers are keen to know which form of advertising produces the best results). It should also refer to your qualification for the most important of the specific requirements for the job that appeared in the advertisement, and your expression of interest. It should be written in enthusiastic terms. If this is a covering letter, in the middle paragraphs, first draw attention to the attached papers.
Then set out your skills, abilities and experiences that meet the remaining requirements of the advertised job. Say why the employer should be interested in you – highlight any specific selling points. These would be relevant work experience, related interests and skills (especially if these are not fully covered elsewhere) and particularly relevant aspects of your course. This is not the place, however, to add any further information which should have been included as part of the application form or CV. Try to identify a couple of reasons why you are attracted to this particular employer, indicating that you have done some research to find out more about them. Summarise your suitability for the job in the last paragraph and express the view that you are looking forward to hearing from them – but don't say when. Mention any dates on which you will be unavailable. End the letter on an optimistic note.
Sign your letter in the usual way – but also print or type your full name underneath since you can be sure that recruiters will not look kindly on a letter if they cannot read the name of the person who sent it. Use Of English Avoid at all costs grammatical, spelling and punctuation errors. Don't use long-winded sentences. If you have a tendency to do this, try to find a more concise way of expressing yourself, and ask someone to read your draft. Read the letter aloud to hear if it sounds positive and vital. Are you producing the right effect? Avoid expressing yourself in a way that is overly casual or familiar and humour is better kept for letters to friends and family. Further Sources of Information The Job Application Handbook, Judith Johnstone, How To Books. http://www.prospects.ac.uk and Prospects Directory Hobson's Directory AGCAS Booklet: Applications, CV's and Covering Letters Business Letter Writing, Trotman. Alec website, provides advice on CVs and interviews: www.alec.co.uk All of these are available to consult in Student and Graduate Careers.
14 April 2007 Dear Mr Brown I an writing in response to your recent advertisement in "Prospects Today" for a trainee market research analyst. I am in the final year of a four-year degree course in International Marketing with French at UMIST and will graduate in June. My CV outlines my education and experience but I would particularly draw your attention to my language skills and market research experience, which I hope would be an asset to an international firm like Summerbee and Partners. During my degree I have chosen options in both Marketing and Market Research and, in my final year, I undertook an ambitious and demanding research project looking at the differences between British and French consumers' buying habits. This involved travel, interviews, data collection and analysis: an important introduction to some of the key features of a career in market research. My vacation job, with Skellett and Raymond, confirmed my commitment to this career and gave me additional practical experience.
As well as having relevant knowledge and experience, I believe I also possess the personal qualities that you ask for in your advertisement. I have shown imagination and creativity, especially when trying to stimulate bored French business executives and sell canoeing to sceptical students. I am a good communicator and have seized every opportunity to give presentations both inside and outside university. I have the analytical skills you seek, demonstrated by a good Maths A level, relevant undergraduate courses and a demanding and responsible vacation job. Finally, I have shown myself to be motivated by business and want to be part of a successful international organisation. To learn more about Market Research, I have attended careers fairs, talked to practitioners and read recruitment brochures. I first learnt of Summerbees at an evening presentation at UMIST and was impressed with the enthusiasm of the staff I met. But what made me determined to apply was your absolute commitment to training and development, which, as I learnt from my degree, are the prerequisites of a growing business. I am available for employment in July this year and I look forward to hearing from you.
How to write a personal statement when applying for jobs Often when completing an application form for a job, you will have a space to give any extra information about yourself that you feel would be relevant for the job you are applying for. This is your chance to convince employers why you are the best person for the job. The personal statement may be included as part of the application form and have a strict space and word limitation or you may have to write on a separate piece of paper. If this is the case then one or two sides of A4 would be sufficient. The personal statement should always be word processed.
General Guidelines for writing personal statements
 Don't just repeat information that you have already written elsewhere on the application form. Vary the beginning of each paragraph, and don't use clichéd overused sentences such as "I have always wanted to…" Read through your statement several times checking your spelling and grammar, and get someone else to check it for you. If your application is typed make sure you use a clear font such as Arial or Times New Roman and use a minimum font size of 10. Always write a personal statement specifically for the job you are applying for, don't just use a standard template. Make sure whoever will read it knows you are interested in that job specifically.
Job Specifications Often a job specification will be provided with a job application highlighting the essential and desirable skills needed for the job. A useful way to write your personal statement would be to match each of the skills they require with evidence of you having that skill. Sometimes it can be useful to group together related skills such as oral and written communication, time management and organisational skills and provide evidence that supports your claim. The person specification describes the employers ideal candidate and your personal statement should show how closely you resemble that ideal candidate.
It should also show your motivation to do the job, supported by evidence of things that you have done. Your supporting statement can be written in an essay style or in bullet points. Evidence of the skills needed can be from all sorts of areas of your life, not just employment but also voluntary work, interests, sports teams etc. Think about your transferable skills and give plenty of examples of why you can do something, don't just say "I have good IT skills" give evidence to prove this. When you have written your personal statement don't forget you can book an appointment to have it checked or you can email it to [email protected] or [email protected] and a Careers Adviser will check it for you.
Related Topics