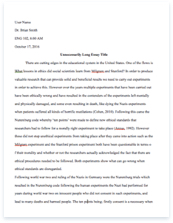 The whole doc is available only for registered users
A limited time offer! Get a custom sample essay written according to your requirements urgent 3h delivery guaranteed
Order Now
As a result of his exposure into democracy, Ulysses S. Grant stood for it in the sense that he grow up in the middle of it and knew how it worked. He doesn't believe in proper ordering of human society but for a chance of every individual to show how far he could rise himself despite the trials he must undertake. He was self-reliant, doesn't owe reverence to anyone and cared hardly on past but had a sharp mind for the future. On the other hand, Robert Lee stood for aristocracy wherein family, culture and tradition were as much important. Grant believed on the power of many while Lee was on the power of the few or privilege people.
For Lee, society itself should be keyed to the land as the chief source of wealth and influence while Grant encouraged his people to engage in business for their benefits and as part of the development. Even so, for Grant, a man has the freedom to belong in his community and a freedom to do his will. Lee, makes it a point that it is an advantage if human society will have a pronounced inequality. They will only have their equal rights and chance in doing what he wanted provided that they will have a strong sense of obligation because they were privileged.
            Grant termed as the modern man emerging for the reason that he envisioned his country to expand as a crowded cities and a restless burgeoning vitality. The age of steel and machinery was ready to come upstage. He was more focused on what the future may bring to his country. Meanwhile, Lee remained on the belief from the past. The organization of knighthood in the middle ages and dedicated to the hazy belief that all men had equal rights and should have an equal chance in the world. It is the time of The English Squire or chivalry.
            The West, known to be a mountainous area, envisioned to be crowded cities where development and expansion were highly welcomed. Europe is a society wherein endurance is vulnerable yet it does not welcome any changes. Grant fights for the reason that everything he was living for is tied up to the growth and expansion of its horizons and sustainability of growth and development. Virginia Aristocrat practiced regionalism for their ideals. Man should saw himself in relation to his own region.
Related Topics