Employment Responsibilities and Rights in Health Argumentative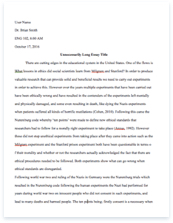 The whole doc is available only for registered users
A limited time offer! Get a custom sample essay written according to your requirements urgent 3h delivery guaranteed
Order Now
Ai: Imagine you are a newly appointed supervisor/manager within your service. You need to update your staff handbook to reflect current employment law. Identify three different sources of information you could use to enable you to do this. Once you have identified a reliable source of information:
1. Common law. Since all employees in the UK work under a contract of employment with their employer, the common law (particularly the law of contract) forms the legal basis of the employer/employee relationship. A contract of employment need not be but is usually recorded in writing. The parties are free to stipulate which law will be the governing law of the contract. However, certain mandatory statutory employment protection rights will apply regardless of the law of the contract. In addition, the law of tort will govern matters such as an employer's liability for the acts of its employees and liability for industrial accidents.
2. Statute. Since the early 1970s there has been a dramatic growth in the amount of UK employment protection legislation which has supplemented the common law rules. The main employment law statutes are:-
Equal Pay Act 197
Health & Safety at Work etc Act 1974
Sex Discrimination Act 1975
Race Relations Act 1976
Trade Union and Labour Relations (Consolidation) Act 1992
Disability Discrimination Act 1995
Employment Tribunals Act 1996
Employment Rights Act 1996
Public Interest Disclosure Act 1998
Data Protection Act 1998
National Minimum Wage Act 1998
Human Rights Act 1998
Employment Relations Act 1999
Employment Act 2002
Employment Relations Act 2004
Disability Discrimination Act 2005
In addition, there is a substantial amount of secondary legislation in the form of regulations which contain further provisions which affect the employment relationship. In some cases the legislation is supported by Codes of Practice drawn up by various government agencies. Although the Codes do not have direct legal effect, they are often, and in some cases have to be, taken into account by Employment Tribunals when deciding whether an employer has complied with its statutory obligations.
3. European law. If UK domestic law has failed properly to implement EC Treaty obligations, individuals may rely on the EC Treaty in the UK courts. EC legislation has been particularly important in the areas of equal pay, discrimination and employees' rights on business transfers. In addition, since the European Court of Justice is the final arbiter in matters of interpretation of European legislation, its judgments are important when it comes to questions relating to the interpretation of obligations derived from European Directives.
Aii
a) List three aspects of employment covered by law.
The THREE aspects of Employment covered by LAW are :
1. Hours of Work
2. Salary and Benefits
3. Holidays
b) List three main features of current employment legislation.
The THREE main feature of current employment legislation are:
1. Employment Rights
2. Equalities and Discrimination Law
3. Health and safety Legislation
Aiii Briefly outline why employment law exists.
– Employment law exist to protect the Employees and Employers by providing rules and regulations that must be followed.
Task B Your work role
For this task you will need the following:
• A copy of your contract of employment or employment agreement. If you don't have a written contract of employment eg if you are employed as a personal assistant, discuss your terms and conditions with your employer and make notes to help you to complete the task;
• A recent payslip or pay statement;
• Access to your workplace policies and procedures or notes from a discussion with your employer if you are employed as a personal assistant
Bi Describe the terms and conditions of your employment as set out in your contract of employment or employment agreement.
My Terms and Conditions based on my Employment contract:
* It's stated my Employment Details such as my full Name, Name of first employment with, Date when I began to work, Job Title , Place of work.
* My Remuneration and Working Hours , It's stated how much I get paid per hour and how many contracted hours per week.
* My period of employment, discussed as a permanent employment.
* Stated about the Notice Period, Holiday Entitlement, Incapacity to work or Sick leave.
* Terms of Employment ( Permanent Staff) – This document sets out the terms
of my contract of employment with Autumn House Care Ltd. and with the Policies and Procedures,
sets out the particulars of employment which the Employment RightsAct 1996 requires the employer to give.
Bii Describe the information which needs to be shown on your pay slip/statement.
The information shown based on my pay slip as follows :
* My name and address
* Employee No. , Process date, National Insurance Number, Unit of Hours worked, Rate and Amount , Deductions , Holidays taken if any.
* Summarisations of year to date, Payment method, Gross pay and Net pay.
Biii Identify two changes to personal information which you must report to your employer.
* Changes of Name
* Changes of address
Biv Describe the procedure to follow if you wanted to raise a grievance at work. You may describe this in writing or produce a flow chart or diagram.
The procedure to follow if you wanted to raise a grievance at work are :
1. The employees should let the employer know the nature of the grievance and issues promptly.
2. Try to resolve any grievance informally in the first instance to try to nip it in the bud.
3. The employers should arrange any formal meeting without unreasonable delay and should carry out any necessary investigations to establish the facts of the case.
4. The employers should allow the employee to be accompanied at any formal meeting and should allow the employee the right to appeal against any formal decision made.
5. The employers should have their grievance procedure in writing and make sure all staff are aware of any policy or procedure.
Bv Explain the agreed ways of working with your employer in relation to the following areas:
1. Data protection – The Data Protection Act controls how my personal information is used by organisations, business or the government. Employee's personal data should be kept safe,  secure and up to date by the employer. Employee's personal data should be kept such as name, address, date of birth, sex, education and qualifications, work experience, National Insurance number, tax code,
details of any known disability, emergency contact details.
Everyone who is responsible for using data has to follow strict rules called "data protection principles". They must make sure the information is:
* used fairly and lawfully
* used for limited, specially stated purposes
* used in a way that is adequate, relevant and not excessive
* accurate
* kept for no longer than is absolutely necessary
* handled according to people's data protection rights
* kept safe and secure
* not transferred outside the UK without adequate protection
There is stronger legal protection for more sensitive information, such as:
* ethnic background
* political opinions
* religious beliefs
* health
* sexual health
* criminal records
2. Grievance – Grievances are concerns, problems or complaints raised by a staff member. Any worker may at some time have problems or concerns with their work, working conditions or relationship with colleagues that they
wish to raise with management. Issues that may cause grievances include : the Terms and Conditions of employment, Health and Safety, Work relations, Bullying and Harassment, New working practices/ Organisational changes
and discrimination.
3. Conflict management –
4. Anti-discriminatory practice
5. Health & safety
6. Confidentiality
7. Whistle blowing
Bvi Explain how your role contributes to the overall delivery of the service provided.
Bvii Explain how you could influence the quality of the service provided by; a) Following best practice within your work role;
b) Not carrying out the requirements of your role.
Bviii Describe how your own work must be influenced by National factors such as Codes of Practice, National Occupational Standards, Legislation and Government Initiatives.
Bix
a) Identify two different representative bodies which influence your area of work. b) Describe the role of the two representative bodies you have identified.
Task C Career Pathway
Create a career pathway plan for yourself, indicating what opportunities are open to you as you progress in your chosen career. Indicate what you will need to learn or any qualifications you might need to gain in order to achieve your goals. Identify sources of information to help you achieve your goals.
Task D Presentation or report
Prepare a presentation or report on an issue or area of public concern related to the care profession. Your presentation or report should include:
• A description of the issue or area of public concern raised • An outline of the different points of view regarding the issue or area of public concern raised • A description of how the issue or area of public concern has affected service provision and methods of working• A description of how public opinion is affected by issues and areas of concern in either the health, social care or children's and young people's sectors
Related Topics