Employees are not resources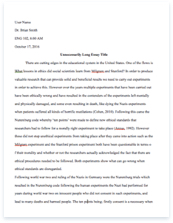 The whole doc is available only for registered users
A limited time offer! Get a custom sample essay written according to your requirements urgent 3h delivery guaranteed
Order Now
Those goals and quests refer to personal desires which are planned to achieve in the future. Autonomy or being self-driven is often defined as positive freedom. The concept of autonomy is divided into these four essentials: Tasks, Time, Technique and Team. Task plays a big role when describing autonomy because "You decide what you will make. " For example, a carpenter will have a list of tasks and projects to complete as modified by the customer, but if the carpenter was to be allowed to let the creative juices flow, a better job will be guaranteed.
The same with any other job or duty, when the employee is told what to do, how to do it and when to do it, it becomes a job therefore no passion is put into it. One of Google\'s most successful management is something called "20 percent time". This concept states that employees are encouraged to spend 20 percent of their regular project time, working on what will benefit Google. Nationally recognized features have been born from this management including Google News, Gmail, Google sky, and even AdSense. However, it has come down to a matter of debate whether "20 percent time" still exist.
According to researchers, it became too difficult for employees to take time off their regular jobs. Autonomy measures can work in various fields and offer a better improved source. And an improved source is becoming urgent in an economy that demands nonroutine, creative abilities. Having control over time has been found in research to contribute majorly with an autonomous person because creativity increases during the given time by the person. As said by Scott Adams, "Nothing is more important to my success than controlling my schedule. I'm most creative from five to nine A. M. "
CEO Jeff Gunther switched their information system into ROWE, results only work environment. Cali Ressler and Jody Thompson, two former human resources, define ROWE simply as allowing each person to do whatever they want as long as the job gets done. How they do it, when they do it, and where they do it is up to the employees. Similar to how students work in college on deciding what time will be dedicated for studying, schedules, choosing professors and sleeping schedule. Nothing changes from the moment a student graduates to the moment they are hired; they should not be treated like kids.
A company should not be worried on how much time an employee is putting in but instead on the results. For example, Netflix Inc. has no vacation day tracking, meaning employees are allowed to take as many days off, whenever they want. Netflix main focus is for the employees to get the work done right and on time. Another example, Best Buy corporation offices gives their employees the trust to stay at home and never show up to the firm, and even allows them to turn in job duties at the end of the day.
Rather than having a boss checking up on their employees arriving in time. Customer service representatives job relies on a person to sit for hours in a room with hundreds of other representatives where all day consists of answering calls, solving customers issues and the pay not being significant for the stress because employees are being monitored, making sure the timing is adequate and for employees to follow a strict script. Autonomy over technique is vital in order to maintain the employees hired and also provide and allow them a comfortable workplace.
For example, Zappos, an online shoe retailer (now part of Amazon) hires new employees by putting them through a week of training. After the week of training is completed, they have two choices. Stay and work for Zappos or leave with $2,000 and no hard feelings. Oppose to other representatives, Zappos employees don\'t get monitored, timed or scripted. When a call comes in, if the call is one minute great, if it takes one hour, no problem. Zappos frequently ranks as one of the best companies for customer service.
When a customer calls a Zappos representative, he answers from his home what's known as "homeshoring". Providing better autonomy over how they do their jobs. Team plays a big role in an autonomous environment because if the person is hired to work on a specific duty and is chosen from current employees, then that means the company is choosing the best worker for that desired position. For example, at the organic chain Whole Foods, the people in charge of the departments aren't the ones who do the hiring.
After a person has been in training for thirty days on a team, the teammates the decide if the candidate will stay full-time. In other words, they choose their team for the workplace. There is a problem with students, employees and even bosses with the lack of motivation and the element of autonomy. In order for an improvement on it's four essentials; task, time, technique and team, there needs to be a change in the way corporations run their business.
For task, there needs to be freedom to the employees creativity. Jobs must allow time in order to create this sort of task that will be the cause of the creativity. For technique and team, both must include flexibility towards the newly hired employees and how they can be hired to adequately contribute in their jobs. If these four essentials are improved, an increase on productivity and creativity will benefit our future workplace.
Related Topics