Eb White's: Why is The Lake a Meaningful Place to The Author?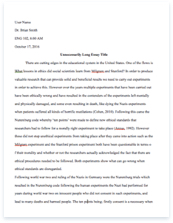 The whole doc is available only for registered users
A limited time offer! Get a custom sample essay written according to your requirements urgent 3h delivery guaranteed
Order Now
E. B. White's "Once More to The Lake" is an autobiography essay in which White embarks on why the lake is a meaningful place to him. He states that every summer, he would visit this lake in Maine arriving on August first and staying for one month .White realize that bringing his son along with him made him comprehend that nothing has changed since he has been to the lake as a child and that seems to comfort him. He sees his son as him and he as his father. In the essay, White uses the words peace, goodness and jollity to describe why the lake is a meaningful place to him.
First, white uses peace to describe why the lake is a meaningful place to him. The first evidence that he envisions the lake as a place of peace and holiness is when he metaphorically compares it to being a "cathedral" and describe the surrounding area as "cottages sprinkled around the shores,"(White19). White writes about how when he was a child there were no big motors on the lake and the ones that were there only made soft sounds that blended in. He contrasts that to the current motors which he describes as a nervous sound that whined like mosquitoes in one's ear. White does this to show how the lake used to be a place of peace and now technology has interrupted this calmness.
Second, he describes why the lake was a meaningful place to him using goodness. White uses this blimey to create emphasis on his past and current feeling. He explains that he enjoys the life and also the simplicity of the lake. White states that "The boat would leap ahead, charging bull-fashion at the dock." (20). As White reminisced on his vacation; he uses metaphor to describe the old boat and explained it was the same.
Third, white also uses the word jollity to describe his trip to the lake. He explains that the lake was a place of jollity for him because he had more fun than he expected. White furthermore explains that he is comfortable with the surrounding of the lake and enjoys watching his son take the same actions he did as a child and then continues to reminisce the past and be reminded of the present. White realizes "that those times and those summers had been infinitely precious and worth saving" (18). He begins to compare and contrast the past from the present, he see his present is not as good as his past. White feels resentment toward himself, only to remember "the good life" (his memories) when he is all grown up, watching his own son experiences that "good life". In conclusion, White is describing a place very dear to him, this lake in Maine that he once vacationed with his family as a boy. He tells of his experience of taking his son back to this place he loved as a child and relates back to his experiences there as a child, and how he is feeling now being there with his son. White uses metaphor to describe his experience to the lake. He describes this experience as peace, goodness, and jollity.