Careers in Human Resource Management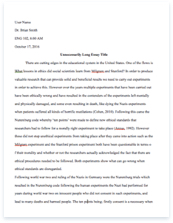 The whole doc is available only for registered users
A limited time offer! Get a custom sample essay written according to your requirements urgent 3h delivery guaranteed
Order Now
The career I will be discussing in this paper is a Human Resource Manager. Human resource managers are professionals who "plan, direct, and coordinate the administrative functions of an organization." ("Bureau of Labor Statistics" U.S. Department of Labor, Occupational Outlook Handbook, Human Resources Managers). Human resource managers are crucial to have in business/companies; they are responsible for hiring new people and planning important organizational circumstances. There are several, specific skills that a person must have to become a human resource manager. They include: communication, decision making, organization, ethical, and many more minor skills that are vital. According to a site I found, the key qualities of an HR manager are organization, ethics, communication, expertise, problem solving, and leadership. Having these qualities to become an HR manager would increase your chances of becoming one. To be an HR manager officially, you are required to have work experience related to HR.
Moreover, "a bachelor's degree is sufficient for most positions" ("Bureau of Labor Statistics"). However, some only require a master's degree. There is a great variety of strengths you may have for HR. In this paper, I have already discussed the qualities needed to become an HR manager, and it is easy to say that they are strengths. When it comes to weaknesses, there is a great variety of different situations among companies depending on HR managers. For instance, a person with short temper or a person with no compassion towards others could affect them and even the company. My mom has talked to me about how being an HR manager is almost like being a psychologist. To be an HR manager, you need to work with all different kinds of people and it is important to know how to speak to them. According to another site I found, "a degree in psychology can help prepare you for this type of career…" ("A Psychology Degree Can Help with Human Resources."), which later also states that it can open doors to different career paths as well. Learning human behavior is an important part of becoming an HR manager. In 2017, the calculated median pay of HR management was around $110,00+ per year and $52.90+ per hour. HR managers are estimated to work about 40 hours per week.
According to a site I found, the calculated amount of HR employment in Indiana is about 2,200. The annual wage in Indiana was calculated as $102,650 and the hourly wage was calculated as $49.35. To be more exact, in Northern Indiana, the amount of employment is 130 with an estimated annual mean wage of $95,730. All of the numbers provided were calculated in 2017 by a site I will have cited in my works cited page. According to a site I already spoke about, "employment of human resources managers is projected to grow 9 percent from 2016 to 2026." ("Bureau of Labor Statistics") As soon as I started high school, I discovered my interest in business. During my middle school years, I always wondered about what I would be doing in the future, and I was aware that high school was a big step. I learned that it was an important step in my life that required me to push myself to do my best; there was no time to mess around. My freshman year consisted of me researching and trying to discover what I want to do, and I mainly took classes that were required. However, once I finally started my sophomore year, I decided to begin taking classes that would help me in the business world. I took intro to accounting, and took advanced accounting my junior year. Then this year, I'm also taking classes that give me an insight of the business world. Doing this internship is important to me because it helps me gain knowledge about what I want to pursue in the future.
To pursue this career, it's been a goal of mine to attend Goshen College. To work my way up, my mom even suggested I work part-time for HR, which is important to becoming an HR manager. There is a good variety of things I can learn by pursuing this. I enjoy helping other people and aiding anyone in whatever they need. Being in this career path could help me continue helping others and even improve how I help others. One thing that I could definitely improve as I pursue this career is my communication skills. It's easy to say that I could be good at communicating, but it could definitely be improved. When it comes to leadership skills, that's a skill that I could learn to improve. For instance, being the oldest sibling isn't necessarily as helpful in gaining a leadership skill. It is, but maybe not considered a skill as much in the business field. So, with that being said, developing leadership skills is vital to becoming an HR manager. A good skill I have is how I treat people.
To be an HR manager, you are responsible for many people in a company, and not only that, you need to have good ears for those who come to you. For almost all my life, I have tried to put others before me in certain circumstances. Putting others first in specific situations is important for HR because you need to be able to be there for people when the come to you, which is something I am good at. Consolation and compassion is a strength I have that could be useful in the future Researching about this career was interesting. I have read books in my free time before, but reading more about HR management through numerous sites helped me get a better understanding on what it is to be an HR manager. Moreover, interning for HR will be more eye opening and I will have more clarification when I see how things are done.
Related Topics