Bradley Marquez: Reduction in Force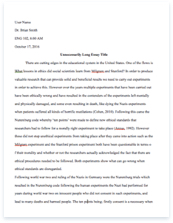 The whole doc is available only for registered users
A limited time offer! Get a custom sample essay written according to your requirements urgent 3h delivery guaranteed
Order Now
Bradley Marquez (BM) was created by Jim Bradley and Alberto Marquez in 1995 with the basic mission of helping companies bring their business to ethnic markets. Jim Bradley studied creative writing at Sarah Lawrence College, had nine years of marketing position experience, yet never established a college degree in any type of business aspect. The same scenario was prevalent for Alberto Marquez, who received a B.F.A in acting from Penn State, and was a professional actor and screenwriter. Neither Bradley or Marquez had any type of formal experience of how to run a business.
Nonetheless, according to a leading industry publication in 1996, Bradley Marquez was listed as one of the top 10 ethnic advertising agencies. In 1997, the Omnicorp Group, specializing in advertising and public relations, purchased a number of small companies, including a 40% share of Bradley Marquez. Over the next two years, Bradley Marquez began purchasing small advertising companies in the U.S. and internationally. BM was expanding far too quickly and on September 11, 2000, a few months after the stock market bubble burst, Bradley Marquez was left looking for solutions as to help save a floundering company.
Andrew Lauder was hired as chief operating officer (COO), to help right the ship in 2000. Fortunately for Bradley Marquez, Mr. Lauder had substantial business experience, from his MBA in finance and international business, along with being CEO for Muze Inc, and marketing/sales roles at IBM, just to name a few. Lauder had the difficult task of reviving a company built by two people who had no idea how their company was being ran in the first place.
Before Lauder was introduced, in 1999 BM was still operating in aggressive growth mode, planning for at least 90% growth with revenues of $106 million; BM was already operating 1,500 employees in nine different offices. Soon after Lauder was hired on as COO he immediately began to notice the problems Bradley Marquez was faced with, including; over hiring, inexperienced managers, high overhead expenses, and above all, lack of leadership. A month into his job, Lauder was asked by Kevin Rowe (CEO of North America), to draw up a plan for how a layoff would be handled. Since BM had never tracked individual profits and losses between each of their offices, Lauder had no way of determining which office was profitable or not; All Lauder knew was that he needed to layoff about 150 employees.
On December 1, Lauder took the easy way out and decided to close the entire Vail office, which housed the most employees, yet also serviced the largest client account for the entire company. Unfortunately for Lauder and BM, this layoff did not save the company at all. Revenues continued to decline steeply in January, February, and March of 2001 and Bradley Marquez is continuing to search for answers.
After given the approval from both Bradley and Marquez, Lauder established an unclear percentage based off several margins to help narrow down which office would receive the lay offs. Within a few months the Vail office was chosen for the lay offs and much to the employee's surprise, the entire office was closed. This decision not only caused employee moral to severely drop; it did not lower their expenses like they anticipated. The layoff and Vail closure exposed the employees to the lack of knowledge Bradley and Marquez had in the company's financial affairs, along with their inability to run the company efficiently. Due to the previous decision a whole new set of issues have surfaced that Bradley, Marquez, and Lauder must resolve in order to restore profitability and harmony to the company. A major barrier that led to the catastrophe of the first decision is their failure to track profits from each office. Some of the major issues that require immediate attention are the lack of leadership and communication from management; declining revenues and customer retention; and inexperienced employees. Lauder believes that another round of layoffs is necessary for the company's growth; however, the last thing on Bradley and Marquez's mind is to conduct an additional lay off.
The reason for Bradley Marquez's failure is that leaders end up ignoring available advice, what they should try to accomplish, and how they should do it; Employees have not heard a vision communicated from the top level. Therefore, the company should recognize that it needs to manage the changes associated with rapid growth. There are two theories of change: theory E and theory O. According to the article "Cracking the Code of Change," theory E is change based on economic value, while theory O is change based on organizational capability. The most successful leadership strategy for change will be one that combines theories E and O. Theory E emphasizes to manage change from the top down. Theory O encourages participation from the bottom up. The combined theories E and O set direction from the top and engage the people below. In order to adapt to the changes, consultants can provide specialized knowledge and technical skills that the company does not have. Moreover, company should build up its corporate culture, systems, and enhance shareholder value. Therefore, the combined theories E and O must be in perfect step during the business change.
Andrew Lauder, who is an operating officer, is a coercive leader. The layoff is announced three weeks before Christmas. Moreover, employees are told that they are not valuable enough to transfer. When Lauder deals with the layoffs, he does not realize that "negative speculation fills the vacuum." Coercive leadership style is the least effective in most situations. Coercive leadership also has a negative effect on the rewards system, as most employees seek the satisfaction of work by more than money. However, the coercive leadership can shock people into new ways of working which results in distance between employees and management. If Lauder relies on this style, the long-term impact of his insensitivity to the feelings of his employees will be ruinous. To deal with the changes more effectively, a leader should be affiliative, democratic, and coaching. An affiliative leader has positive impact on building harmony, increasing morals, and improving communication with employees. A democratic leader builds trust, drives up responsibility, and spends time getting employees' ideas. By listening to employees' concerns, a democratic leader can keep morale high. A coaching leader helps employees improve performance, develops long-term strengths, and encourages employees to give feedback.
With the closure of the entire Vail office causing the lay-off of 110 employees, Bradley Marquez experienced an unpleasant time. Employees' perception of the company changed; they now doubt managements' capability of coming up with the best solutions to solve operating problems. They now go to work with the fear of losing their jobs. They do not go to work with the same enthusiasm that they used to before the drastic decision was made back then. Bradley Marquez, once again, is in the same position; it has to do something to increase its revenues and decrease its expenses.
The lay-off of employees is a temporary solution to cut some expenses and get fast results in the short-run. But Bradley Marquez needs to find other solutions that will work in the short-run as well as in the long-run. Some solutions available for the short-run instead of laying-off employees are to offer discounts, and lower the price charged to clients but narrow the scope of the services offered. They can also negotiate long-term contracts with clients to assure operations now and in the future. Keeping track of the operating results of each office, such as their profits, expenses, and losses, as well as evaluating the contribution margins of each line of business, help top management determine which areas need improvement, whether or not they should introduce new services, or close any business lines. Companies must use their available resources, such as any money saved in the bank, to put into effect any of these solutions.
Also in order for Bradley Marquez to be successful now and in the long-term, a combination of change techniques needs to be implemented, such as Theory E and Theory O. In addition to the application of change techniques, leadership tools and styles have to be executed as well. Implementing Theory E and Theory O helps secure the value of shareholders, and at the same time, it rebuilds a culture of common ideas and goals. The lines of communication are condensed between top and down management. A good and respectable leader needs to be appointed in order to implement any necessary changes and use leadership tools to help improve operations. The leader must exercise a combination of leadership styles, such as democratic, affiliative, and coaching. Instead of coming up with a decision alone, the leader should engage the people below to get more ideas. Bradley Marquez may also use affiliative leadership style to rebuild harmony and emotional bonds that existed before the closing of the Vail office, and ultimately, they may also coach employees to improve their performance in the workplace.
After reviewing all the alternative possible solutions, we recommend that Bradley Marquez should not carry another lay-off.
Related Topics